Dr. Ambedkar song written by Gurdass Ram Alam & Lyric Chandan Singh USA

(Special # www.ambedkartimes.com)
Latest issue of

Desh Doaba Weekly Newspaper
DR. RONKI RAM's MOTHER PASSED AWAY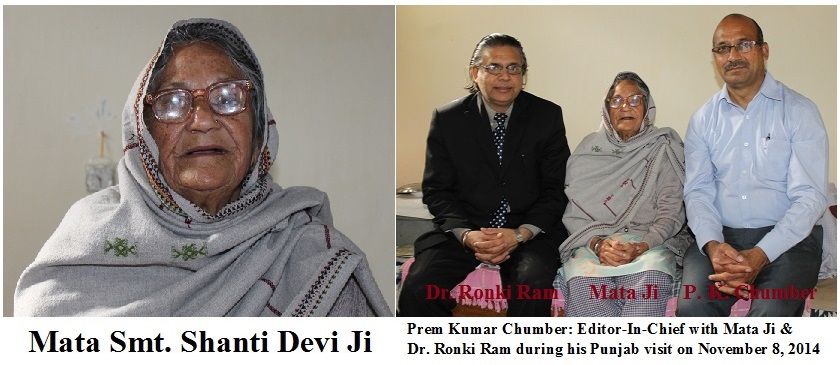 It is to inform with great heart and grief that Honorable Dr. Ronki Ram's mother Smt. Shanti Devi passed away peacefully amidst her children, grand and great- grandchildren in her village Sahri, Tehsil & District Hoshiarpur on November 12, 2016. She was born and brought up at Lyallpur (now in Pakistan). She migrated to her native village Kalewal Bhagatan near Mahilpur during the partition in 1947 and married in the same year with Sh. Harmesh Lal of village Sahri (Hoshiarpur).
Smt. Shanti Devi was very religious lady, herself a matriculate, she was the main motivating force behind Dr. Sahib Professor Ronki Ram's higher education and his consistent academic contribution towards the various issues of Dalit writings over the last two and half decades.
www.ambedkartimes.com pays its deep condolences to the bereaved family and prays for the peace of the departed soul.
For more information, please contact Dr. Sahib.
Dr. Ronki Ram
ICCR Chair Visiting Professor of India Studies
Faculty of International Studies
Ryukoku University
Kyoto, Japan
WhatsApp +91-9779142308
E-mail: ronkiram@yahoo.co.in
Dean, Faculty of Arts
Honorary Director, ICSSR, North-Western Regional Centre
Shaheed Bhagat Singh Professor of Political Science
Arts Block IV, Panjab University
Chandigarh 160 014 (India)
Mob: 0091-9779142308

E-mail: ronkiram@yahoo.co.in
Prem K. Chumber
Editor-in-Chief: www.ambedkartimes.com
Posted on November 13, 2016
Dear Dr. Ronki Ram Ji,
I have just read the sad news of your mother's passing away. It is really a great loss to the family. Mothers play a very special part in our lives and stay in a very special part of our hearts. The loss of a mother creates a void that cannot be filled. My deepest sympathy and condolences to you and your family.
Regards,
Arun Kumar (UK)
Posted on November 13, 2016
| | | |
| --- | --- | --- |
| | | |
| | | |
| --- | --- | --- |
| | | |
| | | |
| --- | --- | --- |
| | | |
ISSUE OF ATROCITIES AGAINST DALITS
RAISED IN THE BRITISH PARLIAMENT

Following a Joint Statement by a number of organisations in the UK including Federation of Ambedkarite and Buddhist Organisations UK (FABO UK), Anti Caste Discrimination Alliance UK (ACDA UK) sent on 18 August to the British Government, United Nations Secretary General and UN Human Rights Commission regarding the continuous atrocities against Dalits in India especially in Gujarat, Lord Alton of Liverpool has asked written questions in the House of Lords for British government's response.

Q
Asked by Lord Alton of Liverpool
Asked on: 05 September 2016
Foreign and Commonwealth Office
India: Dalits
HL1541
To ask Her Majesty's Government what assessment they have made of the findings of India's National Crime Records Bureau that, in a three-year period there was an almost 40 per cent increase of crime against Dalits throughout India; that in 2015, in Gujarat, there was a 163.3 per cent increase in crime against Dalits; and that sexual assaults against women and rape are listed as the top crimes against scheduled castes.

Q
Asked by Lord Alton of Liverpool
Asked on: 05 September 2016
Foreign and Commonwealth Office
India: Minority Groups
HL1542
To ask Her Majesty's Government what assessment they have made of the Joint Statement of UK anti-caste organisations submitted on 18 August to the Prime Minister, the Foreign Secretary, the United National Human Rights Commissioner and the UN Secretary General, and whether they will press for those British organisations that submitted the Joint Statement to be given the opportunity to express their concerns to the United Nations office in Geneva and to report on the condition of Dalits and minorities in India.
Below is the link to these questions asked :
http://www.parliament.uk/business/publications/written-questions-answers-statements/written-questions-answers/?page=1&max=20&questiontype=QuestionsOnly&house=lords&member=738
Arun Kumar
General Secretary Federation of Ambedkarite and Buddhist Organisations, UK (FABO UK).
Posted on www.ambedkartimes.com September 11, 2016
| | | |
| --- | --- | --- |
| | | |
| | |
| --- | --- |
| | |
| | |
| --- | --- |
| | |
Shaheed Kartar Singh Sarabha
Documentary | Navalpreet Rangi
DEMOCRACY AND SOCIAL JUSTICE

Prem K. Chumber
Editor-In-Chief: Ambedkartimes.com
Democracy and social justice are interrelated social processes. The one is incomplete in the absence of the other. Democracy offers freedom space to realize equality and experience fraternity. Equality and fraternity are the two essential ingredients of social justice, which achieves its true form with the addition of liberty. Thus the trinity of liberty, equality and fraternity constitutes the essence of social justice and the institution of democracy provides the requisite realm for its realization. Though many scholars' boasts of ancient origins of democracy in India but it would be prudent to argue that democracy achieves its roots in the real sense of the term with the adoption of the constitution in independent India. Bodhisattva Baba Saheb Dr. Bhimrao Ramji Ambedkar, Chairman of Constitutional Drafting Committee, worked very hard to incorporate various provisions for the realization of social justice in the Indian society. He was of the firm views that if social and economic parity remains an elusive to the multitude of poor and historically socially excluded people in the country, then the very purpose of having parliamentary democracy would not be served efficiently. He reiterated the seminal point during his engaging discussions at various important forums within and outside the Indian parliament that for social justice to prevail in the country, India needs effective participation of the downtrodden in all the different spheres of the society.
The demand for social justice was also raised at various platforms during the freedom struggle movement in colonial India. Ad-Movements in North and South India, Justice Party in South India, Babu Mangu Ram Muggowalia from Punjab, Swami Achhuta Nand Ji from Uttar Pradesh, Baba Ghasi Das Ji from Madhya Pradesh, Ayyankali and Sri Narayana Guru from Kerala raised a consistent campaign for the prevalence of social justice in the Indian society. Babu Mangu Ram Muggowalia presented a number of resolutions to the British Government for the removal of untouchability and special provisions for the inclusion of socially excluded sections of the society in the public realm of power and social domain.
Babu Mangu Ram Muggowalia joined hands with Bodhisattva Baba Saheb Dr. Bhimrao Ramji Ambedkar in his struggle for equal rights for the socially excluded people of India. When Baba Saheb Dr. Ambedkar spreaded its movement into the political agile lands of Punjab with the formation of Punjab chapter of Scheduled Castes Federation, there was a tremendous response from the grassroots. That was precisely the contributions of Ad Dharm Mandal Punjab movement which laid the foundation stone of social justice campaign in the state in the mid-1920s. But the irony of the matter is that even after more than seven decades of India's independence, Dalits in the country are still subjected to various types of atrocities and social discriminations. Though the Indian state, while making the optimum use of various anti untouchability clauses of the constitution, is doing its best to bridle the monster of caste, but still is more needed to be done at the social level where the people should come forward to internalize the values of liberty, equality and fraternity in order to realize the true sense of democracy and social justice.

Ambedkartimes.com and the so-called Upper Castes
Read more
This site has been dedicated to Bharat Rattan Baba Sahib Dr. Bhimrao Ramji Ambedkar in the memory of Babu Mangu Ram Muggowalia, Gadharite and founder of Ad Dharm Movement in Punjab. The sole aim of this site is to highlight the plight of the Mulnivasis (Inhabitants) of India who have not only been deprived of their due share in the wealth of their own country, but had also been subjected to untold miseries over centuries. Atrocities against them are still rampant in almost all the parts of the country. Hardly a day passes when there is no news about the social boycott or physical repression of all sorts on them. Ambedkartimes.com is duty bound to highlight all such incidents as well as to seek and articulate some solid perspective for the amelioration of this age-old problem old social exclusion and blatant violation of the basic human rights of the Dalit brethren.
I once again thanks for your kind support and also expect the same in future too so that this modest attempt would continue in the service of our community. www.ambedkartimes.com deeply welcome your suggestions for its better functioning. This is your web site and it is you who have to make it successful. Kindly send your valuable articles, news reports, and opinions regularly, we would be pleased to carry them gratefully.
Prem K. Chumber (Editor: ambedkartimes.com)