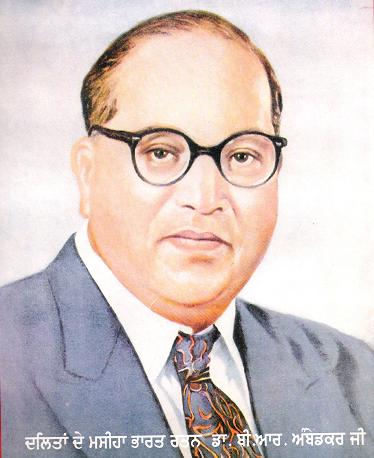 AMBEDKARTIMES.COM
WISSING YOU EVERY ONE CONGRATULATIONS
ON THE 116TH BIRTH ANNIVERSARY OF OUR GREAT SAVIOR

BHARAT RATAN BABA SAHIB DR. B. R. AMBEDKAR =============================================================================
FLOAT OF BABA SAHIB DR. AMBEDKAR
60TH INDIA'S INDEPENDENCE DAY PARADE IN NEW YORK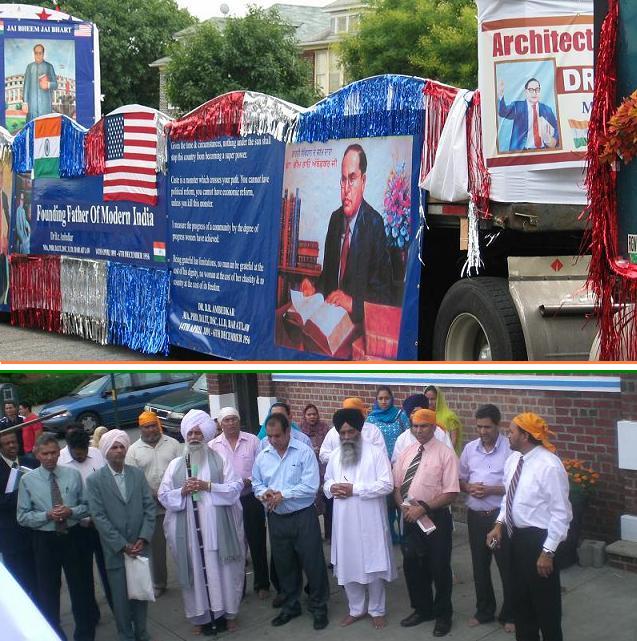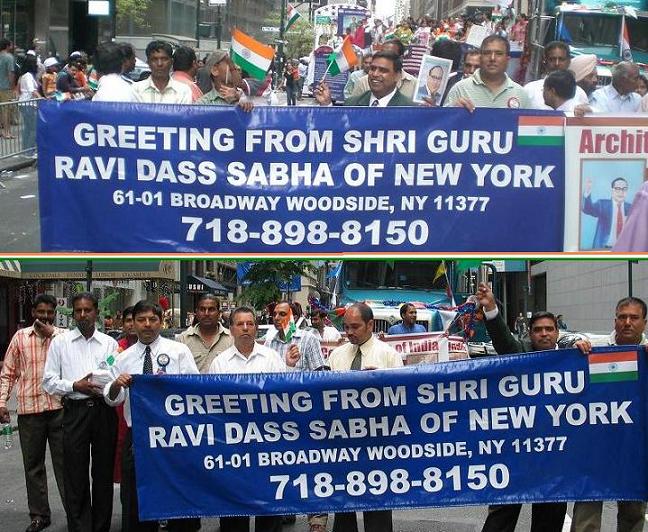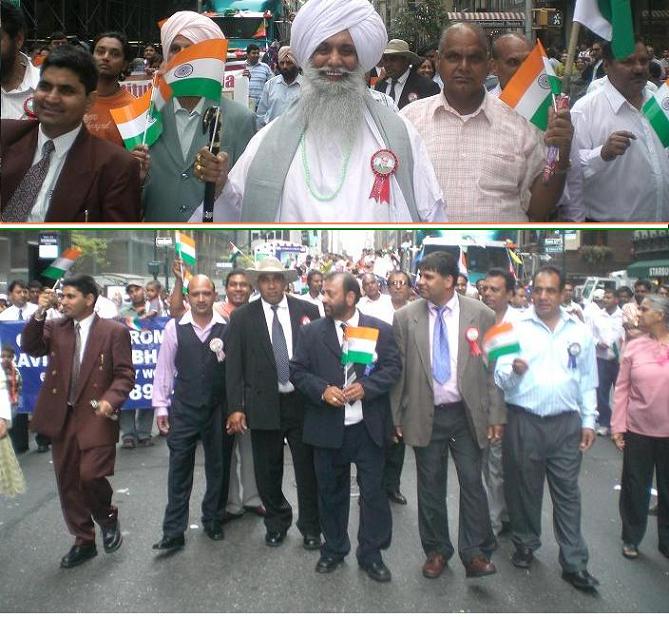 SOME HISTORIC PICTURES FROM THE INDEPENDENCE DAY PARADE, NEW YORK
New York (Ambedkartimes Bureau): In New York, India's Independence Day Parade was held on Sunday, the 19th August, 2007. Indians attended the parade from far off places. The credit for taking the float of Baba Sahib Dr. B. R. Ambedkar, the first of its kind in the world history, goes to Shri Guru Ravidass Sabha (New York) and the Sangat. Their participation in India's 60th Independence Day Parade has reminded the sacrifices made by Baba Sahib Bhim Rao Ambedkar. For the Dalits of India, celebration of two days (26th Jan. and Aug 15) is of utmost importance. It was on January 26th that Baba Sahib presented the Constitution of India (written with great efforts) to Rajinder Parsad Ji then the President of India. After the Independence Day (August 15th) the constitution came into effect on January 26th, 1950 and we got the chance to live freely in free India. While presenting the constitution in Parliament, Baba Sahib Ji said, "If this constitution will not be implemented honestly by Manuvadi Governments, then I will be the first who will burn it". Even though the Indian constitution has not been implemented fully by the Manuvadi Governments, the day is not far when this 'Golden Constitution' which is praised all over the world, will be implemented. This parade has not only made the Indians but the Americans as well to know about Baba Sahib. People from tri-state also distributed literature with the message that by now they have woken up. Their message was clear that they do not want a separate state in India, what they want is to implement the constitution in letter and spirit by following the teachings of Dr. Ambedkar. By uniting on one platform, Dalits from far and near have set up an example that they are not dependent on anyone now. Before Independence, they say that they were under dual subjugation: Britishers and the Brahmanical landlords. The Float of Baba Sahib was so tastefully decorated for the first time in America, that all were praising. The spectators were quite impressed with the float that was made up by volunteers themselves. This unity of Dalits in New York was unseen before 19th August parade. Dalits of New York have told the world that now they are subjugated to none is it in India or abroad. On the completion of its 250 years, the Columbia University of New York conferred the Degree of Father of Modern India on Dr. Ambedkar.
Shri Guru Ravidass Sabha of New York has decided to make future arrangements for even bigger float and more buses on the occasion. Langar (community kitchen) arrangements were made by Shri Guru Ravidass Temple, New York in which the Americans too participated and enjoyed. This note would be incomplete without mentioning the names of those who gave their services and donated a hundred Dollar each: Sh. Pinder Pal (President of Shri Guru Ravidass Temple), Sh. Ram Sarup (Secretary), Sh. Sita Ram Mahey (Cashier), Sh. Raj Kumar (Chairman), Messrs. Balbir Chand Chumber, Jatinder Birdi, Mulakh Raj Pal (Trust members) and Messrs. Balbir Chand Mal, Bahadur Badi, Prithi Pal Bangar, Hardev Mahey, Kulwinder Mahey, Balwinder Bhora, Prem Panther, Pawan Kumar Jassal, Nikka Ram, Buta Ram, Deepa , Neelam Kumar, Harblas Ram Lali, Amrik Singh, Mahinder Pal, Bhajan lal Badhan, and Balbir Chouhan (Sewadars). Sh. Veera provided free truck and trailer service.
POSTED ON AUGUST 23, 2007
This march/parade and the float of Dr. Ambedkar will be great, inspiring, and educational to many Americans. I congratulate all of you a happy celebration and parade.
Dr. Vivek Nirala

SPECIAL THANKS TO

SHRI GURU RAVI DASS SABHA OF NEW YORK

Our special thanks to Shri Guru Ravidas Sabha New York and to all Punjabis who took first historic step to highlight Baba Sahib Dr. B.R. Ambedkar in India's 60th Independence Day Parade in New York.

NRI Punjabis have played a lead role in spreading and promoting Baba Sahib Dr. B.R. Ambedkar's mission around the world for over fifty years. They have always offered their services and finances voluntarily for the community support.

I must mention here that the main organizers and financers of Baba Sahib's float were our Punjabi brothers and sisters of New York along with other Indians. We extend our support from around the world to encourage them to do more such historic events.

We are proud of our community members who dedicate their time and money to spread Baba Sahib's Mission of Liberty, Equality and Fraternity. Today, we are proud of all who organized Baba Sahib's float for the parade. Our special thanks to Shri Guru Ravidas Sabha and all Punjabi brothers and sisters for their support and financial help that made it happen.

Also, we appreciate AMBEDKARTIMES.COM for posting beautiful pictures of the float.

Yours,
In mission,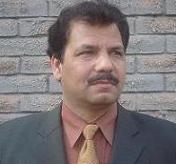 Raj Kumar Oshoraj
Indian Buddhist Society Toronto, Canada
POSTED ON AUGUST 24, 2007



CONGRATULATIONS TO


SHRI GURU RAVI DASS SABHA OF NEW YORK

India's 60th Independence Day The float of Baba Sahib Dr. B. R. Ambedkar, the first of its kind in the world history, Dr. Ambedkar was architect of Indian Constitution and Social Reformer. As followers of Dr. Ambedkar we are very happy and proud of Shri Guru Ravi Dass Sabha (New York).


May the ones are blessed who devoted their time and financial support at this event. Baba sahib is well known patriot Personality in American History. By doing this kind of events will highlight Baba Sahib in today's American Eyes.

As once said, we are very thank full for such originations those who, put their intensive time and efforts to keep our Saviour Baba Sahib Ambedkar.

Mission alive. Ambedkar Mission (Toronto) extends their support to Shri Guru Ravi Dass Sabha to do more and more historic events.

In appreciation we would like to thank the WWW.AMBEDKARTIMES.COM for keeping us updated.

In the Mission,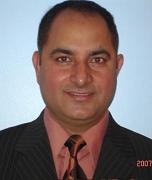 Anand Balley,
(General Secretary)
Ambedkar Mission. (Toronto, Canada)
POSTED ON AUGUST 27, 2007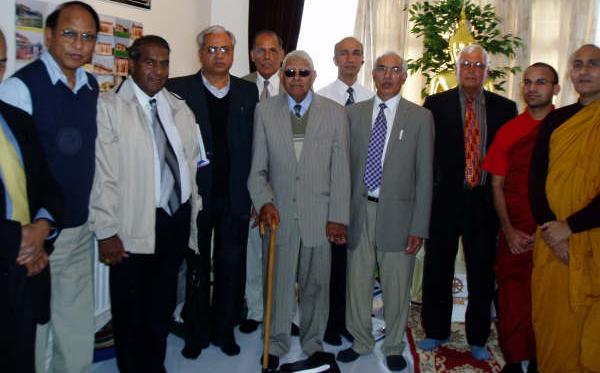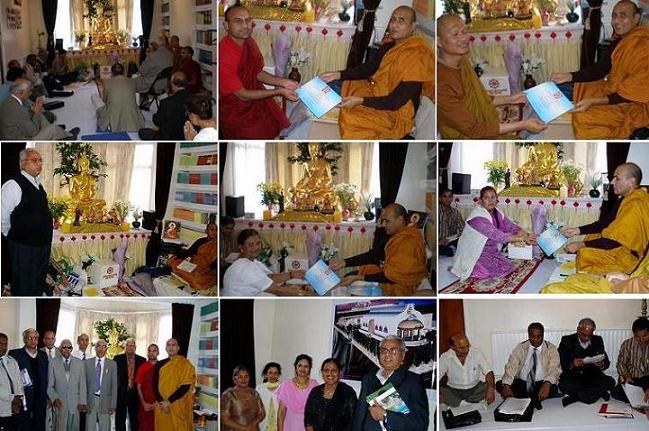 SOME PICTURES FROM THE CELEBRATION BUDDHA PURNIMA AND
DR. AMBEDKAR JAYANTI BY PBS UK


Punjab Buddhist Society UK
Celebrated Buddha Purnima and Dr.Ambedkar Jayanti
The Governing body of PBS UK unanimously elected
Ven. Sujan
On Saturday 23th June 2007, Punjab Buddhist Society UK (PBSUK) celebrated Buddha Purnima and Baba Saheb Dr. Ambedkar Jayanti at the 83 Lea Road, Wolverhampton. The celebrations began with Ven. Monks chanting Abhiddhamma paritta according to Buddhist tradition. Between 12-3 p.m., the Punjab Buddhist Society UK held their annual General meeting and general election for management committee. The election was chaired by Dr. Surender Ajanat and Mr. Rattan Lal Sampla;
The necessary amendments to the Constitution were unanimously passed. The copy of the amended constitution would be made available to all members in due time.

The election of the Governing body was also unanimously elected. The office bears were as follows;
President: Ven. Chander Bodhi, Vice President: Mr. Chanan Chahal, Gen.Sec.: Mr. Harbans Lal Virdee, Asst. Sec.: Mr. Arun Kumar, Treasurer: Mrs.Vidya Midha, Asst. Treasurer: Mr. Chaman Lal Chahal, Auditor: Mr. Sohan Lal Ginda, Publicity Sec: Mr. Maher Chand Jassal, Librarian: Mr. Balwant Sroy, Maintenance: Mr. Manohar Lal Birdi, Executive Members: Ven. Dr. W. Kassapa, Ven. Nagasen (B), Ven. S. M. Sujano, Mr. Malkiat Singh Bahal, Dhanpat Rattu, Rattan Lal Sampla, Hans Raj Sampla, and Mrs. Vidya Birdi
With the conclusion of the meeting the celebrations of Buddha Purnima and Baba Saheb's birth anniversary was started at 3 pm. The function was started with the presentation of World PEC merit and participation awards to all the candidates who participated in the World Peace Ethic Contest on 3rd February 2007. The contest was organized by Dhammkaya Foundation of Thailand and with the help of Dhammakaya International Society in London (DISUK) Punjab Buddhist Society UK open its centre for contest, which is one of the participant centres along with 60 other countries around the world. Mr. Manohar Lal, general secretary gave short introduction of World PEC contest and benefits of this context. He also invites all the members and people to join next contest, which will be in near future. Ven. Chander Bodhi, President of Punjab Buddhist Society UK and chief monk of the centre presented certificate of merit and participation to the candidate on behalf of the organizers. Around 20 people were gathered on this occasion.
Dr. Surinder Ajanat from Punjab, India, who is world renowned scholars on Buddhism and Ambedkarism, was the chief guest. He gave a comparative speech on all the religions; Islam, Christianity, Hinduism, Sikhism with Buddhism and Ambedkarian concept of religious way of life. Further, he also pointed out the reasons, why Baba Sahib Ambedkar embraced Buddhism and what we would have to do to honour his legacy. He suggested that Baba Saheb's legacy and mission has to penetrate the hearts and minds of future generations. He was also very much appreciative of the construction of Takshila Maha Buddha Vihara in Ludhiana. He said that it would prove to be a solid foundation of Ambedkarite Buddhist movement in Punjab for generations to come. New monks trained from there would propagate Buddhism and Baba Sahib's mission across India and abroad. However, this project is very big and it still in need of lots works to realise its full potential. Considering the work already, undertake in very short span of time. He has fully confidence and sure that remaining work would not impose any difficulty, because the project has very good and visionary working team and good well of the people and every thing else matters little.
Chanan Chahal proposed a vote of thanks and offered special thanks to Dr. Surender Ajanat for accepting special invitation to become Chief Guest. He thanked the audience sincerely on behalf of PBSUK for doing every necessity to complete the 'Takshila Maha Buddha Vihara' at Ludhiana and reminded that not every contributions and sacrifices would go unnoticed by the Buddhist revival history in Punjab. He also appealed to all to keep focus on the completion of the 'Takshila Maha Buddha Vihara, and the movements that is to be launched from the centre. Further, he said 'I am sure we would be victorious in our endeavours.'
Ven. Chander Bodhi gave a vote of thanks and closed the celebrations with the blessings.
POSTED ON JULY 6, 2007
=============================================================================

116th Birth Anniversary of Dr. Ambedkar & Victory of Sister Mayawatti Celebrated in UK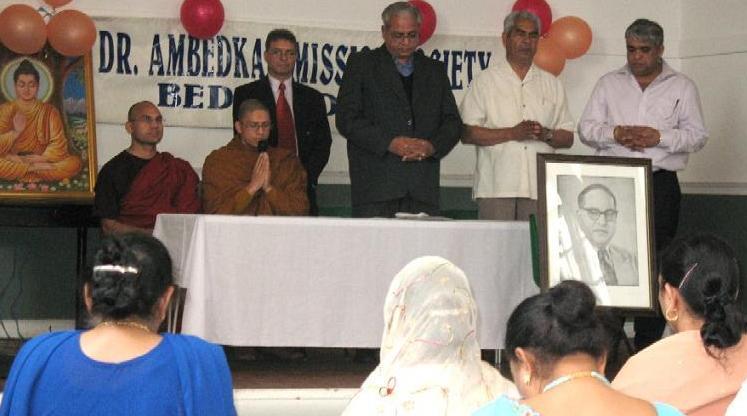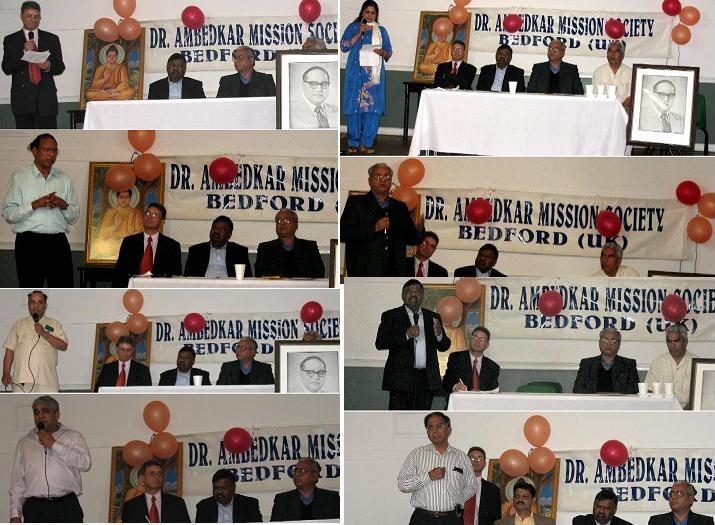 Some pictures from the celebration 116th birh anniversary of Dr. Ambedkar & victory of sister Mayawati
Arun Kumar
Secretary, Dr. Ambedkar Mission Society, Bedford, UK
A function was organized on Sunday, 3rd June, 2007 at the Queens Park, Community Centre, Marlborough Road, Queens Park, Bedford by Ambedkar Mission Society, Bedford UK to celebrate the 116th birth anniversary of Baba Sahib Dr. Ambedkar, the victory of Bahujan Samaj Party in the recent concluded elections and the appointment of sister Mayawatti for the record fourth time as a Chief Minister of Uttar Pardesh, the biggest and most populous state of India. The celebrations started with the Buddhist prayer Panch Sheel led by Ven Bhadant Sujan and Bhadant Tejwant.
In his welcoming speech, Mr. Arun kumar, General Secretary of Dr. Ambedkar Mission Society congratulated everybody on Dr. Ambedkar's birth anniversary and also sister Mayaywatti for her success in the elections and subsequently becoming chief Minister of UP. He stated that in actual fact, Dr. Ambedkar's birthday is an appropriate occasion to celebrate the successes and achievements of our people. In the past Dalits were not allowed to sit near the caste Hindus and even their mere shadow was polluting others. Now it is a matter of pride and joy for us to see very those people bowing in front of a Dalit woman and touching her feet. It has become possible because of Dr. Ambedkar and his work. Baba Sahib's life and work will continue to give us inspiration.
Mr. Malkit Singh Bahal informed that Babu Kanshi Ram started his movement by setting up Backward & Minority Communities Employee's Federation (BAMCEF). The success of Bahujan Samaj Party is because of the ground work put up by the cadres of BAMCEF. Mr. Bahal was disappointed with the sorry state of affairs in Punjab. He stated that there are 28% to 30% scheduled castes and 16% Jats in the state of Punjab. Whatever party comes into power, a Jat becomes a chief minister. Valmikis and Ravidasis are stuck up in their own pigeon holes and working against each other. They must come together if they want to repeat the experiment of UP.
In his presidential address, Dr. Surinder Ajnat pointed out that by giving 50% reservations to Valmikis, the ruling class was successful to make Valmikis and Ravidassis fight against each other. They knew that if these communities get together, the power will go out of their hands. But these communities are unable to understand their ploy. To bring all castes together, Dr. Ambedkar chose Buddhism so that they are able to narrow down their caste differences and get together under one umbrella. But this path appears to be too difficult for them. Education with right attitude is important. Whatever education is imparted today doesn't change the attitude. For example a scientist teaches his students that lunar or moon eclipse occurs because of the movement by moon and earth. But at the time of eclipse, the same scientist starts worshipping son and moon and goes to temple to perform useless rituals. Baba Saheb Dr. Ambedkar was a rationalist. Education without rationalist attitude has no meaning.
Talking about Guru Ravidass and his followers in Punjab, he said that apart from forty one hymns in the Sikh scripture, Guru Granth Sahib, there is a lot material lying outside which needs to be compiled in one book and recognized by everybody. The writings of Guru Ravidas outside Guru Granth Saheb are more revolutionary. Guru Ravidass was a great visionary and revolutionary in the medieval period. The followers should not concentrate only on 41 hymns but study him on a wider prospective. To bring change in the society, they must also change their attitude, think and act rationally.
In his short speech, Bhandant Sujan stated that Buddhism in India is flourishing because of Dr. Ambedkar. To train and ordain Buddhist monks and also to make them familiar with the contribution of Dr. Ambedkar to Buddhism, Punjab Buddhist Society, UK, and Punjab have constructed Takshilla Maha Buddha Vihara, Ludhiana with the help and cooperation of many upasaks (followers) from all over the World. It is a first of its kind in North India. He requested everybody to visit that place and have a look yourself and help Baba Saheb's movement to promote Buddhism.
Dr. N. Srinivasan, Vice President of Federation of Ambedkarite & Buddhist Organisations, UK termed Dr. Ambedkar both a saint and scientist at the same time. He was saint as he was a compassionate person. He wanted to remove sufferings from society. He stood by the people whose dignity was lost from centuries. To bring peace and tranquility in the society, he ultimately chose the path of Buddha. He was a scientist as he believed in rationalism. He gave preference to education as he considered it is the only path to success which leads to gain lost dignity. Even Buddhism is considered as a scientific region that why Baba Saheb is preferred this religion. To speak of Dr. Ambedkar means to speak of a glow of light which has removed darkness from many houses. The achievements and successes we are celebrating today are the direct effect of Baba Saheb's glow of light. When we see our sister in the seat of Chief Minister not with the assistance of any other party but on its own, it gives us a pride and joy for which we must be thankful to Baba Saheb.
Dr. Sanjay Aparanti, Deputy Commissioner of Police, Mumbai was pleased to know that Dr. Ambedkar's name is being kept alive by the people who have come thousands of miles away from their native homes. Government of India spends thousands of rupees to arrange functions on other political leaders' birthdays, but followers of Dr. Ambedkar spend money from their own pockets to celebrate his birthday which continue for months beyond his actual date of birth. He further stated that we should not be contended with these celebrations. The atrocities on Dalits are increasing day by day. Only a few weeks back, Khairlanji incident in Maharashtra became the headlines where mother and daughter were raped and murdered. When people protested, criminal cases against 14000 school and college going students were registered. Their careers are virtually destroyed and they are left suffering. Human rights activists in India and abroad should help such people by highlighting their plight and doing something concrete to relieve them from suffering.
Mr. Guatam Chakravarti reminded the audience not to forget our forefathers who time to time helped to mould our movement. Because of the hard work of those people, we are able to live the life of dignity. On Dr. Ambedkar's birthday, we must rededicate ourselves to work more vigorously to improve the conditions of down trodden. Praising sister Mayawatti, Mrs. Devinder Kaur said that not a very long ago people were criticizing her for having alliance with Brahmins. Now those very people are forced to accept her as the shrewd strategist and started calling her an iron lady. She has made all Dalits especially woman very proud and shown us the way that with determination and hard work, one is able to succeed. Mr. Devinder Kumar Chander cautioned that it was too early to give verdict on Mayawatti's achievement as only the time will tell how much she is successful. Brahmins, Banyas and Thakurs never sided with us. Brahmins always torpedoed progressive movements in the past. They didn't even spare Gautam Buddha. If Mayawatti is able to implement the Dalit agenda and not play in the hands of Brahmins only then we will be able say with pride that she is successful.
Mr. Dhanpat Rattu, Hukam Chand Mehmi, Ram Pal Rahi, Des Raj Mehmi also addressed the gathering.
=============================================================================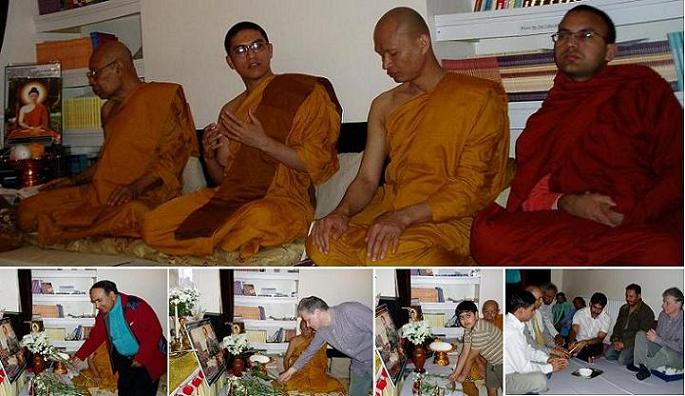 PUNJAB BUDDHIST SOCIETY UK CELEBRATED
Baba Saheb Dr. B. R. Ambedkar's 116th Birth Anniversary

in Wolverhamton (UK)
Report by Sujan
B

aba Saheb Dr. B.R. Ambedkar's 116th Birth Anniversary is celebrating all around
India
and the world. Every cities and villages are rejoicing and recollecting his virtues and works. On this occasion different organizations in
UK
and other parts of the world; wherever Ambedkarites are- no matter far-east or west or middle-east countries- is celebrating with great joy and great. I am pleased to inform you that different organizations of
UK
are also celebrating his birth anniversary in different cities.


On this occasion with the great guidance of Most Ven. Phra Maha Samboon, Punjab Buddhist Society
UK
has recently organized meritorious activity at the Centre for the 116th Baba Saheb's Birth Anniversary. On the say day, Secretary of President of Acting Supreme patriarch of
Thailand
also visited with Ven. Phra Maha Laow at the centre and blessed to all the members at the centre. They also paid appreciation on the society's activities.

Our programme was started with the homage to the Lord Buddha and observes five precepts from the most Ven. Phra Maha Samboon. All the members were invited to offer flowers in front of the Baba Saheb's portrait. Introduction of Baba Saheb Dr. Ambedkar and glimpse of him mission was given by Mr. Manohar Lal. He also mentioned that this Buddhist Ambedkar Jayanti would be first time ever he has seen. Followed by recitation of 22 vows, which was given by the Baba Saheb, in order to remind what he had told us to do and what told us to left.
Most Ven. Phra Maha Samboon gave a speech on importance of Abhidhamma chanting remembering passed ones. Most of Buddhist countries especially in Thailand they organize such chanting in front of Death Body or commemorating days. He also mentioned that such chanting ceremony commemorating Baba Saheb was the first time ever heard in his life time. He further said that such Buddhist activity should have been introduced many years ago, but due certain reasons unknown to the communities. However, now it is started in this holly place where Punjab Buddhist Society
UK
based in and should keep in practice in future not only by this organization but also from all. He further expressed that with the great dedication of Ven. Chander Bodhi Takshila Maha Buddha Vihara is under construction and hope it will become the centre for Buddhist activities in near future to come. On the other hand, he further says that anyone if they want to commemorate or remembering deceased one should be done similar Buddhist religious activities.

After his short explanation of Abhidhamma Chanting Ven. Monks chanted The Abhidhamma around 15 minutes and all the participants were invited to offer Pansukula Dana to the ven. Mahasangha. Ven. Maha Samboon again introduced the meaning of Pansukula dana and importance of it. Moreover, he introduced punnyanumoda, to the deceased one, is one of the important part of the chanting. Therefore, he leads all the participants to do punnyanumodana together and wishing peace and happiness of the Baba Saheb and wishing him to achieve ultimate peace of Nibbana in near future.

All the local members were participated on this function and they all impressed by the religious celebration and speech of the Most Ven. Phra Maha Samboon.
With these meritorious activities may you all be happy and peace… may our beloved leader Baba Saheb Ambedkar Achieve Nibbana in near future.

Ven. Phra Maha Samboon, one of the very senior monks in
UK
and well respect Thai Monk, is living since over 20 yrs at
Buddha Vihara Upper Zoar Street
, which was jointly built by the ambedkarites of
UK
.


Abhidhamma Chanting; Abhidhamma is one part of Tipitaka, which is one of the core teachings of the Buddha. It doesn't mentioned individuals, places or time but explains only core and pure teachings of the Buddha. In
Thailand
,
Laos
? And
Cambodia
? They briefed it and chant in deceased occasions. In
Burma
and
Sri Lanka
, they only chant some part of the Abhidhamma; mainly patthana and paticcasamuppada.
THE SPONSORES OF THE CIVARS WERE;
MR. ARUN KUMAR FROM BEDFORD, MR. BALWANT SROY AND FAMILY, MR. MANOHAR LAL AND FAMILY, MR. DIWAN MOHINDRA AND FAMILY, MR. SATNAM MAMMAN AND FAMILY.
POSTED ON MAY 27, 2007

============================================================================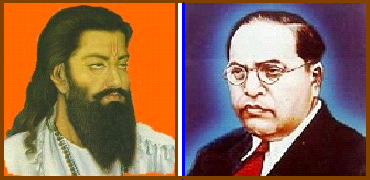 SHRI GURU RAVI DASS SABHA BAY AREA (CALIFORNIA) CELEBRATED

BABA SAHIB DR. B. R. AMBEDKAR'S 116TH BIRTH ANNIVERSARY

BELOW ARE SOME PICTURES FROM THE EVENT.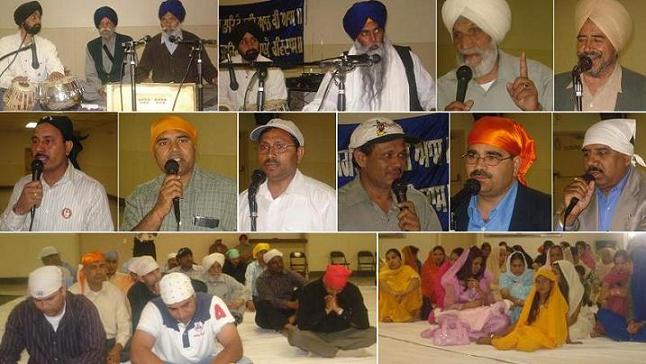 POSTED ON MAY 27, 2007
===================================================================================================================
OUR GREAT SAVIOR, BHARAT RATTAN BABA SAHIB DR. B. R. AMBEDKAR'S 116TH BIRTH ANNIVERSARY DAY IS CELEBRATING ALL OVER THE WORLD BY HIS FOLLOWERS.

BELOW ARE A FEW MEMOREABLE PICTURES FROM THE EVENTS.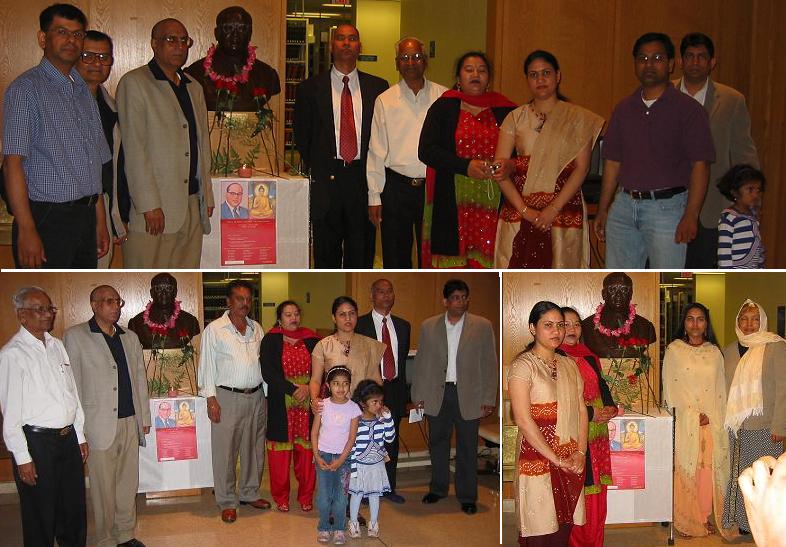 After garlanding the bust of Dr. Ambedkar, people, prominent personalities,
celebrated his Birthday at Columbia University (USA)

. (POSTED ON MAY 16, 2007)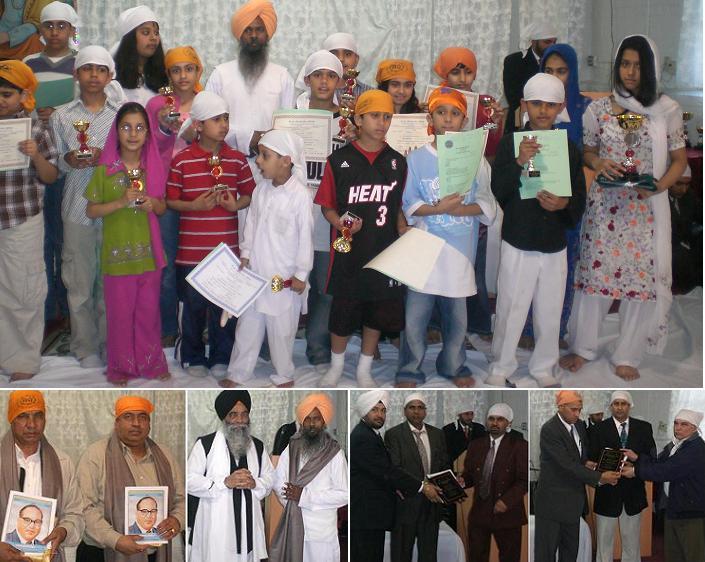 Dr. Ambedkar's 116th Birth Anniversary Day celebrated at Shri Guru Ravidass Temple in New York City, USA. Shri 108 Sant Krishan Nath Ji Dera 108 Sant Baba Phool Nath Ji with honored children and other honored people in the above pictures. (POSTED ON MAY 16, 2007)
=============================================================================

DR. B. R. AMBEDKAR'S 116TH BIRTH ANNIVERSARY
JOINTLY CELEBRATED IN TORONTO (CANADA) ON MAY 5TH
BY AMBEDKAR MISSION TORONTO,

SHRI GURU RAVIDASS SABHA ONTARIO & BHAGWAN VAKLMIK SABHA OF ONTARIO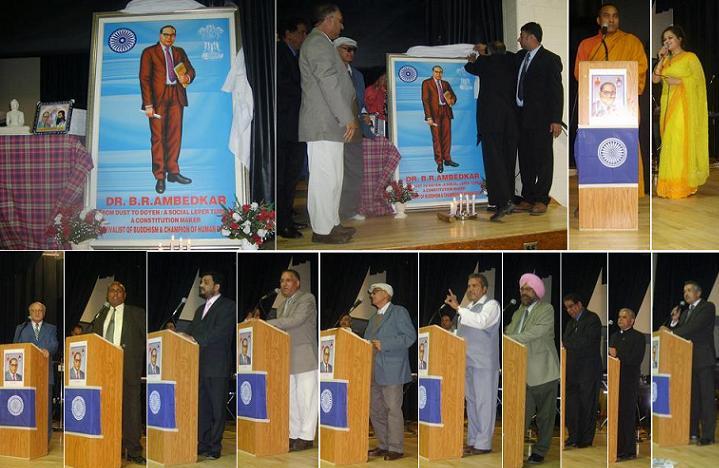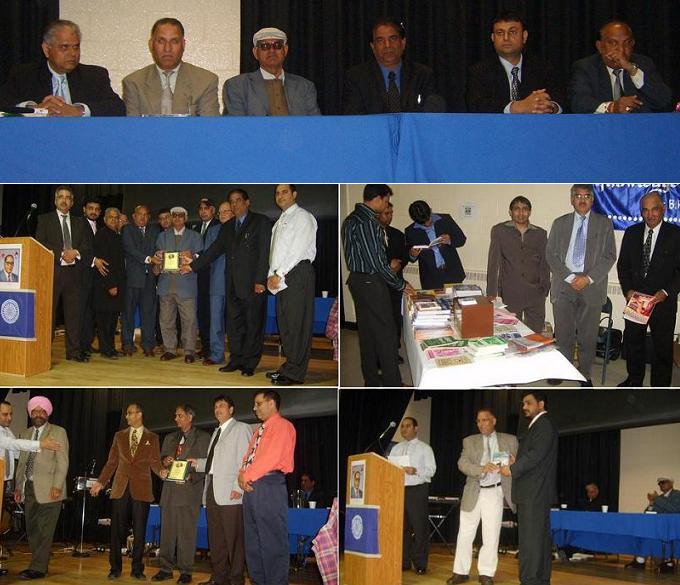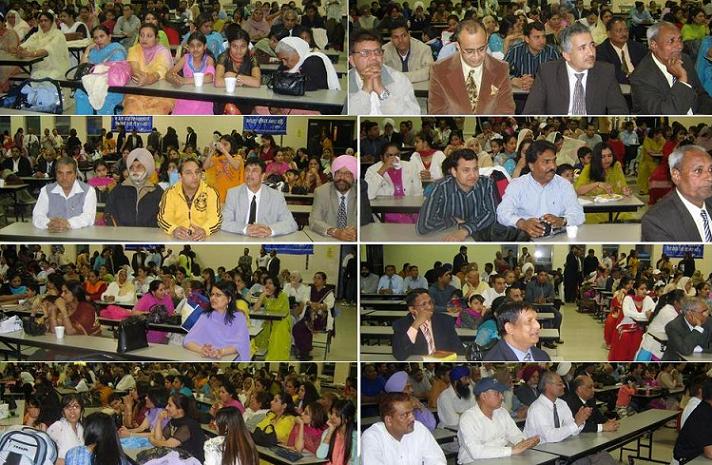 ABOVE ALL PICTURES FROM TORONTO
116TH BIRTH ANNIVERSARY CELEBRATION OF
DR. B. R. AMBEDKAR
ON MAY 5TH, 2007
Maha Rishi Valmiki's monumental work Ramayana is peace of unique literature. Dr. Ambedkar was of the view that instead of Tulsi Ramayana the people should read Valmiki Ramayana.
Mr. L. R. Balley
Toromto:- A grand public function was organized jointly in Toronto (Canada) by Ambedkar mission (Toronto), Shri Guru Ravidass Sabha and Bhagwan Valmiki Sabha to celebrate 116th birthday of Dr. B.R Ambedkar at North Peel Secondary School -1305 William Pkwy Brampton.
Mr. L. R. Balley, an associate of Dr. Ambedkar author and Journalist and a prominent figure from India was the chief guest. He was given rousing reception when he entered the hall. First of all Bhikhu Gayanosri recited Buddhist three refugees and five precepts. President of the Ambedkar mission Toronto Mr. Darshan Choudary welcomed the speakers and audience. He said, "Dr Ambedkar usured into a cultural revolution in India by embracing Buddhism which to be strengthened."
Davinder Bhatva, Ram Lobhaya Ms. Angna Raj sang a song appreciating services rendered by Dr. Ambedkar. Mr. Ashok sandhu president shri Bhagwan Balmiki Sabha and Harmesh Sandhi president of Guru Ravidass Sabha paid glowing tributes to Dr. Ambedkar.
Mr. L. R. Balley in his speech said, "Dr Ambedkar had a multifarious personality. He was great social reformer, educationist, valiant upholder of human rights, emancipator of down trodden masses." Dr Ambedkar was progressive radical and chief architect of India's constitution in the words of noble, awardees, gunnar, mydral, "Dr. Ambedkar laid down the direction for coming generation through the constitution. Mr. Balley advised the audience that they should discard sectarian outlook and become appreciable good citizens of Canada. Dr. Ambedkar abhorred superstition and supernaturalism. Therefore, falling his dictums we should be rational and moral the essence of his teachings. Mr. Balley explained the significance of good literature and impressed upon its production and distribution.

Mr. Balley said that Dr. B. R. Ambedkar by dedicating one of his books namely, "The untouchables,- who were they and how they became untouchables," took name of Shri Guru Ravidass to foreign land and thus popularized his reformatory achievements. Maha Rishi Valmiki's monumental work Ramayana is peace of unique literature. Mr. Balley said Dr. Ambedkar was of the view that instead of Tulsi Ramayana the people should read Valmiki Ramayana.
Mr. Anand Balley General Gecretary of Ambedkar Mission Toronto conducted the proceedings of the function very ably and impressively. He thanked to Shri Guru Ravidass Sabha and Maharishi Valmik Sabha that they have extended sincere co-operation to make the program a great success. People responded tremendously and participated in huge number to pay their gratitude their savior, Dr. Ambedkar.
Mr. Kashmira singh, an industrialist of Toronto, delivered a moving speech on the services rendered by Dr. Ambedkar. He donated $ 500 dollars each to Ambedkar mission Toronto, Bhagvan Balmik Sabha, Guru Ravidass Sabha Ontario.
Mr. Harmesh sandhi while narrating the different aspects of Dr. Ambedkar's life said that, you should follow Dr.Ambedkar's audiology. This is the message that we must take to our hearts. Mr. Jagiri Bance candidate of conservative party said he was glad that celebration of Dr Ambedkar being organized jointly this exhibits our unity and strength. Mr. Dyal karda in his speech said that present age is that of Dr. Ambedkar's age. In implementing social and economic thoughts we can progress and prosper. Mr. Rajesh Angral said that Dr. Ambedkar piloted India's constitution and he will always be remembered on that account .Mr. Rajesh Angral presented the report on the violation of human rights in India
All the speakers exerted that we should practiced the teaching of Baba sahib Ambedkar, only then we can be called true Ambedkarities
Report by Anand Balley & posted on May 8th, 2007


=====================================================
Dr. B. R. Ambedkar's 116th birth day clebrated in Toronto (Canada) by
Indo-Canadian Buddhist Council, Toronto.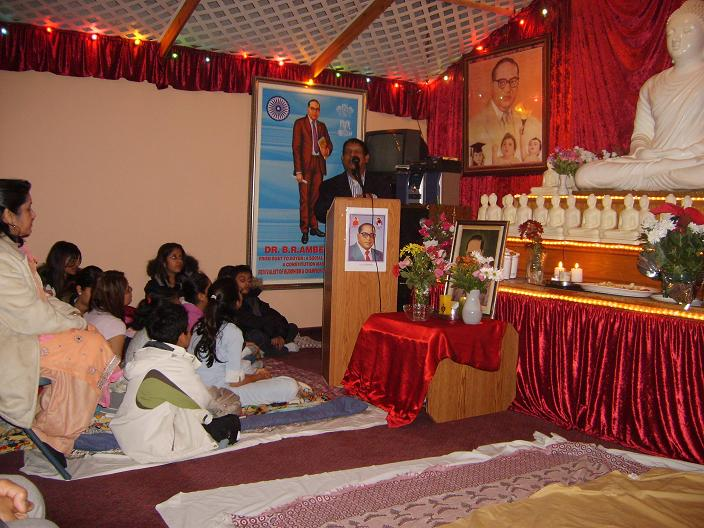 Mr. Sona Kanti Barua, (President, Indo-Canadian Buddhist Council, Toronto) is addressing the conference.

=====================================================

SHRI GURU RAVI DASS SABHA PITTSBURG CELEBRATED

DR. AMBEDKAR'S 116TH BIRTH ANNIVERSARY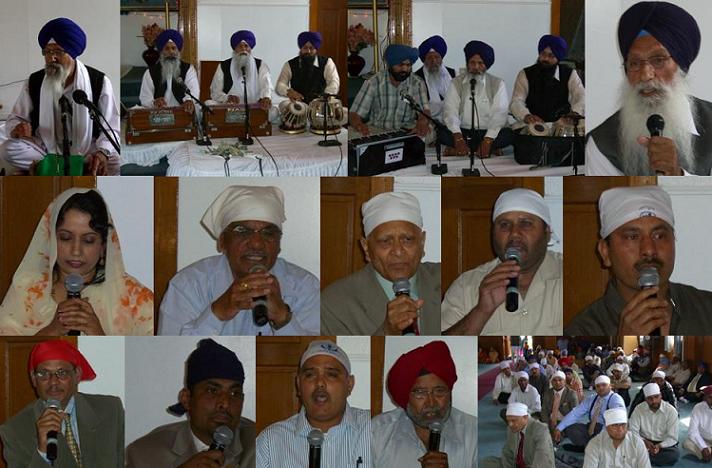 Pictures of Ambedkar birth anniversary

celebration

from Shri Guru Ravi Dass Temple, Pittsburg (California)

Pittsburg(Ca.) : Shri Guru Ravi Dass Sabha Pittsburg, California celebrated the 116th birth anniversary of Bharat Ratna Baba Sahib Dr. Bhim Rao Ambedkar at the Shri Guru Ravi Dass Temple Pittsburg (California) on Sunday, April 29th, 2007.The prominent Kirtankar Bhai Baldev Singh and Sathi recited the Kirtan Diwan and Bhai Harblas Singh, Bhai Bal Singh told the Sangat that all Great Saints from Satguru Namdev to Guru Gobind Singh Ji inspired people by their spiritual leadership and practiced to abolish manmade discriminations based on caste, color and creed.

Many distinguished and prominent speakers of the community, Lahori Ram, Subedar Joginder Singh, Vinod Chumber, O. P. Balley, Gina Bhatia, Ram Lubhaya Ralh, Kamal Dev Pall, Sukhvir Heer, and Santokh Jhingran spoke on the life and mission of Baba Sahib and paid tribute to our emancipator the great advocate and eminent statesman of the century.

In the opening speech, Dashvinder Paul General Secretary said that Dr. B.R. Ambedkar was a great leader, a great humanist and great champion of liberty, equality and fraternity. He made a monumental contribution to our society by drafting the Constitution of India. He taught us to unite, be highly educated and hold our heads up in integrity and sacrifice to uplift the downtrodden people of Indian society.

California State's Economic Development Commissioner Mr. Lahori Ram said, I am very happy for organizing such occasions in our Shri Guru Ravi Dass Temple to educate our people and future generations about our history, Identity and heritage .Subedar Joginder Singh said that Ambedkar was a true patriot and nation builder.

Baba Sahib Dr. Ambedkar has done so much for Indian women. Our forefathers raised their voice against untouchability, caste system, social injustice and laid their life's for our freedom and prosperity said Kamal Dev Pall President of International Bahujan Organization CA. He also read his missionary poems on the life of Baba Sahib and paid respect to Sahib Kanshi Ram for his contributions to bring political awakening in Bahujan Samaj.

Baba Sahib Dr. Ambedkar enabled us to protect our human rights and we must educate our children to fulfill Baba Sahib's dreams, these words expressed by well known Ambedkarite Mr. O. P. Balley who had been met to Baba Sahib Dr. Ambedkar .

Mr. Ram Lubhaya mention, those who sacrifice everything for their nation and humanity is always remembered .Baba Sahib shared the sufferings of his people cheerfully; in fact he lived, so others are happy, he died, so that others could live said Sukhveer Heer.

Mr.Vinod Chumber President Shri Guru Ravidass Sabha Bay Area told the sangat that Baba Sahib was the greatest wealth of our country. We should have a rational attitude towards life, only education can develop our ability to get rid of superstitions.

Treasurer Gina Bhatia congratulated the entire Sangat for celebrating the 116th Birth Anniversary of Bharat Ratna Baba Sahib Dr. Bhim Rao Ambedkar and encouraged all women to be the part of Baba Sahib's movement. Santokh Jhingran Secretay thanked the entire Sangat for their participation in this function to make it an accomplishment.

Sathio, our true tribute to Bharat Ratna Baba Sahib Dr. Bhim Rao Ambedkar is to adopt and follow his mission, philosophy and make it apart of our lives. We should do our utmost in order to improve the economic, social, political and national life of our people. By adopting Ambedkarism we can not only make ourselves happy and prosperous but the future of India is also safe and bright.

Dashvinder Paul

POSTED ON MAY 2ND, 2007

===================================================================================================================


BABA SAHIB DR. B. R. AMBEDKAR'S 116TH JAYANTI CELEBRATED IN TORONTO (CANADA)

Report by Raj Kumar Oshoraj

The past weekend on Saturday Indo-Canadians celebrated 116th birth anniversary of a Champion of Human Rights, An architect of Indian Constitution and A savior of depressed people of India . Baba Sahib Dr. B. R. Ambedkar
who was born on April 14,1891. Celebrations were a joint effort of Shri Guru Ravidass International Organization for Human Rights (Canada) and Idian Buddhist Society Toronto, Canada.


Mr.Jiwan Singh started the program and handed over the stage facilitation to Mr. Raj Kumar Oshoraj. Hall was decorated for the special occasion and huge banners were evident for the presence of both organizations. Patrons of Dr. Ambedkar and members of Shri Guru Ravidass International Organization for Human Rights (Canada) and Idian Buddhist Society Toronto, Canada participated along with distinct guests from Toronto and adjoining cities.

Program started with garlanding Baba Sahibs portrait and lighting candles by Mr. Kashmir Singh and Mr. D.R. Dhanda who were accompanied by Mr. Jaswinder Jassal, Mr. Jiwan Singh and other members of the organizations. Mr. Kashmir Singh a well known personality of Toronto, socially and politically was the Chief Guest of the program. Mr. Singh is a successful capitalist of Toronto who had worked on the major projects of Toronto City one of them is Rogers Centre (previously known as Sky dome) by supplying them steel from his company for the construction of the biggest sports stadium of Canada.


Mr. Kashmir Singh shared his joy on this special day with the audience and also appreciated Baba Sahibs contribution for our community and admitted that we could not have been in Canada and other countries of the world without Baba Sahibs struggle for us. Mr. Singh also encouraged everyone that anything is possible in this part of the world and to continue working hard to be successful like him, he added. Mr. Kashmir Singh financially supported both (Shri Guru Ravidass International Organization for Human Rights (Canada) and Indian Buddhist Society Toronto). Everyone applauded Mr. Singh for his support.


Following speakers shared their thoughts on Baba Sahib who were from both organizations and some were from other organizations: Mr. Nirmal Sallan, Principal (Rtd.) Pakhar Singh, Dr. Kewal Kailay, Mr. Darbara Singh, Mr. Sona Kanti Barua, Mr. Dev Bhatti, Mr. Shiv Kauldhar and of course: Chief Guest Mr. Kashmir Singh.

All speakers admitted that we could not have been enjoying our lives today without the sacrifices of Shri Guru Ravidas Ji and Baba Sahibs life long struggle for our Liberation. We must carry on Baba Sahibs caravan for our good and to fulfill Baba Sahibs dream. Educate, Agitate, Organize a must need was also collectively agreed upon. Religious direction for Buddhism indicated by Baba Sahib was also appreciated by one of the speakers.


Local artist Mr. Ram Lubhaya Chumber along with his music team performed songs on Baba Sahib and entertained the audience in between the speeches. Mrs. Juthika Barua also performed a song which was prepared and presented very professionally. A large selection of literature on Buddhism and Baba Sahib was on display at no cost for the participants.


At the end of the programe two plaques were presented, one for Chief Guest and one for Mr. Manjit Singh for his tireless efforts to organize the program. I was honored to facilitate the program to the end and was also privileged to share my thoughts during the program on various topics of speakers and Baba Sahibs life struggle to achieve his goals to see us where we are today.


On June 16, 2007 (Saturday) Indian Buddhist Society Toronto and Shri Guru Ravidas International Organization for Human Rights (Canada) jointly will be celebrating Buddha Jayanti in Toronto. All are invited to participate.


For more information:


Raj Kumar Oshoraj Mohan Verdi Jaswinder Jassal

(416) 219-4196 (416)895-9454 (416)624-5605

Mr. Parkash Rahul Jiwan Singh Mr. Manjit Singh

(416) 278-8456 (647)274-6522 (647)202-5273

Note:

Baba

Sahib Dr. B.R. Ambedkar's 116th Jayanti was celebrated on

April 28, 2007

in

Toronto

(Canada).




POSTED ON MAY 4th, 2007

=================================================


WE HAVE TO GET BACK OUR DIGNITY, RESPECT & LAND

FROM CASTEISTICS & LAND GRABBERS----DR. SAINT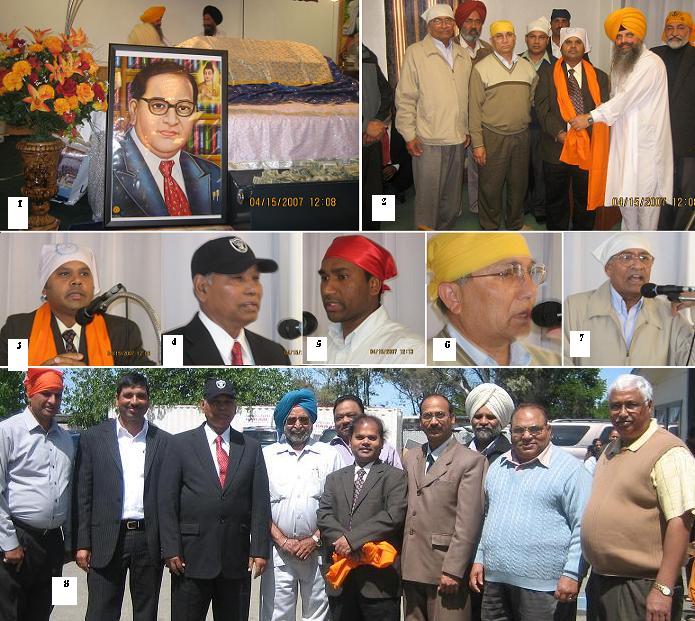 (1)-Sahib Shri Guru Garanth Sahib (2)-Dr. Muni/Saint honoured with Siropa on his very Ist visit to Shri Guru Ravi Dass Temple (3)-Dr. Saint (4)-Mohan Gill (5)-Naresh Barsagde (6)-Kewal Bolina (7)-A.R. Bangar (8)- Group photo with Dr. Saint on his very 1st visit to Shri Guru Ravi Dass Temple Rio Linda, Ca. (April 15, 2007) Left to right M. L. Simk, H.R. Kajla, M.L. Gill, Joginder Singh, Parshotam Sondhi, Dr.Saint, P. K. Chumber, Kirpal Singh, Prem Sondhi & Paramjit Bhutta.
PHOTOS: AMNEDKARTIMES.COM

Dear Ambedkarite Brothers & Sisters,
Sacramento (California, USA) : On the occasion of the116th Birth Anniversary of our "Father of Modern India "Dr.B.R.Ambedkar", I was invited to join the celebrations at the Shri Guru Ravi Dass Temple, Rio Linda in Sacramento County. The celebrations took place this Sunday (April 15, 2007) at at the temple hall; I was received by Brother Prem Chumber and later joined by Mohan Gill inside the hall of tranquility and respect, where other Ambedkarite brothers got introduced to me. The environment inside the Shri Guru Ravi Dass worship hall was also decorated with a beautiful picture of Dr.Ambedkar with an inset of our Lord Buddha, the greatest teacher and model of enlightened human.
The quietness inside the hall reflected the inquisitiveness of our brothers and sisters on this occasion, most probably they are thinking that what a great day is today, and what a great Indian intellectual our savior Baba Sahib was and is! I was humbled by the respect I received from our Ambedkarites brothers and sisters at the ceremony. Prem Chumber and Mohan Gill asked the Gen. Secretary of the ceremony Mr. Amar Baidwan to welcome me in his speech and adore my neck with the Sikh tradition the Siropa, to my surprise they have asked me to talk, and it was a little embracing moment as I did not go there to give a talk. However, I gathered myself and spoke for about five minutes, as all the speakers were very brief to 5-10 min. I was speaking from my mind than a prepared stage talk; I was able to convey the message of the life of Dr.Ambedkar, which was full of principles, morality and great human kindness. I also emphasized that every single Dalit must follow Ambedkar way of life which is Buddha's middle path of life.
I made special highlights about the increasing atrocity against dalits in India, I pledged to everyone that they must support the cause to prevent Dalit atrocity that dalits abroad must come forward to uplift the struggling brothers and sisters in India. I hope that my words should be kept remaining them about learning more about Ambedkar and Buddhism. As always, I had to promote the truth and perception about our savior as the "Father of Nation, and most importantly that we are all the sons and daughters of Dr.Ambedkar.
On this day, we have to pledge that we must get back our dignity, respect and our land India that belongs to the Dalits, dalits must regain our land from the cartelistic Indians and land grabbers. And, this should be the first priority among thousands of such priority for us. After the meeting, I was served a lunch and all the brothers showed great interest in listening and trying to learn more about Ambedkarite activities. I had spent some time discussing various issues with Prem Chumber and Mr. Mohan Gill. These two wonderful Ambedkarites spoke very eloquently, and others spoke very well. I witnessed lots of genuine Ambedkarites who keep our pride high up in the state of California. I was humbled and profusely happy from meeting the Guru Ravi Dass/Ambedkarites here in Sacramento. Infact, they also agreed happily to provide the meeting place for the upcoming meeting with Mangesh, Viradhamma and other Atrocity news team at the temple Shri Guru Ravi Dass, Rio Linda (Sacramento) on Saturday, April 21st, 2007.
In Dhamma,
Dr.Muni/Saint
http://upliftthem.blogspot.com
http://greatscholar.blogspot.com
http://www.gopetition.com/signatures.php?petid=9773
=====================================================


(1).

(From left top) Dr.Aradhana Parmar (U of C), Dr.Vivek Kumar (JNU), and Dr.Queen (Harvard, U.S.A) during the question/answer session.

(2).

Dr.Queen delivering his talk on "Dr.Ambedkar's Navayana Buddhism and Human Rights struggle"

(3).

Audiance during the Dr.Ambedkar Symposium.

(4).

Left below - Mrs.Kamlesh Ahir (

Vancouver

) during the introductory song

(5).

Raj Kumar Kamble

(6)

. Dr.Vivek Kumar (JNU,

New Delhi

)

Dr.Ambedkar International Mission organizes

"Dr.Ambedkar Symposium" at University of Calgary, Canada

Raj Kumar Kanble




Calgary (Cnanada): Dr.Ambedkar International Mission Society, Canada organized "Dr.Ambedkar Symposium" at University of Calgary on Saturday, 24 March 2007 in a grand manner. The symposium was conducted in two sessions. First session was organized at the prestigious Rosza Centre of University of Calgary, Calgary, Canada. This session comprised opening remarks by Mr.Ashok Kumar, the Consul General of India in Vancouver. Mr.Kumar welcomed the Dr.Ambedkar Memorial Lectures being organized at the University of Calgary and agreed to provide more support to the Dr.Ambedkar memorial lecture in the coming years.


The two main lectures were delivered by Dr.Christopher Queen, Dean of Students for continuing education and Lecturer, Deptt of Religious Studies at Harvard University, Massachusetts, U.S.A and by Dr.Vivek Kumar Associate Professor, Deptt. Of Social Sciences, Jawaharlal Nehru University (JNU), New Delhi. Dr.Queen spoke on "Ambedkar's Navayana Buddhism and the struggle for human rights". Dr.Queen delt the subject comprehensively and emphasized Dr.Ambedkar's contribution to the World Buddism. Dr.Vivek Kumar gave his lecture on


"Dr.Ambedkar – Builder of Modern India". Dr.Vivek Kumar in his lecture highlighted the multi-dimensioned facets of Dr.Ambedkar's crusade. He also highlighted how different sections of the Indian society including women were benefited by Dr.Ambedkar's work immensely.

Dr.Aradhana Parmar, Lecturer at Deptt. Of Culture and Communication, University of Calgary, Canada conducted the proceedings.

It has been a historic event to commence a lecture program in the memory of the greatest son and statesman of India, founding father of its constitution, Dr.B.R.Ambedkar at one of the universities in Canada. Just to remind you all, Simon Fraser University in Vancouver had established a bust of Dr.Ambedkar on 14th October 2004. This will open up more and more awareness about Dr.Ambedkar and his human rights struggle, which secured human rights to 250 million untouchables and tribals in India, in the west, resulting in more research carried out on Dr.Ambedkar's philosophy.

Second session was organized in the evening on the same day at Walsh Hall, Falcon ridge Community Centre in Calgary. This was an evening event with cultural programs, speeches by imminent Ambedkarites of the region, Ambedkar Quiz. Mr.Ashok Kumar, Consul General of India in Vancouver, Dr.Vivek Kumar and Mr.Shiraz Shariff, the MLA, Mc Call NE, Calgary also addressed the gathering. This program was attended by the Ambedkarites from Vancouver, Toronto, Vernon, Kelowna, Golden and many other towns close to Calgary. More than 250 people attended this event with their families. Children who performed in some way or the other were given prizes for their efforts.


Dr.Ambedkar Quiz in two parts (for the children and adults separately) was an exercise conducted to impart precise knowledge about Dr.Ambedkar's philosophy and work, which forms the history of the liberation of untouchables and tribals.

The symposium was organized by Ambedkar International Mission Society, Canada and was sponsored by University of Calgary – Faculty of Communication and Culture, International Centre and Libraries and Cultural Resources, Guru Ravidass Society of Calgary and Shastri Indo – Canadian Institute, Canada.

The symposium was attended by a host of social organizations of the region viz. Balmiki Sabha, Toronto, Chetna Association, Vancouver, Guru Ravidass Sabha, Vancouver, Indian Buddhist Society of Canada, Vancouver, Guru Ravidass Society of Calgary and Ambedkar International Mission Society, Canada.

It was indeed a memorable event which created a momentum for Dr. Ambedkar's movement.

=====================================================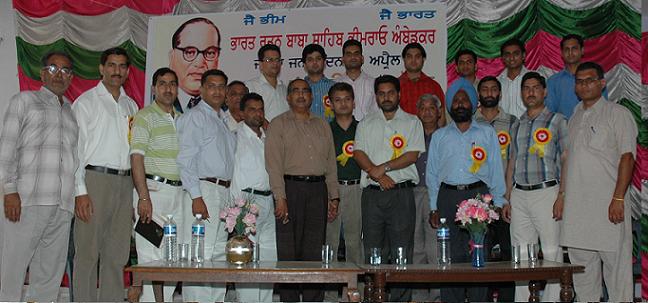 DR. AMBEDKAR CHETNA MANCH CELEBRATED 116TH BIRTH ANNIVERSARY OF BABA SAHIB DR. B. R. AMBEDKAR ON APRIL 14TH, 2007


R. K. Kashyap
Gurdaspur (Punjab): Dr. Ambedkar Chetna Manch celebrated 116th birth anniversary of Bharat Ratna Baba Sahib Dr. B. R. Ambedkar at Aryanagar Dinanagar (Gurdaspur) Punjab on Saturday April 14th, 2007 with great enthusiasm. Around 7000 people gathered to pay their respect to their beloved & great savior Bharat Ratna Baba Sahib Dr. B. R. Ambedkar. The eminent personalities were also present & the following eminent personalities addressed the gathering; 1. Shri Sita Ram Kashyap, MLA, Punjab Legislative Assembly representing Dinanagar Constituency. 2. Shri D. D. Kashyap, Indian Police Service, former Inspector General of Police, Haryana State. 3. Shri Jai Singh, Editor, Dalit Dastaan, Phillaur (Jalandhar) Punjab. He works on Dalit and Bonded Labour issues in India. 4. Major Som Nath, Advocate and Chairman, Ambedkar Mission, Gurdaspur. 5. Shri S. J. Pal, Deputy Chief Engineer, Punjab State Electricity Board, Punjab. 6. Shri Rajesh Kumar, Lecturer, Government College Tanda, District Hoshairpur.

Below some pictures from 116th birth anniversary celebration of Bharat Ratna Baba Sahib Dr. B. R. Ambedkar at Aryanagar Dinanagar (Gurdaspur) Punjab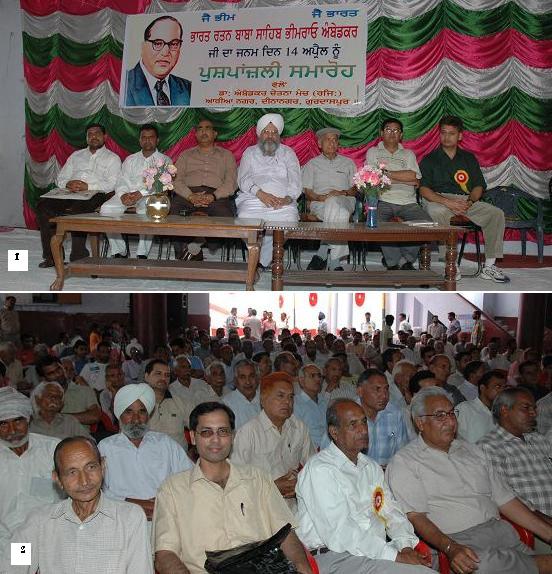 (1) Dignitaries at the Stage . (2) A brief view of gathering.Photos: ambedkartimes.com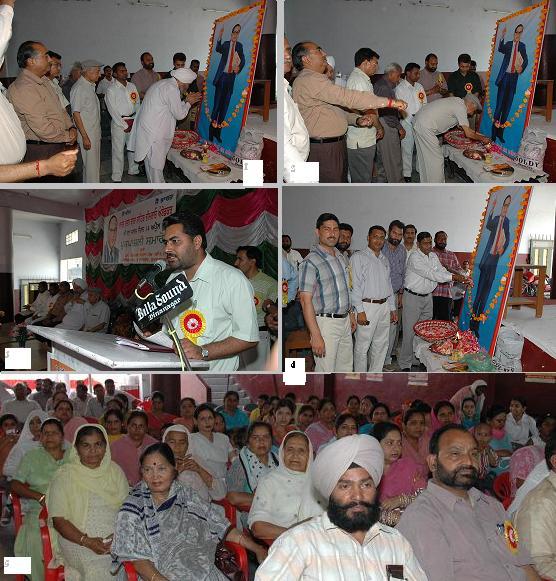 Photos: ambedkartimes.com

Floral tribute by the dignitaries. (1) & (2)

(1) Shri Jai Singh, Editor, Dalit Dastaan.

(2) Shri S.J. Pal, Deputy Chief Engg., Punjab State Electricity Board, Punjab.
(3) Starting of Proceedings of function by Shri Jitender Kumar, General Secretary,
Dr. Ambedkar Chetna Manch, Aryanagar, Dinanagar in Gurdaspur Distt. Punjab, India.

(4) Floral Tribute by Shri Sita Ram Kashyap, MLA, Punjab Legislative Assembly.

.(5) A brief view of gathering.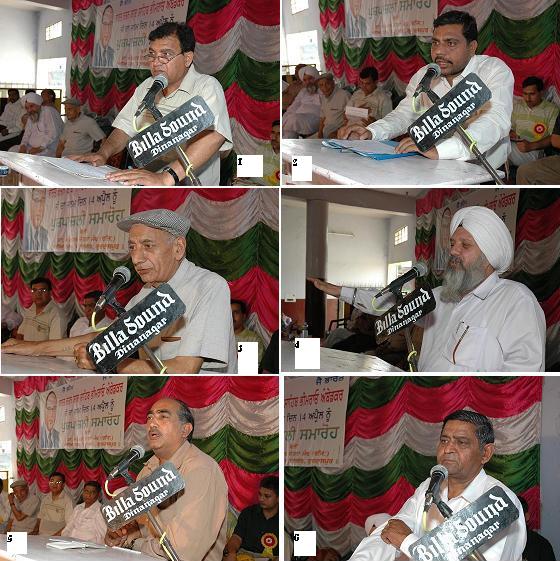 Photos: ambedkartimes.com




Aaaressed by





(1)

Major Som Nath, Advocate, Chairman, Ambedkar Mission, Gurdaspur, Punjab.

(2) Shri Rajesh Kumar, Lecturer, Government College, Tanda, Punjab, India.

(3) Shri D.D. Kashyap, IPS, former Inspector General Police, Haryana state, India.

(4) Shri Jai Singh, Editor, Dalit Dastaan,

(5) Shri S.J. Pal, Deputy Chief Engg., Punjab State Electricity Board, Punjab.

(6) Shri Sita Ram Kashyap, MLA, Punjab Legislative Assembly.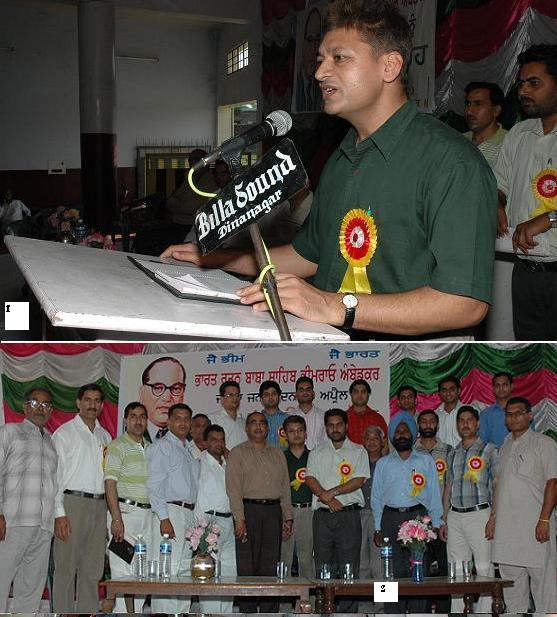 Photos: ambedkartimes.com

(1) Shri Rajinder Kashyap, Director, Ministry of Communications and IT, Government of India, New Delhi is addressing the gathering.
(2) Group photo of Executive Committee office bearer and Members of Dr. Ambedkar Chetna Manch.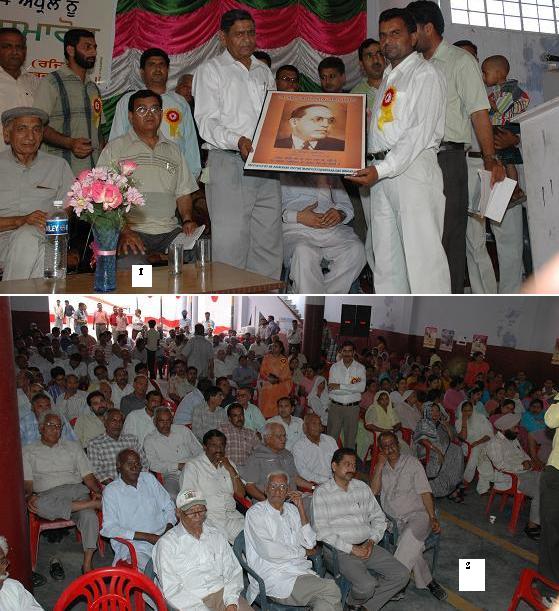 Photos: ambedkartimes.com

(1) Dr. Rakesh Kumar, President Ambedkar Chetna Manch, Aryanagar, Dinanagar, Gurdaspur,
Punjab presenting a picture of Baba Sahib B.R. Ambedkar to the dignitaries after the function.

(2) A brief view of gathering.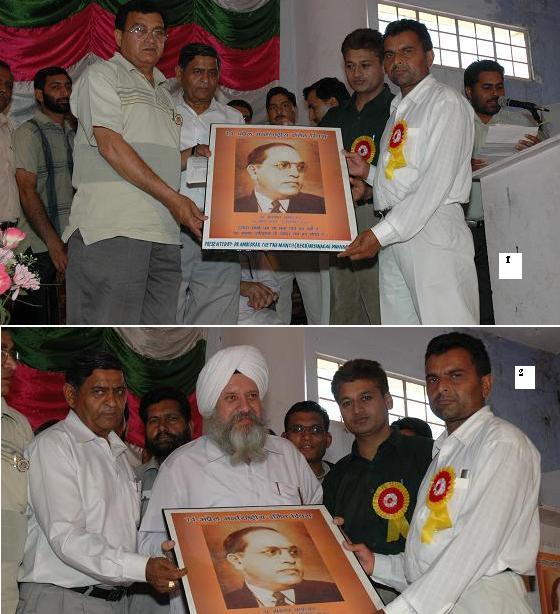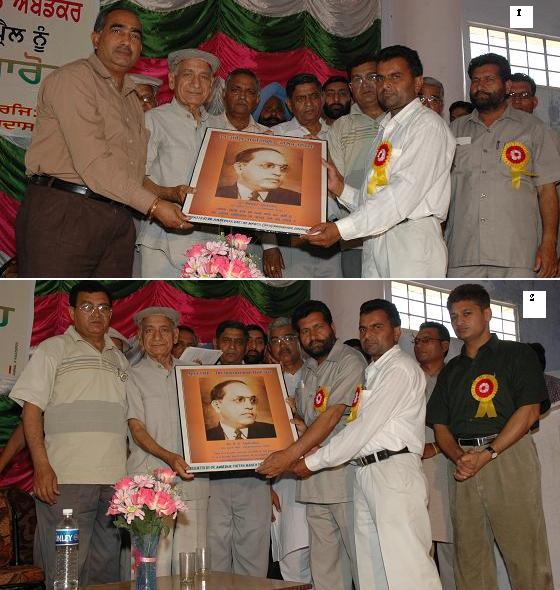 Photos: ambedkartimes.com

=============================================================================

DR. B. R. AMBEDKAR'S 116TH BIRTH ANNIVERSARY CELEBRATION
PICTURES FROM JALANDHAR CITY (PUNJAB) INDIA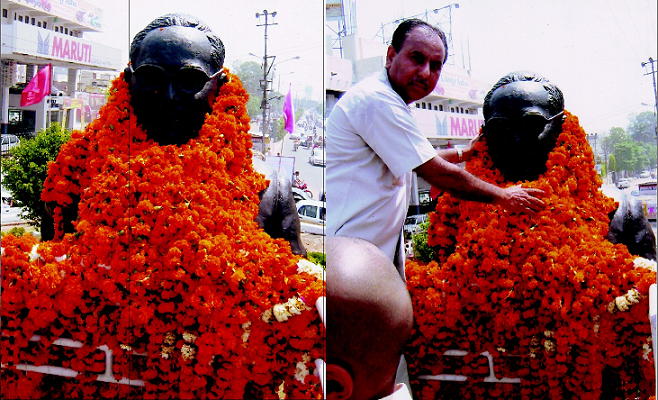 Ambedkrite Mr. Harmesh Jassal is garlanding the statue of Bharat Rattna Baba Sahib Dr. B. R. Ambedkar on his 1116th birth anniversary celebration at Dr. Ambedkar Chowk in Jalandhar City (Punjab), India on April 14th, 2007.
Photos: ambedkartimes.com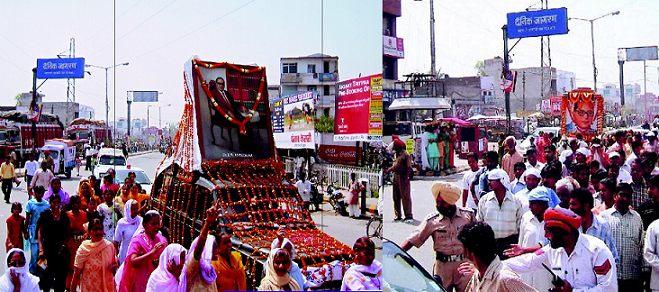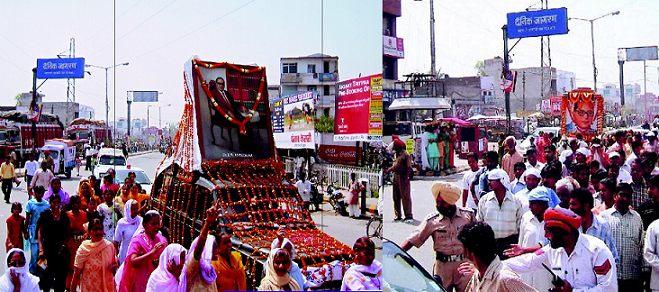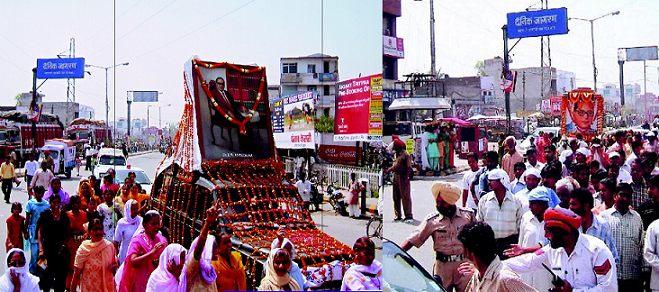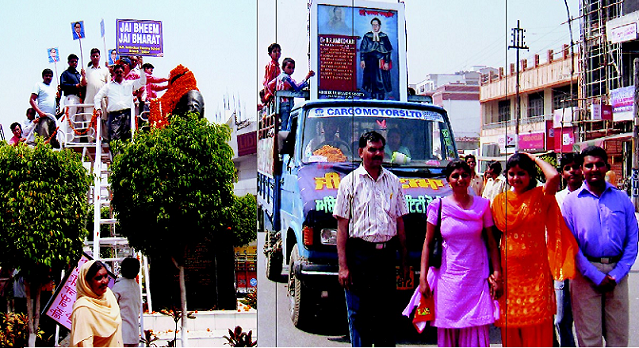 Above some more pictures from Jalandhar City (Punjab), Bharat Rattna Baba Sahib Dr. B. R. Ambedkar's 116th birth anniversary celebration prade.
Photos: ambedkartimes.com

=============================================================================

"116TH BIRTH ANNIVERSARY OF

DR. B. R. AMBEDKAR"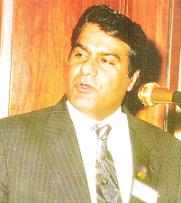 Chanan Chahal


(Lecture delivered by Chanan Chahal, President of Federation of


Ambedkarites a Buddhist Organisation U.K. on 14th.April 2007.)

The Speaker of Lok Sabha India, Honourable Mr. Somnath Chatterji, Mrs. Chatterji, Minister for co-ordination Mr. Rajat Bagchi and Ladies and Gentlemen.

We have gathered here to celebrate and analyse the life long contributions of Dr.Ambedkar to Indian way of life. We Indians are historically known for honouring our heroes, blindly following their teachings without having tested their impact on society. However, it would not measure up to the teachings of Babasahib, if we gather annually on his birth anniversary and shower empty praises, which, lacks commitment. If we continue to do so then it would fall in the category of 'Hero Worship'. Dr.Ambedkar not only apposed the 'Hero Worship', he holds it responsible for the decline of Indian society in comparison to other progressive societies of the world.

Dr.Ambedkar's teachings and mission is transparent from his speeches, writings, and his way of life. While presenting the constitution to the President of India he said "Social and economic democracy is the tissue and fibre of the political democracy, tougher the tissue and the fibre, greater the strength of the body. The democracy is just another name for the Equality".

"On 26th January 1950 we will inter into a life of contradiction, we would have equality in politics and inequality in social and economic fields, if we 'the elected' fail to remove this contradiction then those who suffer will destroy the structure of political democracy".

India is in the 60th year of home rule but, the social and economic inequalities are still with us. Due to, which, if we take the events of last six months and we see that last December violence erupted in Maharashtra and some other states of India. The reason was that a Caste prejudices atrocities against Scheduled Caste and Scheduled Tribes and gender discrimination is on the rise. Another reason was decapitation of Dr.Ambedkar statue in Kanpur. It was deliberate act to provoke the oppressed of the society. This was the first time the oppressed reacted violently to public humiliation and desecration of Dr.Ambedkar's Statue. It seems that victims of Caste prejudices have had enough of empty promises. If the authorities still do not take the hint and implement the constitutional provisions being committed against Dalits, then it will pave the way for the Caste Warfare, which will be in nobody's interest.

We do not condone such violence because we believe that Dr.Ambedkar was right when he said "We must hold fast to constitutional methods of achieving our social and economic objectives. It means we must abandon the bloody methods of revolution. It means that we must abandon the methods of civil disobedience, non co-operation, and Satyagraha". If the rule of law fails to protect the weak from atrocities, than the people would go for unconstitutional means. To avoid such eventuality in the future the authorities must implement the constitutional safe guards and protect the victims irrespective of their Caste, Faith, or gender.

Over half a century ago our first Prime Minister Pundit Jawaharlal Nehru, referred to Dr.Ambedkar as "Symbol of social revolt who justly revolted against the oppressive features of Hindu society". The protests against these 'oppressive features' which Nehru referred cease to be limited to Indian boundaries, in fact because of them Indian society today have become subject of international ridicule.

Thankfully, it seems our present Prime Minister Dr.Monmohan Singh has rightly diagnosed the Indian disease when he compared the Caste practices to Apartheid in South Africa and said "The Untouchability is not just a, social discrimination, it is a blot on humanity". There never been, in the past, lack of acknowledgement of these oppressive features what was lacking a willingness to do something about them, instead of shedding some crocodile tears in sympathy. The only time will tell if our political masters now have the political will to remove this blot from our society.

2007 is the 200th anniversary of abolition of slave trade and slavery. It was celebrated worldwide. There seems to be a new worldwide consciousness about the Human rights abuses. At one time one country did not interfere into the internal affairs of the other, but now due to multiculturalism the Human rights abuse is not tolerated irrespective of in which country they occur. It seems that the world after having abolished Apartheid in South Africa, it has turned their attentions to Indian Caste based discriminations.

· The discriminatory Caste practices in India became under scrutiny and condemnations by the United Nation's Human rights division.

· In February this year, The European Parliament has passed a resolution condemning Caste based discrimination. They said "The rights of dalits remains 'grossly inadequate, and the atrocities, untouchability, illiteracy, inequality of opportunity, continue to blight the lives of India's Dalits".

· The Houses of Lords of Britain had a debate on Caste discrimination issues in India and abroad.

· BBC conducted a survey which concluded that 55% of the Indians in India feel that only possible obstruction between India becoming Superpower are the hierarchical Caste system 'The Caste issues would become barriers to Social harmony'.

We are very proud of the fact that India is very successfully surging ahead in economic fields and there are all the signs of India becoming an economic world power in very near future. So it stands to reason that all possible hurdles should be removed from the path of India achieving its goals.

The Indian government headed by Dr.Monmohan Singh have undertaken to change the mindset of the Indian people about Caste consciousness and its destructive features. He accepts that "It is necessary to make a distinction between the problems faced by Dalits in India and the problems faced by minorities in all other societies. Dalits have faced a unique discrimination in our society that is fundamentally different from the problems of minority groups in general".

The Indian Government have launched a year long celebrations of the 2550th year of Mahaparinirvana of Lord Buddha. Mr. Singh said that during this year "We have to make the Government more transparent and humane, more caring and honest. Our commitment to building a more inclusive society must harmonise with Lord Buddha's message of a just society".

"The intellectual, moral, and spiritual legacy of Lord Buddha endures and inspires. It encourages us to follow the path of righteousness, benevolence, and humanism". The Indians should be vigilant and monitor the policies and actions of the Government to see if they are sincere about their proclamations.

The Indian parliament should take notice of the violent responses against atrocities by the Indians and they also must not ignore international criticism as they have done in the past, because, now international investment is on stake. They must move towards fulfilling the constitutional commitment to Equality, Liberty, Fraternity, and justice and make it a reality.

The gathering here today and people in general who have settled abroad should pay true homage to Dr.Ambedkar. The true homage to Dr.Ambedkar is not only singing his praises at top of our voices from the rostrum, but it is to get committed and involved in changing the Caste ridden society into Casteless society by discarding Caste practices in our everyday lives and become example for the rest of the world.

By doing so we would truly be deserving respect in words of

Dr.Ambedkar;

"The glory to those who keep up their struggle in spite of heavy adds, carping humiliations, storms and dangers till down trodden secure their human rights".

Fwd. by Harmesh Jassal

POSTED ON APRIL 24, 2007

===============================================================




Dear sisters and brothers

Jai Bhim

I wish all a happy and prosperous life on the occasion of Dr.Babasaheb Ambedkar's 116th commemoration day. We must pay our honest and sincere homage to our great leader, emancipator and savior Babasaheb.

Yours fraternal,

A.Rathnam.


=====================================================



MASSAGE

RAMDAS ATHWALE

On the occasion of Bodhisattva Bharat Ratna Dr. Ambedkar's 116th Commemoration day I would like to pay my respectful homage to grate son of India our Master, Savior and emancipator Babasahib Ambedkar.

He was a great scholar of India's different languages, different philosophies, traditions, approaches and ways of life. "His approach to the Constitution is one that brought together the many streams of the traditions of India. You can see the most glorious and wonderful images of India in the Constitution of India - and in the way in which he expounded it when he piloted The Constitution through the Constituent Assembly.

It is a living legacy. Today we celebrate, not merely in remembrance of a great man who lived long ago, or whose memory is far away in the past, but we celebrate here to remember this living legacy which belongs not only to India but to all the different nations of the world

Dr Ambedkar is a man not for one season but a man for all seasons: not for one era but for all eras. He is a man for many ages to come, because the vision that we find unfolding itself in the Constitution remains one which it is up to us to fulfill. Dr Ambedkar's work is not finished and his legacy enforces upon us an obligation to fulfill this vision of a great humanist. He was a great exponent of human rights when the whole theme and philosophy of human rights was still unexpressed or merely half-expressed.

Dr. Ambedkar, The father of the Indian Constitution, was deeply influenced by Lord Buddha's precepts and teachings which have eternal truth and universal significance.

On this occasion, I extend my greetings and felicitation to all the participants and wish the Jayanti celebration all success.

=====================================================

SPECIAL ARTICLE ON THE 116THE BIRTH ANNIVERSARY OF DR. B. R. AMBEDKAR

Bharat Ratan Baba Sahib
Dr. Ambedkar and Nationalism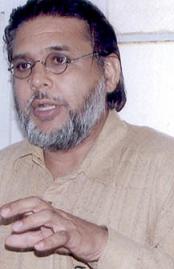 RONKI RAM (DR.)
ronkiram@yahoo.co.in

DEPTOF POLITICLE SCIENCE,
PANJAB UNIVERSITY, CHANDIGARH-14 (INDIA)

Dr. Ambedkar was an iconoclastic social reformer who at the very formative years of his career realized what it meant to be an untouchable and how struggle against untouchability could be launched. The social reform movement of the caste Hindus could not win him to its side because of his existential understanding of the pangs of untouchability. The issue of untouchability, for social reformers, was a mere problem. This problem was exterior to them in the sense that it affects only the untouchables. They themselves had never experienced the sinisterous blows of untouchability. Though they were sympathetic to the cause of Dalits, but they belonged to the camp that imposed this inhuman system of social segregation on the Dalits.

=====================================================
SPECIAL ARTICLE ON THE 116THE BIRTH ANNIVERSARY OF DR. B. R. AMBEDKAR
THE LIBERATOR OF UNTOUCHABLES

BHARAT RATTAN BABA SAHIB DR. B. R. AMBEDKAR

"The Hindus wanted the Vedas and they sent for Vyasa who was not a caste Hindu.
The Hindus wanted an Epic and they sent for Valmiki who was an untouchable.
The Hindu wanted a Constitution, and they sent for me.
……………..Dr. B.R. Ambedkar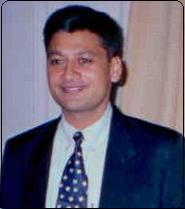 Rajinder Kashyap

New Delhi
.

0091-11-987-355-9415
The condition of untouchables prior to the birth of Babasahib was worse than the animals. They were pushed in filthy and inhuman trades, made to settle on the outer precincts of human habitations, survived on remnants foodstuffs, forced to indulge in menial works, deprived and denied opportunities of education, trade and commerce and government service. They were forced not to strive for any social, political or religious rights, rather all their rights were usurped. The Hindu society believed that to perpetuate atrocities on untouchable is their pious and religious duty and such actions have authority of their scriptures. Such gruesome and horrific was treatment of untouchables in Hindu religious and social system that it even took away the spirit of protest and they resigned to their fate and took this exploitation as result of their past deeds or bad karmas.
Continue on file: Rajinder Kashyap

=============================================================================

SPECIAL ARTICLE ON THE 116THE BIRTH ANNIVERSARY OF DR. B. R. AMBEDKAR

Dr. B. R. Ambedkar And Revolution
Dr.Santokh Lal Virdi Advocate

Mb. 98145 17499, Tel. 01824 265887

Dr. Ambedkar was one of the illustrious sons of the India who struggled throughout his life to restructure the Indian Society. He not only led various social movements for the upliftment of the depressed sections of the Indian Society but also contributed to the understanding of the Socio-Economic and Political problems of India through his scholarly works on caste, religion, culture, constitutional law and economic development.

Returning from London Dr. Ambedkar was given a high post in Baroda. When he reached Baroda no one came to welcome him. Worse still, even the servants in the office would not hand over the files to him. No one in the office would give him water to drink. He could not get a house to live in. On account of his low caste, he was refused a place on rent.He tried his best to get a room, but could find no shelter. He had to resign the post and returned to Bombay.


Continue on file: Dr. S. L. Virdi