Grand opening of Wolverhampton Buddhist Maha Vihara
on Sunday 15th September 2013 Time: 2:00pm – 5:00pm.

Special guests: The Right Revd Clive Gregory, The Bishop of Wolverhampton, Ven Dr. W. Kassapa (O.B.E.) President, I.B.R.O. & B'ham Buddhist Mahavihara, Ven. Dr. Uttara Nyana, Chief Abbot, Burmese Buddhist Vihara B'ham, Dr. Harun Rashid JP, Chairman, Wolverhampton Interfaith & Regeneration Network
At Owen Road, Pennfields, Wolverhampton WV3 0HG

Punjab Buddhist Society UK
83 Lea Road, Pennfields, Wolverhampton WV3 0LN
Tel: 01902 656665 Email: pbs_2004@yahoo.co.uk
Web: www.punjabbuddhistsocietyuk.com Regd. Charity No. 1108360
For further information please contact:
Ven. Tejwant 07551862666 Mr. Ram Pal Rahi (President) 07721935138
Posted on www.ambedkartimes.com September 3, 2013 READ MORE
At Brickkiln Community Centre, Cherry St., Merridale,Wolverhampton WV3 0QW on Sunday 18th November 201211.30am – 3:30pm

Robe offering is one of the most meritorious activities in Buddhism. All monks have to observe the Vassa, living at one monastery for three months during rainy season. Monks who fulfill the Vassa retreat without a break and perform Pavarana at the end are able to accept the Kathina Robe. There are two ceremonies in Kathina offering. One is offering the Kathina robe to the Bhikkhu Sangha as a whole and secondly, the Sangha selects an individual Monk to whom the kathina robe is offered.
Every year, Punjab Buddhist Society UK celebrates this Kathina Ceremony with joy and happiness. Devotees from British, Indian, Thai, Sri Lankan & Burmese communities participate in this ceremony. All are humbly invited to participate in this sacred ceremony. If you would like to make any special offerings please contact: Ven. Tejwant @ 01902 656665 / 07551862666
This year's Kathina Robe is sponsored by Mr. Malind Kaul, Mrs. Kanta Kaul & Family from Hounslow (Mob. 07960631306)
Programme: 11:30 am Gathering at the centre, 11:45 am Offering Lunch to Venerable Monks, 12:15 pm Lunch for lay devotees, 1:00 pm Dhamma talks on Kathina in English/Hindi/Punjabi, 2:00 pm Offering Kathina Robe and Pha Pa to the Ven. Sangha, 2:30 pm Talks by Lay Devotees, 3:30 pm Blessing & Anumodana
Punjab Buddhist SocietyUK
83 Lea Road, Pennfields, Wolverhampton West Midlands WV3 0LN
Email: pbs_2004@yahoo.co.uk Tel/Fax: 01902 656665, www.punjabbuddhistsocietyuk.com, Charity Registration No. 1108360
(Posted on www.ambedkartimes.com, October 23, 2012)

Punjab Buddhist Society UK of 83 Lea Road, Penn fields, Wolverhampton celebrated 2556th Buddha Purnima and 121st birth anniversary of Baba Saheb Dr. B.R.Ambedkar. The function was held at Blakenhall community and healthy living centre, Wolverhampton on Sunday, 27th May 2012. Most Venerable Agga Maha Pandita Saddhamma Jotika Dhaza Bhaddanta Gyaneshwar had very kindly consented to be the chief guest who came from Kushinagar, India. He is the chief Abbot of Burmese Buddhist Monastery in Kushinagar, the place of Mahaparinibbana of Lord Buddha. Bhante Gyaneshwar is the Dhamma Brother of Baba Saheb Ambedkar as both Baba Saheb and Bhante ji was given Diksha by Most Ven. Bhaddant U. Chandramani.
The function was started by lighting the candles by the President Mr. Ram Pal Rahi. Then Ven. Sangha gave five precepts in which monks from Burma, Sri Lanka, Thailand, Bangladesh and India participated. A documentary film was shown on this occasion. This film showed the entire history and rise of Buddhism in modern India and gave the detail description of all the important Buddhist places in India. This marvelous film was prepared by Mr. P. Kelley from Bedford along with Mr. Arun Kumar.
The local councilors Mr. Elias Mattu, John Reynolds and Jackey Sweetman were among the special guests who expressed their views. Mr. Ramesh Srivastava, the councilor from Rugby specially came to attend this function. Miss Poonam Sampla read her paper on Buddha Purnima. The President of Dr. Ambedkar Buddhist Organization, Birmingham, Mr. Gurdevinder Kumar attended this function. The representatives from Dr. Ambedkar Action Committee Mr. Rasham Mahey, Rattan Lal Sampla, Dharam Chand Mahey also attended. The other prominent personalities who were present include Mrs. Dr. Opinderjit Thakkar, lecturer, Wolverhampton University, Rev. John Burnet, Mr. Jaswinder Singh and Prem Lal from WIFC. Mr. Manohar Lal Gindha, Baldev Birdi, Ranjit Singh Anand, managing editor Samaj Weekly and Manjinder Singh, sub editor Punjab Telegraph.
Bhante Dr. W. Kassapa OBE Chief Abbot, Birmingham Buddhist Maha Vihara gave his sermon. Bhante Tejwant the resident monk of PBSUK read out the letter of appreciation which was presented to the Chief Guest, Bhaddant Gyaneshwar. In his long and highly intellectual sermon Bhaddant Gyaneshwar explained life and the Dhamma of Lord Buddha. In his sermon he urged everybody to follow the path of Baba Saheb in true sense. He expressed his happiness to be in England and among the Upasaks and Upasikas of UK. On this day large number of Burmese families from all over England overwhelmlly participated in this programme. Mr. Mehar Chand Jassal, read out a beautiful poem. Mr. Chaman Chahal and Mrs. Vidya Midha announced the list of donars.
On this special day Punjab Buddhist Society UK gave the awards to the students who achieved degrees. Among those who were awarded were Kavita Walia, Rupan Walia, Sumant Walia, Amrita Paul, Neil Paul and Steven Bodhi Raj Kumar Sampla. A special award was presented to Mr. P. Kelley for making documentary film on Buddhism. The first Life Time Achievement Award was presented to veteran Ambedkerite Mr. Rattan Lal Sampla from Birmingham for his long standing contribution towards Dhamma and mission of Baba Saheb. The best member of Punjab Buddhist Society UK award was presented to Mr. Ram Pal Rahi, the President of PBSUK for his outstanding leadership and guidance as president.
The entire programme was conducted in a very efficient way by Mr. Manohar Birdi, the General Secretary of PBSUK. On this occasion food was offered by Night Inn, 53-54, Great Arthur Street, Smethwick. The video and film service was provided by Mr. Deesh Jassal of Jassal Studio, Dudley Road. The musical entertainment was done by Mr. Prem Chamkila and Party from Wolverhampton. In the end Mr. Ram Pal Rahi, the President gave a vote of thanks and after that Bhante gave blessing to all.
With the Blessings of The Buddha, Dhamma and Sangha May you all be peaceful and happy.
With metta
Ven. Tejwant
Posted on June 19, 2012
GREETINGS ON THE BUDDHA PURNIMA

Ambedkartimes congratulates all its worthy writers,
readers and well wishers on Lord Buddha's Jayanti
and wish you all happy, healthy and peaceful life.

Prem Kumar Chumber
www.ambedkartimes.com
(Posted on May 05, 2012)
Our new website www.deshdoaba.com in Punjabi coming soon
WESAK DAY AND AMBEDKAR JAYANTI CELEBRATIONS

Report by
Manohar Birdi UK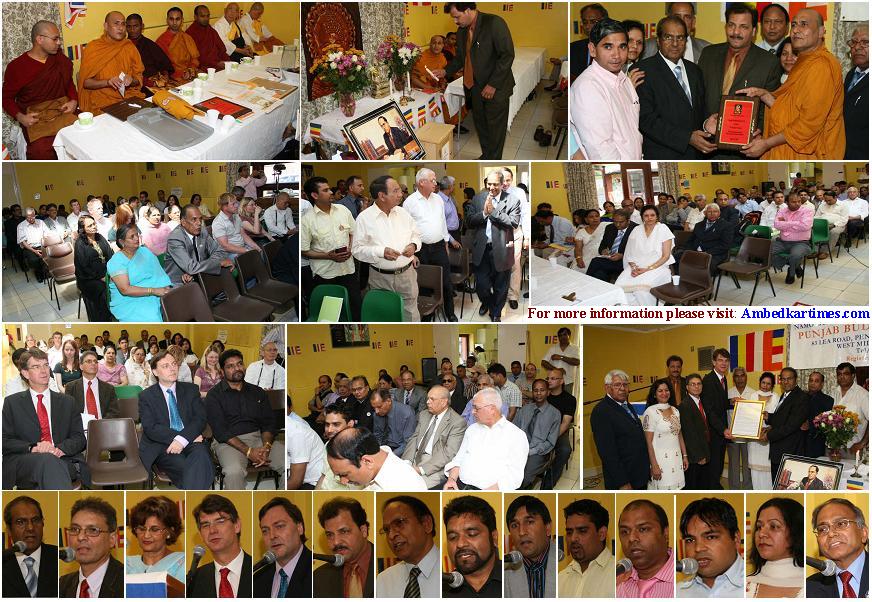 Punjab Buddhist Society UK celebrated 2553 rd Buddha Purnima the birth, enlightenment and Mahaparinibbana of Lord Buddha and 118 th birth anniversary of Bodhisattva Dr. B. R. Ambedkar on 30 th May 2009 at Brickkiln Community Centre Wolverhampton. The programme was attended by members of Sangha from Milton Keynes peace Pagoda, Birmingham Buddhist Vihara, Buddha Vihara Temple from Kings Bromley, Litchfield. At 11am the food was offered to Ven. Sangha on behalf of Mr. and Mrs. Harbans Lal Virdee from Southall who offered Dana. The function was started by lighting the candles by Mr. Raj Kumar from Canada . There after Ven. Monks gave Trisarna and Panchsheel to the devotees and did chanting.
Mrs. Kamlesh Ahir General Secretary, Indian Buddhist Society, Vancouver and Mr. Raj Kumar Oshoraj, Vice President of Indian Buddhist Society Toronto, Canada were the special guests. Local political stalwarts also attended the function. The prominent among them were Mr. Rob Marris MP, Cllr. Elias Mattu, and Cllr. John Reynolds. All these leaders expressed their views and praised the activities and programmes being undertaken by Punjab Buddhist society UK within the community. Cllr. Ravi Kumar Sunder S/O Mr. Banarsi Dass Sunder from Norway also attended this ceremony.
A young poet from India read his poem in memory of Baba Sahib Ambedkar. After this Mr. Raj Kumar from Canada gave his speech. He highlighted the activities and programmes of Indian Buddhist Society Toronto. Recently this society celebrated Buddha Jayanti in House of Commons of Parliament of Canada in Ottawa . The function was a great success. He assured his full support to Punjab Buddhist Society UK and Takshila Maha Vihara Ludhiana. During his talk he recited a beautiful poem. After this another young boy sang a devotional song in praise of Dr. B. R. Ambedkar.
Then came the turn of the speaker of the day. She is one of the rising stars in the mission, an inspiring personality, an icon for the ladies and young brigade and the general secretary of Indian Buddhist Society Vancouver, Mrs. Kamlesh Ahir. She gave a very impressive lecture and touched almost all the burning issues presently concerning the community. In her long and emotional speech she gave a call to unite under the banner of Buddhism as it is the only path to get rid of evil of caste system as shown by Baba sahib. She sang a melodious poem of missionary poet late Gurdass Ram Alam and Mr. Sohan Sehjal.
Mr. Chanan Chahal a veteran Ambedkarite, a missionary leader, an impressive speaker was honoured for his life time devotion, dedication and contribution for the spreading of Buddhism and Baba Sahib Dr. Ambedkar mission all over the world. Firstly he was honoured by Dr. Ambedkar Mission Society Bedford represented by Mr. Dhanpat Rattu, Hukam Chand Mehmi, Ram Pal Rahi and their families. His services towards this society were high lighted by Mr. Arun Kumar. Later on he was awarded by FABO (Federation of Ambedkarite and Buddhist Organisations) Mr. Chahal is also the current president of FABO. Mr Gautam Chakravarty applauded the contribution of Mr. Chanan Chahal done towards FABO. After this he was honoured by Punjab Buddhist Society UK of which he is the founder member the current Vice President. Mr. Chahal thanked these organisations for giving him so much regard and honour. He gave a very impressive and emotional speech although his health was no so good.
In the end Ven. Chander Bodhi in his sermon thanked every body present in the function with special thanks to Mr. Chanan Chahal for his life time contribution for the cause of Dhamma and mission, Mrs. Kamlesh Ahir and Mr. Raj Kumar from Canada . The duty of stage secretary was performed efficiently by Ven. Sujan. Mr. Harbans Birdi and Manohar Birdi did the job of video recording. Mrs. Satya Birdi, Vidya Birdi, Parminder Saroy, Mrs. Chakravarty, Mrs. Bahal served food to the Sangha and Upasaks. Mrs. Vidya Midha collected donation and announced the list of donors. In the end Ven. Sangha gave the blessing the programme came to an end.
Posted on July 04, 2009