RELIGIOUS LIBERTY COMMISSION
Evangelical Fellowship of India
805/ 92, Deepali Building, Nehru Place, New Delhi, India
Kandhamal: Never Again
On the 6th anniversary of the Kandhamal carnage, the Evangelical Fellowship of India stands in solidarity with the victims of the violence in Kandhamal district of eastern Indian state of Orissa in 2008. Orissa has a long history of anti Christian violence including the attack on the villagers of Kattingia in Kandhamal (1986), a series of burning of 19 churches in Kandhamal (1986-87), the Catholic Health Centre of India near Latur (1996), burning of Bibles and attacks on the Christian congregations and the burning alive of Pastor Graham Steward Stains along with his two sons, Philip and Timothy, aged 9 and 7 years, who were sleeping in a jeep after a village festival. (1999, January).

However, August 25, 2008 started the worst ever violence against the minority Christian population in the history of independent India. Between 75 and 123 people were killed in the violence – though the government has confirmed only 54 deaths in all. The majority of those killed were Christian dalits or adivasi. Many more were injured, close to 5,000 houses belonging to Christians were destroyed partially or fully, and at least 264 churches and prayer halls were desecrated and demolished. An unestimated number suffered severe physical injuries and mental trauma. While there were a few media reports of women being sexually assaulted, many more such victims were threatened into silence. Although Kandhamal was the epicenter of the attacks, the violence spread to over 14 districts of Orissa and a few other states.

Though the Orissa government claims it took strict action against the accused, statistics show that out of the 827 FIRs filed, charges against the accused were framed in only 512. And only 75 cases ended in convictions, in which only 477 persons were convicted but primarily for smaller or "petty†offences such as burning of houses and damaging property. Only nine people have been convicted for their role in killing of the Christians. The failure to effectively prosecute those accused of carrying out violent attacks against the Christian community and the apathy of the state machinery has left victims vulnerable to threats, discrimination and social isolation. The impunity enjoyed by the mobs in Orissa has also emboldened other fundamentalist groups to attack the community elsewhere in the country.

The compensation received by the victims is paltry at best and many victims have complained that they have yet to receive even the full compensation declared by the government. There are petitions pending before the Supreme Court calling for an increase in the compensation payable.

The Evangelical Fellowship of India calls upon the central government and the government of Orissa to take active steps to ensure the protection of the rights of religious minorities in India and strict action is taken against those responsible for violence and hate crimes against religious minorities.


Rev. Dr. Richard Howell,
General Secretary, Evangelical Fellowship of India, New Delhi, India
Evangelical Fellowship of India (established 1951) is a charter member of World Evangelical Alliance, an accredited NGO with the Economic and Social Council of the United Nations
Posted on www.ambedkartimes.com September 06, 2014
| | |
| --- | --- |
| BRITISH GOVERNMENT WAS AGAINST CHRISTIANITY IN INDIA | Freddi Joseph Khudai Khidmatgar |
Some miscreants often preach the lie that in order to consolidate its rule in India the British Government started conversion of Indians into Christianity with allurement whereas the truth is that East India Company was against preaching of Christianity in this country. The company felt that Indians were too sensitive towards their religions. If Christianity was preached in India the opponents of East India Company will get a big issue to oppose the company. The company wanted to consolidate its position in India with the co-operation of local people. At that time the Indian kings were inviting the East India Company in their respective provinces for business purpose. Co-operation from these kings suited the company's interests very much. The company did not want any bad effect on this co-operation with religion conversion.
(1) During British rule a big missionary Rev. William Carry came to India, but the British government did not allow him to enter her capital. He went to Sirampur which was situated in the area under French Government. The British Government sent police to arrest William Carry from there, but the French government did not hand over William Cary to them. William Carry had to start his missionary activities from there in India.
(2) Under the pressure of British common people in England, British Government framed a law to sent a priest with the ship carrying 500 tonnes of goods from Britain to India to pray for well being of all the people and goods in the ship and after reaching India he was supposed to stay in India to preach Gospel in India. To avoid carrying a priest with the ship East India Company carries only 499 tonnes of goods instead of 500 tonnes.
(3) As the England was a religion based Christian country, under public pressure in England some missionaries entered India this way and the other. But these missionaries had to work in India under very strict rules imposed by the British Government. For instance, they were not allowed to purchase any piece of land in India in their own name for their missionary activities. Under this compulsion some missionaries had to purchase some pieces of land in the name of unreliable newly converted Indians some of which dogged the missionaries and usurped the land and the missionary activities had to suffer serious jolts. This kind of strictness remained upto 15 August 1947.
(4) During British rule the Indians who adopted Christianity had to lose their share in their parental property. So the people who adopted Christianity during British rule had to suffer a lot. This law also remained up to 15 August 1947.
Due to this kind of strictness less than 11/2 percent Indians adopted Christianity during a long period of about 250 years British rule in India. We feel that atmosphere in secular India is more suitable after independence. After independence number of Christian population is touching the figure of 6-7 % though the local antichristian forces are also active in all over India against Christianity.
Posted on www.ambedkartimes.com , October 10, 2012
| | |
| --- | --- |
| Editor's mail: Reply to Freddi Joseph Khudai Khidmatgar by O. P. Balley | |
To: Editor Ambedkar Times,
British Government knew very well the senstivities of Hindu religion in India and thus purposely avoided any official intervention to promote christianity in India. Their main goal was to consolidate their political power to rule India for financial prosperity. They also avoided to initiate any serious measures against the caste system prevaling in India for centuries.
To approach this issue from the viewpoint of caste system in India we have to admit that its continued growth is undeniably attributed to the monopolistic trends built in Hindu society to maintain their superiority and supremacy in the entire spectrum of social life.
Babasahib Dr.B .R.Ambedkar, in spite of his life- long crusade against caste system, knew that caste system which is inextricably embeded in Indian pysche, will not vanish in the foreseeable future and this became the main reason of his conversion to Budhism.
The only way to make any headway to reform the complexities and intricacies of this religion depends on those who claim themselves as the protagonists of Hindu social order.
As long as the the system of chaturvarna ligitimized by Vedas and Manusimirti is not discarded by caste Hindus themselves, the system will remain rampant as a social menace and indelible stigma on Indian society.
O. P. Balley
(Posted on www.ambedkartimes.com, October 24, 2012
)
NUN IDENTIFIES FIVE OF NINE RAPE ACCUSSED
Bhubaneshwar - (Freddi Joseph):- A nun who was allegedly raped during the antichristian Kandhamal riots two years ago appeared before a court in Cuttack and recorded her statement for the first time since the trail began in July. The 29-year old nun who had stayed away from earlier hearings appeared before the court. However her statment could not be recorded as she was ill. The nun identified five accused who were present in the district and sessions court.She had also pointed them out during identification parade held at Cuttack jail in January. Two other witnesses including the doctor who provided first aid to the nun just after the alleged rape also deposed befere the court. The Catholic nun was allegedly raped by a mob at Nuagaon vilage in Kandhamal district about 250 km south west of Bhubaneswar on August 24, 2008.The crime occured a day after the killing of Vishwa Hindu Parished (VHP) leader Swami Laxmanananda. The communal violance that followed the Swami's killing claimed 38 lives and forced thousand of christians to flee Kandhamal. The alleged gang rape triggered international outcry and condemnation. The Orissa government handed over the prob to the crime branch which arrested 23 persons and filled four chargsheets. in the first phase. The trail was intially at a court in Baliguda in Kandhamal. After the nun moved the Orissa High Court apprehending unfair trail and threat to life the case was handed or by Orissa High cuort to the district and sessions court Bhuneshwar. Posted on November16, 2010
The Evangelistic Neighborhood Christmas Party (George)
Enthusiastically! Invites Pastors, Evangelists and key Lay Leaders with their wives to attend a unique LIFESTYLE EVANGELISM SEMINAR with a fresh strategic concept for all India.
Evangelistic Neighborhood Christmas Parties!
The foundation for all growing evangelism efforts is Christians actively obeying Christ's command to "Love Your Neighbor as Yourself". Knowing that "There is no impact without contact".
Neighbor Hope Ministries has specialized in equipping Christians around the world to make "redemptive contacts" with their non-Christian friends in "neighborly" and inoffensive ways. Their Ministry has grown out of amazing responses to the gospel by neighbors throughout the USA, and has expanded to Germany, Russia, South America, Nigeria … and now to India!
Neighbor Hope Ministries International is a non-profit work dedicated to training, encouraging and mobilizing Christians to love their neighbors by sharing the gospel, praying for them and caring for their needs. The ministry has equipped thousands of Christians to do this using the tool of evangelistic Christmas parties. This unique strategy has caught fire, especially in India, opening doors that once seemed completely closed to the Gospel.
The unique strategy God has refined over the last 35 years is to incorporate the celebrating of Christian holidays, National holidays and other festivals with non-believers in fun, entertaining and non threatening ways. The Evangelistic Neighborhood Christmas Party may be today's most natural and effective way to build relationships with neighbors and share with them the hope there is in Christ. Christmas parties world-wide have always been successful. Everyone loves being invited to a party! If anyone would like to organize one day seminar, or would like to know more about the ministry please inform NHI team and we will come share with you.
Posted on November 10, 2010

Merry Christmas
& Happy New Year 2010
Ambedkartimes.com wishes Merry Christmas
& A Happy New Year 2010 to all its valuable
writers and readers

Editor: Prem Kumar Chumber
Merry Christmas
& Happy New Year 2010

Bishop Emmanuel Rehmat ( India )
Merry Christmas & Happy New Year 2010

Freddy Joseph
Chief Editor: Masihi Sansar, India
DAILY PUNJAB AAJ TAKK, CELEBRATED XMAS DAY!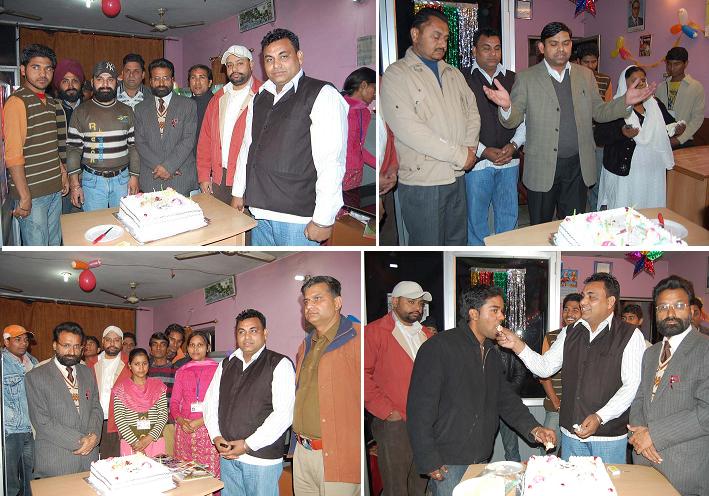 By JAN SANGRAM CHUMBER,
STAFF REPORTER, PUNJB. AAJ TAKK
The Punjab Aaj Takk, (Punjabi daily News Paper) celebrated Xmas at its Head Office 370 , Shahid Udham Singh Nagar, near Dr. Ambedkar Chowk and opposite TV centre , Jalandhar City. Pastor Rakesh Kumar did prayer on this auspicious occasion. Pastor Rakesh Kumar applauded M/s Subhash Goria, Chief Editor and C.L. Chumber, News Editor for their secular and rational views. He said that they initiated the Xmas celebration in the office of a daily news paper. Mr. Goria said that our news paper is a mission dedicated to the common cause. Mr. Chumber said that we must learn from the life and teachings of Jesus Christ. He said that the Christian rulers of India gave us constitutional judiciary, democracy, communication, English language, printing machinery and railway .

Mr. Ravinder Jassal , sub-editor , Mr. Manjinder Singh , Inspector food and civil supply , Mr. Bhushan Shekhari , Sub Inspector of Police ,Mr. Rakesh Gandhi , Chief Bureau, Shamsher Singh , manager ( circulation) , Miss Bina Atwal , manager ( advertisement ) , Miss Gunjan Mehra , PRO Punjab Aaj Takk , Balvir Ayyapuri , Tejinder Singh , Dalvir Dilvar , Anita Minhas , Parshotam Chukhiara , Prem Jalandhari , Jan Sangram Chumber and Vishanu both staff reporters , Suraj Bhagat , Jatinder Aujla , G.S. Kahlon , Gurvinder Singh Happy , Gaurav Kumar Jalandhari and Jarnail Singh graced this auspicious occasion .
Posted on December 26, 2009
Why are women your target?
Freddi Joseph Khudaikhidmatgar
The Union Home Minister P. Chidambaram has asked the Chief Minister of Karnatka to take stern action against Sri. Ram Sena as it was spreading anarchy in the state. Reacting over Sri Ram Sena's attack on the women dancing in a pub in Mangalore a few days ago, the Union Minister has said, "Sri. Ram Sena would not be allowed to take law into its hand. If state government does not come in action, the centre would not see the things as a spectator. Strongly condemning the activities of Sena the minister said, "No organization would be allowed to work as volunteers' police force. Sri Ram Sena has no right to teach the people what to eat and what to wear. Sri Ram Sena has crossed all the limits and it is dangerous for the country"
Some of the women bashed by Sri Ram Sena in Mangalore have alleged that they were molested. Ram Sainks have asserted that they were teaching the women Indian Culture.
We have some questions to the Ram Sena (A) why are they targeting women alone? Why don't they teach men not to drink and dance in the pubs? (B) Why don't they pressurize the government that issues licenses to the distilleries and to pubs and wine shops?
(c) To-day wine shops are in every village and city in the country. Why don't they oppose these shops?
(D) In the tribal areas the tribal women are forced to keep their breasts naked. From the last about four thousands years this tradition is going on to this day in India . Has Sri. Ram Sena ever opposed this tradition?
(E) Near about 150 millions Indian women live on foot paths along with their husbands. They sex and give birth to their children on the footpath itself. Has Sri. Ram Sena ever noticed this?
It seems that the people belonging to Ram Sena want to become heroes in the society through cheap publicity by restoring violence against the women without any study of the realities at the ground level. If they want the people to live according to the Indian culture they must study the reasons of conflicts between Indian culture and the western culture.
Posted on February 25, 2009 (Time 1:55am)
OBAMA'S SIGNAL TO THE WORLD

| | Freddi Joseph Khudaikhidmatgar |
| --- | --- |
What Mr. Barack Obama spoke while taking oath of his office as a new President of the United States of America , has already been discussed all over the world. No doubt, what he uttered will effect politics, economy and social structures of most of the world. His stern warning to the terrorists around the world has also been taken very seriously. We just want to point out two things which can be a great lesson for the people who are hell bent upon converting their secular countries into religion based ones in some parts of the world.
(1) Obama has said that the United States of America is a country of Christians, Jews, Muslims and Hindus. We feel that Mr. Obama wants to give indication to the world that the United States of America is not a religion based country. All religions are respected by the United States of America . Before the Second World War, there had been 74 countries around the world that had been taking pride in being called themselves the Christian countries. The United States of America was one of them. After the Second World War they began claiming that they were secular countries treating all the religious groups equally. Mr. Obama took oath of his office holding the same Holy Bible which Mr. Abraham Lincoln held while taking oath as the President of the U.S.A. All the countries which were once called the Christian are today taking pride in being called secular ones. Human rights are the pillars on which their governments rest. These human rights further rest on the very teachings of Lord Jesus Christ.
2. Mr. Obama is the first non white President of the United States of America . The time has not gone too far when white people hated blacks in America and they were badly discriminated & segregated. To-day the first citizen of U.S.A. is black.
Religion based state means a country where the people belonging to a particular religion will be number one citizen, where as the people belonging to other religions will be second class citizen. They will be segregated and discriminated at all level. The Christ is the architecture of theory of human equality. On American dollars it is written "In God we trust." This is the reason why the United States of America is called super power of the world.
As all are equal before the Christ, therefore, Mr. Obama has said the United States of America is the country of Christians, Jews, Muslims and Hindus. In other words in the United States of America all are equal. Mr. Obama a non white has become the President of the United States of America just because there is no discrimination on the bases of religion, cast, creed, color and race.
So, the Hindu fundamentalists in India who are bent upon making India a religion based country and who have made the life of minorities difficult in India must realize to what extent they are backward.
Posted on February 10, 2009
INDEPENDENT INDIA UNDER THE HORRIBLE SHADOW
OF CRUSHING ECONOMIC SLAVERY AND TERRORISM

FREDDI JOSEPH (Chief Editor: Masihi Sansar)
On 15th August 2008 India has entered 61 st year of independence. No doubt in these six long decades India has made a great progress in agriculture and industrial sectors. India had been an agriculture-based country up to the end of British rule. Though she was agriculture based country yet her agriculture sector was not able to fulfill the needs of the country. Up to the next two decades India used to import wheat and other food stuff from America and other countries to meet her needs. Today India is able, not only to fulfill her own needs of food stuff, but also supplies food stuff to other countries. During the six decades of independence India has made marvelous progress in the industrial sector too. India has, not only become self-reliant but also exports industrial goods to other countries. Some of the industrialists who used to wear used- chappals (flip-flops) and patched -shirts and trousers have now become multi millionaires.
Their names are found in the list of the richest of the world. Today Indian doctors, engineers, technocrats and other professionals are also spreading all over the world to meet the needs of many countries. But, in spite of all this progress, more than 33 percent people of this country are living below the poverty line. Roti (bread) Kapra (Clothing) and Makan (a house to live in) are out of their purchasing power. These people have meal once a day. Millions of educated, uneducated, skilled and unskilled Indian citizens are unemployed. The government has no concern for them. Till the independence, the cost of wheat was Rs. 8 per 40 kgs while it is being sold today at the price of Rs. 13 per kg. The price of vegetable oil was 3-4 per kg; today it is being sold at the rate of Rs.64 per kg. The prices of potato and onions were one Anna (less than 10 paise) for 2 kgs, and today these are being sold at the rate of Rs. 10 per kg. Dals are being sold at the rate from Rs. 40 to 60 per kg. Half of the population of this country is being crushed under the heavy weight of price rise. More than 33 percent people have no house to live in. Generation to generation they live on the footpaths. Clothing is out of the reach of these Indians. Dirty communalism paves way for terrorism and is playing havoc with the lives of the people of this country. Freedom of religion is continuously eroding. Under the pressure of anti-secular forces who are hell bent upon making India a religious based country, laws are being framed to crush the religious freedom of the people Parliament and state assemblies are no more forums of discussing the issues relating to the public welfare and finding any solution to them .Gullible voters send them to parliament and assemblies to solve their problems. Instead, Political parties have converted them into battle field to exhaust their political anger against one another. Thus they waste a large part of the time of parliament and assemblies sessions. They don't realize that the country is burning. To add fuel, Executives have become a slave to the ruling political parties. Actually, there is a nexus among the political leaders, bureaucracy and the big business houses. They are united to loot the common man. Expressing its concern over the sorry state of parliament and assembly members and bureaucracy a few days ago Supreme Court has passed remarks that if they are not changed, even God could not save this country. The country must go into depth to understand the meaning of Supreme Court remarks. O! Our good lord! Save the country, we pray.
Posted on August 22, 2008
ANTI CONVERSION BILL OF RAJASTHAN FORWARDED TO THE PRESIDENT