Add Dalit Christians to SC list, says Jayalalithaa

India: August 10, 2013. (PCP) Making a plea to give parity to Dalit Christians with their Hindu counterparts, Chief Minister J Jayalalithaa demanded deletion of the restrictive definition of Scheduled Castes in the Constitution (SCs) Order, 1950. "The matter cannot brook any further delay. Prompt steps should be taken to bring in necessary legislation in the current session of Parliament," she wrote to the Prime Minister on Friday.

Denial of affirmative action programmes to Dalit Christians is an injustice that has aggravated the sense of alienation among minority communities, she said and urged the PM to delete this 'restrictive definition' from the statute to bring all Dalits on equal platform irrespective of their faith. This would pave the way for Dalit Christians to avail benefits on par with SCs in Hinduism, Sikhism and Buddhism.

Para 3 of the Constitution (SCs) Order, 1950—the Presidential Order—says "no person who professes a religion different from Hindu, Sikh or Buddhist religion shall be deemed to be a member of a Scheduled Caste) Putting forth strong legal arguments, Jayalalithaa said the Constitution (SCs) Ord­er, 1950, derives its sanction from Article 341 of the Constitution, but the Constitution does not confine SCs to any select religion. "By extending the benefits of positive affirmation to a certain category of persons and then to proceed to confine the benefits under the Constitution Order, 1950, to citizens professing only specified religions like Hinduism, Sikhism and Buddhism and excl­uding from its purview citizens professing other religions, is not only ultra vires Article 341 but also militates against the fundamental rights guaranteed by the Constitution to liberty of thought, expression, belief, faith and worship to all its citizens", the Chief Minister observed.
www.pakistanchristianpost.com
IMPLEMENT THE LAW ON CASTE DISCRIMINATION IN UK
DEMONSTRATION 04th September 2013, 12.00-15.00
PARLIAMENT SQUARE, WESTMINSTER LONDON

On 23 April 2013 Parliament agreed to implement the legislation on Caste discrimination in the UK. Three months later on 29 July 2013 (a day before the summer recess for Parliament) the Government published a timetable for the implementation of the legislation leaving no time for Parliamentary or public challenge
We are fully supportive of a sensible period of consultation to get the implementation of the law right. However, it is shameful that the Government has published such timetable that will mean that the legislation will not come into force (if at all) before the next election is called in April 2015. The stalling tactics are alarming. On the receiving end of the Government's procrastination are victims, current and future, of Caste discrimination. So this begs the question, does the Government really want to implement the law?
Join us on 4 September on Parliament Square and demand that the Government comes up with a more sensible timetable that ensures that legislation is implemented without unnecessary delay in 2014.
For further information please contact infoacda@googlemail.com Twitter: @ACDAnews
Posted on www.ambedkartimes.com September 2, 2013

Villagers demand arrest of NRI
for abetting Sarpanch's suicide

PHAGWARA: Agitated villagers and kin of Dalit village sarpanch, who allegedly committed suicide by jumping before a train, held protests on Sunday, blocking movement of trains by squatting on railway tracks to demand the arrest of a Canada-based NRI for abetting his suicide.

Des Raj (40), sarpanch of Khangura village under Phagwara sub-division took the extreme step on the rail track between Mehtan and Sapror villages yesterday. In a suicide note recovered by the police, the deceased had accused a Canada-based NRI of using caste-specific language against him after he refused to sign some papers that Singh wanted him to sign.

Raj's son Balkar Singh along with other villagers, supported by BSP activists, held up a train by squatting on railway track here and placed the sarpanch's body on a mini-truck near the protest site demanding the NRI's arrest.
Hundreds of train passengers were stranded on the route when the protesters held up Amritsar-Jai Nagar Shaheed Express near Santokhpura railway barrier on the outskirts of Phagwara for about 45 minutes, police said. They placed the body of Sarpanch nearby in a mini-truck and squatted on the track demanding arrest of the NRI under various sections of the IPC and relevant Sections of the SC and ST (Prevention of Atrocities) Act. Government Railway Police (GRP) DSP Hardip Singh, Phagwara DSP Manjit Singh and Executive Magistrate Manvir Singh Dhillon reached the site and assured the protesters that appropriate action would be taken against the culprit. Meanwhile, a 'look- out' notice has been issued to all the airports in the country to ensure the NRI does not fly out, police said adding raids were being conducted to arrest him.
http://timesofindia.indiatimes.com/nri/other-news/Villagers-demand-arrest-of-NRI-for-abetting-sarpanchs-suicide/articleshow/22214002.cms

Grand opening of Wolverhampton
Buddhist Maha Vihara
on Sunday, September 15, 2013
Time: 2:00pm – 5:00pm.

Special guests: The Right Revd Clive Gregory, The Bishop of Wolverhampton, Ven Dr. W. Kassapa (O.B.E.) President, I.B.R.O. & B'ham Buddhist Mahavihara, Ven. Dr. Uttara Nyana, Chief Abbot, Burmese Buddhist Vihara B'ham, Dr. Harun Rashid JP, Chairman, Wolverhampton Interfaith & Regeneration Network

At Owen Road, Pennfields, Wolverhampton WV3 0HG

Punjab Buddhist Society UK
83 Lea Road, Pennfields,
Wolverhampton WV3 0LN
Tel: 01902 656665 Email: pbs_2004@yahoo.co.uk
Web: www.punjabbuddhistsocietyuk.com Regd. Charity No. 1108360

For further information please contact:
Ven. Tejwant 07551862666
Mr. Ram Pal Rahi (President) 07721935138
Posted on www.ambedkartimes.com September 3, 2013
READ MORE
Sir Ganga Ram Heritage Foundation (SGRHF)


organizing Dr. Ambedkar Day Annual International
Seminar at Lahore (Pakistan) on July 2nd, 2008
am glad to inform to all worthy writers, readers and well wishers of www.ambedkartimes.com & www.ambedkartimes.org that Sir Ganga Ram Heritage Foundation (SGRHF) of Lahore, Pakistan is organizing Dr. Ambedkar Day Annual International Seminar on "Social Justice in South Asian Nation-States leads to Regional Stability" at Lahore on July 2nd 2008 at Avari Hotel. The foundation has invited Prof Ronki Ram, Chairperson of the Dept. of Political Science, Panjab University Chandigarh, Lahori Ram Balley, a veteran Ambedkarite, Prof Satya P. Gautam, a Philosopher from JNU, New Delhi to read papers. Dr. Ronki Ram will present a Paper on: "Reading Social Democracy with Ambedkar: Market, Caste and Dalits in the Age of Globalization".

Baba Sahib Dr. B. R. Ambedkar was a great visionary and Human Rights advocate who devoted his all life for the welfare and empowerment of the downtrodden. His seminal work and contribution to the cause of social justice and human rights in India has universal applications.

I am sure that this great Endeavour of SGRHF will go a long way in facilitating awareness about the philosophy of Dr. Ambedkar and Sir Ganga Ram and further enhance the mutual understanding and goodwill amongst the people of entire south Asia .

Prem Kumar Chumber (Editor)
www.ambedkartimes.com
Posted on June 30, 2008

DHUPPAN CHA TURDIAN
BHAJAN SINGH VIRK'S PUNJABI GHAZAL BOOK RELEASED
Dr. S. L. Virdi Advocate, Phagwara, Punjab
Phagwara: Under the banner of "Adbi Sagar Virk" a literary Sammelan was arranged at Dr. Ambedkar Literary and Cultural Centre, Urban Estate, Phagwara District Kapurthala ( Punjab ) on 22 June, 2008 . The function was jointly presided over by Mr. Kanwar Imtiaz, Mohinder Dosanjh, Deep Grewal (Film Actor), Gurdial Raushan, Dr. Jagir Singh Noor and Dr. Ved Prakash Lahar.
The main attraction of the function was the release-ceremony of "Dhuppan Cha Turdian", a book of Punjabi Gazals written by Mr. Bhajan Singh Virk. The prominent personalities on the stage solemnised the ceremony. Two papers (Literary/Critical) were read on the book, one by Dr. Jagir Singh Noor and other by Mr. Santokh Kulaar. Both the writers praised the literary truth and beauty of the book. Mr. Santokh Kulaar was greatly impressed by the title of the book by Mr. Sukant Burman, the national artist painting wrath of life in his paintings. The literary gathering was addressed by Dr. S. L. Virdi Advocate, R. L. Jassi, Deep Grewal, Ved Parkash Lahar and Kanwar Imtiaz.
Members of Shri Guru Ravidass Sabha, Urban Estate including Mr. Sohan Sehjal, Jagdish Virdi and Adesh Bhart Kranti honoured Mr. Bhajan Singh Virk for his poetic works.
Poets including Gurdial Raushan, Arif Gobindpuri, Bhajan Virk, Manohar Purewal, Jaspal Zeervi, Joginder Matwala, Harbans Kainth, Dadar Pandorvi, Jaswinder Mehram, Nirmal Moron, Inderjit Vasu, Miss Ruby, Parbhat Sufi, Pritam Singh Azad and many others recited their poems.
Later on two minutes' silence was observed in the memory of Late Mr. Ulfat Bajwa, a well renowned Punjabi Poet.
Mr. Kanwar Imtiaz thanked all the participants for their cooperation and for making the function (lasting six hours), a great success.
Posted on www.ambedkartimes.com (June 28, 2008)
Buddha Jayanti Celebrations
in New Jersey, U.S.A
Day Saturday, Date 28th June 2008, Time, 4.00 P.M
Venue: Amantran Banquett Hall, 1594, Victoria Plaza, Lakewood Ave., Toms River, NJ 08753
Guests of Honor: Bhante Obhasa Resident Monk, Bangladesh Buddhist Association, New Jersey, Bhante Subhuti Resident Monk, Grace Monastery, New York, Dr. A.M. Gondane Dy. Consul General of India in New York,

Program Prayer and discourse by V'able monks
Speeches, Buddha Jayanti Quiz, Cultural Programs, Dinner will be served
It is a FREE event but donations are gracefully accepted
Contacts: Milind Awasarmol(732-822-9348), Ravi Badge (732-690-1864), S.R.Mahey(917-365-6248), Nitin Suryatale (516-356-2219), Rakesh Gupt (732-789-7384), Rambabu Gautam (201-673-0401), Milind Thamke(408-390-8624), Bharat Awasarmol (267-221-5441), V.K.Chaudhary (732-549-6071), Dr.Subhash Gedam (408-425-6600), Ranjit Waghela (201-941-4637), Vivek Fulzele (732-890-2206), Tushar Thool (551-587-0639) , Satpute(203-508-4249), Rahul Bhaskar (512-259-4037), Balbir Randhawa (917-440-3962), Swap Dange (763-300-5248), Ashok Bhagat (732-668-2136), Deelip Mhaske (267-303-6172), Vijin Gedam (646-272-8587), Raju Kamble (403-615-4590)
Posted on www.ambedkartimes.com (June 26, 2008)
MANAVWADI MAHAPURSHAN DA MELA AT PHAGWARA
Mela for Manav Mukti
Phagwara, the industrial hub of Doaba region in the Punjab created a new history by holding a three day 'Manavwadi Mahapurshan Da Mela' on October 22, 23, 24, 2004. The Mela was unitedly organised by the two dozen Social, Religious and Literary organisations at historical place Shiromani Shri Guru Ravi Dass Mandir, G. T. Road, Chak Hakim, Phagwara. Total eleven Seminars were conducted on the Social, Cultural, Religious and Economic problems of the society. Dozens of Book Stalls and a Photo Pardarshani (picture exhibition) depicting the axis of the Mela and Meaningfully enough, the insignia of the Sammelan also showed a fettered man lifting a globe with determined bold bids to break the Shackles and that too, Globally!! Advocate S. L. Virdi was the Convener.
The Mela was presented to the great personalities like Bhagwan Buddha, Rishi Valmik, Baba Namdev, Satguru Kabir, Guru Ravidass, Guru Nanak, Baba Sain, Sant Tuka Ram, Sant Chakardhar, Sant Ghasi Das, Guru Gobind Singh, Jyotiba Rao Phuley, Virsa Munda, Narayana Guru, Dr. Baba Sahib Ambedkar who contributed their endless efforts in order to make the human beings civilized. Sant Niranjan Dass Ji, Head Dera Sach Khand Ballan inaugurated the Mela and Sant Puran Nath Ji, Head, Gian Ashram, Bhagwan Balmik Tirth, Amritsar inaugurated the Book Fair.
Dharam Sansad Held
First Dharam Sansad was held on first day of the Mela, . A serious discussion was held on day by day increasing violence, class conflict, corruption, Communalism and casteism towards humanity.
A huge congragations gathered on the occasion Pledge to fight dowry, drugs, corruption, human rights violation and vowed to educate children and unite the community for liberating the aggreived and deprived sections of society from their misery. The pledges for administered by spiritual leaders.
Sant Gurdip Giri Pathhankot, Sant Rama Nand, Dera Sach Khand Ballan, Sant Mahinder Pal, Guru Ravidass Tirath Pandwa, Sant Kishan Nath Chaheru, Sant Aatma Dass, Sant Sital Dass Kalewal Bhagtan, Sant Iqval Muhammad, Kuthar, Sant Satnam Singh Adampur, Sant Pakhar Dass, Dingrian, Sant Mohan Dass Nurpur and others also spoke in Dharam Sansad. Two calenders relating to the Manavwadi Mahapursh were also released by Dharam Sansad on the occasion.
In night a Kavi Darbar was also held, Ulfat Bajwa, Beeba Kulwant, Darshan Singh Shaunki, Baldev Komal, Suneeta Mehmi, Pal Panther, R. L. Jassi, S . L. Virdi and Arif Gobindpuri regaled the audience.
Bahujan Azadi Andolan launched
On the concluding day of the three day 'Manavwadi Mahapurshan Da Mela' Chintan Sammelan was also held, in which prominent scholors and personalites from different Universities and Colleges i.e., Dr. Paramjit Singh Jaj, Dr. Rattan Singh, Dr. Tarsem Sagar, Dr. Harnek Singh Kaler, Madam Banso Devi, Dr. Parveen Paul Singh, Dr. Jagir Singh Noor, Dr. Avtar Singh Esewal, Dr. Inderjeet Singh Wasu, Prof. G. C. Kaul, Sohan Sehjal, Prof. Narinder Singh, Advocates Chaman Singh Bhatoya, Ch. Chunni lal Duseela, Arjan Singh, K. R. Bhatia, Punjab & Haryana High Courts, Dr. Nawal Viyogi, Prof. Sandhu Viranvi, etc. took part in discussion.
They asserted that Indian thinkers had kept their eyes shut to the ground social reality and failed to feel the pulse of society. Human Rights, Religion, Language, Culture and Identity of the poor, dalits and minorities are in grave peril.
They issued a joint message for the society, stressing that ignorance is the mother of all sufferings, privation, social injustice and exploitation. Ignorance could be removed only by education. So everybody should be provided with the free uniforms and compulsory education up to class XII and also demanded a ban on the sale and intake of every kind of intoxicants.
Bahujan Azadi Andolan, a non political movement was launched at the 'Manavwadi Mahapurshan Da Mela; S. L. Virdi Advocate has been appointed its convener. The Sammelan concluded with a clarion call to all Manav-Mukhi (Human-Oriented) literatures to both write and fight for Dalit upliftment, liberation of the chained 'Manav' with view to ushering in an era of social justice, casteless and classless society.
Manavwadi Mahapurshan Da Mela's some pictures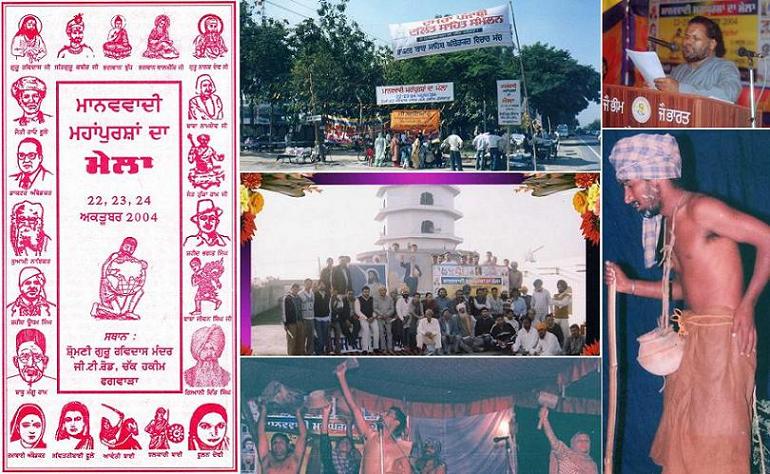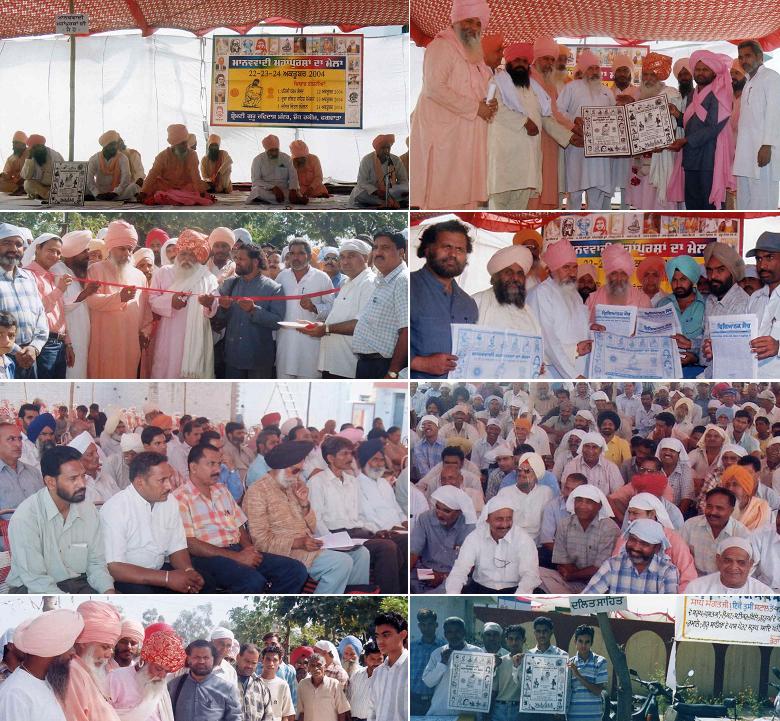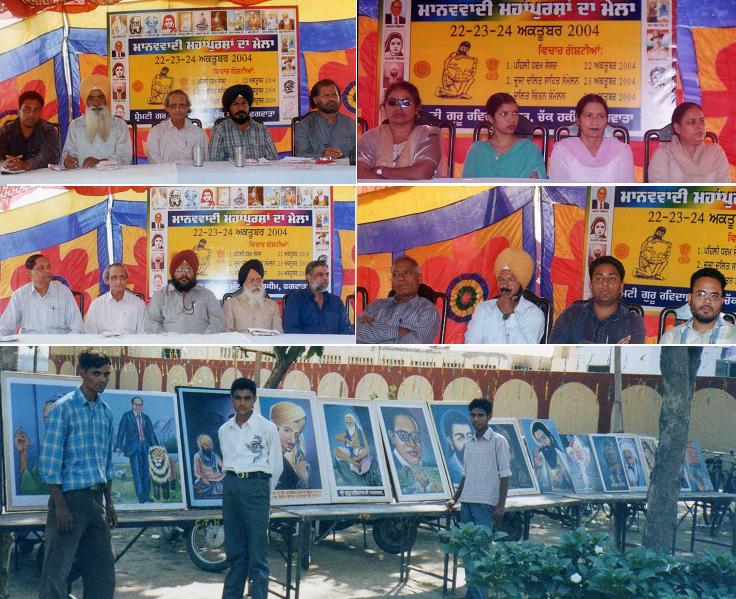 S. L. Virdi (Posted on www.ambedkartimes.com (June 07, 2008 )
Politics, Literature and Culture:A Complex Relationship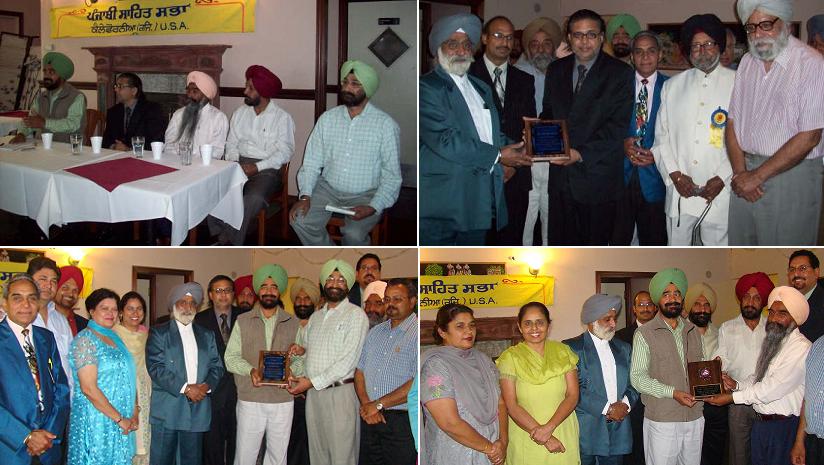 By Dr. Amrik Singh from Sacramento
Sacramento:- The lack of authentic Punjabi identity manifests in people's indifference towards language, literature, culture and politics. The fear of Punjabi's extinction has awakened concerns in all sections of the society. The Patronizing efforts at the political and legislative levels have created a positive environment and hopes for the Punjabi renaissance. Though Punjabi literature negotiated all historic movements for the betterment of the society, it could not root out the hold of ignorance, superstitions and apathy from the society. The globalization has introduced consumerist tendencies in Punjabi culture. The Punjabi music and dance have lost their distinct forms to the indignity and infamy of the counterfeit culture of the west. Drugs have seized Punjabi youths. Sports, no longer define their power and prowess. Punjabi Literature of the subalterns (Dalits) remained ignored in spite of the literary merit and wide acceptability.
These concerns were highlighted in the panel discussion organized by Punjabi Sahit Sabha California (Regd) on May 31, 2008 in Jimmy Restaurant Yuba City, California. Dr. Ronki Ram, Chairperson, Dept of Political Science Panjab University Chandigarh, Dr. Pirthipal Singh Sohi of Government College Ludhiana, Prof. Pritam Singh of Union City and Dr. Karmjit Singh Brar of GHG Khalsa College Gursar Sadhar Ludhiana comprised the panel. The program was especially organized to honor intellectuals from India, Dr. Ronki Ram and Prithipal Singh Sohi.
The audience responded positively to two hours of intense discussion that enlightened them on the key issues. Punjabi Sahit Sabha California has decided to continue in future with 'Discussion Forum' to conduct lectures, panel discussions and debates. President of the Sabha, Harbans Singh Jagyasu introduced panelists on the stage. Two minutes silence was observed to mourn deaths of Ulfat Bajwa and Harpal Singh Chohan.
Politics, literature and culture are bound in a complex relationship that influences dreams, hopes and aspirations of a nation. The progress, prosperity and overall destiny of a nation are dependent on these feelings. The mother tongue provides stability to the ethnic identity and also extricates its people from the self-loathing and inferiority complexes.
Dr. Amrik Singh moderating the discussion asked Dr. Ronki Ram about threats of extinction to Punjabi Language in the next 50 years. Dr. Ronki Ram referred to the period from 1799-1849 in Punjab history when Punjabi language could have won the respect and admiration but did not. The symbol of unity (Punjabi) became faint, the society experienced division and undercurrents of hatred. Though Punjabi has got official patronage for the first time, the positive results are still awaited.
Interrelationship of Politics, literature and culture defines both love and coldness for the mother tongue. Obscene, consumerist and selfish interests can be defeated by creating a sense of pride for the Punjabi identity. He also said that caste, class and religion based hatred is counterproductive to Punjabi culture. Prof. Pritam Singh pointed out that the tendency to steal ideas of other writers for self promotion has dogged some writers. It has done a great disservice to readers who shy away from Punjabi books. Dr. Karmjit Singh Brar said that sports remained an important part of Punjabi identity, but unfortunately good players are discouraged by officials like KPS Gill who use sports for enjoying power. At the end, the discussion was open to the audience. Sumittar Uppal, Manjit Kaur Sekhon, Jyoti Singh, Mohinder Singh Ghagg asked questions from the panelists. It increased more interest in discussion.
Dr. Ronki Ram and Pirthipal Singh Sohi were given plaques of honor. After lunch, Kavi and Kahani Darbar (poetical recitation and story reading) was held. Dr. Jasbir Kaur Brar, Tara Singh Sagar and Prithipal Singh Sohi presided over the session. Tatinder Kaur and Rabinder Atwal read their stories. Kamal Banga conducted the stage for the afternoon session. Gurcharan Singh Jakhmi, Abhi Saini, Parminder Singh Rai, Makhan Lohar, Ram Pal, Mohan Gill, Subedar Joginder Singh, Dr. Amrik Singh, Kamal Banga, Manjit Kaur Sekhon, Mohinder Singh Ghagg, Santokh Gill, Jyoti Singh, Tara Singh Sagar, Neelam Saini, Simran Kaur Dhillon, Harbans Singh Jagyasu, Dr. PS Sohi, Dr. Jasbir Brar, Gurbachan Chopra, Manjit Dhillon, Ranjit Singh Kandola, Iqbal Johal, Prem Sondhi participated in the Kavi Darbar and took keen interest in the proceedings. Jasbir Singh Dhammi of Jimmy Restaurant arranged tea, snack and lunch. Parminder Rai presented each member with his three books and an audio- cassette. Harban Singh Jagyasu thanked Prem Kumar Chumber, Editor of www.ambedkartimes.com for bringing Dr. Ronki Ram to the panel discussion. Prof. Pritam Singh was thanked for bringing Dr. Pirthipal Sohi and Dr. Karmjit Brar. Parmjit Singh Dhaliwal from Fresno and Gulinder Singh Gill from Sacramento came to meet Dr. Sohi who happened to be their teacher at GHG Khalsa College Gursar Sadhar.
(Posted on www.ambedkartimes.com (June 04, 2008 )
A note on the short visit of Prof. Ronki Ram to North America
on the 117th birth anniversary celebrations of Baba Sahib Dr. B. R. Ambedkar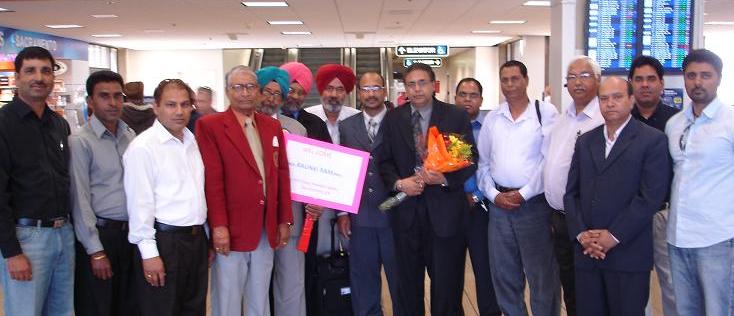 Sacramento (Ambedkartimes.com News Bureau):- Prof. Ronki Ram, Chairperson of Political Science Department, Panjab University, Chandigarh ( India), was received at the Sacramento ( California) Airport by the officials and members of the Shri Guru Ravidass Sabha ( Sacramento) on his maiden visit to www.ambedkartimes.com in US on the afternoon of the May 26 th, 2008. On his arrival he was first taken to Shri Guru Ravidass Temple, Rio Linda (CA). After paying obeisance at the Guru Ghar (Rio Linda) the reception team apprised Dr. Ronki Ram of the various activities of the Shri Guru Ravidass Sabha ( Sacramento) and its future plans. Mr. Prem Kumar Chumber, editor www.ambedkartimes.com arranged his visit to the US and accompanied him from New York to California. This is in continuation of Dr. Ronki Ram's short visit to North America. He arrived in Toronto (Canada) on May 14 th, 2008 on the combined invitation of Ambedkar Mission Toronto, Shri Guru Ravidass Sabha, Ontario and Bhagwan Balmik Sabha, Toronto. His first lecture was in Montreal on May 16 th, 2008 about the teachings and mission of Baba Sahib Dr. B.R. Ambedkar. On May 18 th, 2008, he participated as a Chief Guest Speaker in the program of the celebration of 117 th birth anniversary of Dr. B.R. Ambedkar organized collectively by Ambedkar Mission Toronto, Shri Guru Ravidass Sabha, Ontario and Bhagwan Balmik Sabha, Toronto. Subsequently he delivered special guest lecture on Ad Dharm and the philosophy of Dr. B.R. Ambedkar on the occasion of the 117 th birth anniversary of Dr. B.R. Ambedkar, celebrated at Shri Guru Ravidass Temple in New York (US) by Shri Guru Ravidass Sabha of New York on May 25 th, 2008 (detailed reports follow soon).
Posted on www.ambedkartimes.com (May 28, 2008)
Punjabi Sahit Sabha California announces a the following meeting
Punjabi Sahit Sabha California organizes a meeting in the honour of Profs: Ronki Ram and Pirthipal Singh Sohi who are on short visit to US. Topic of Discussion: Sahit, Samaj and Siasath (Literature, Society and Politics).Dr. Amrik Singh will also participate in the deliberations. Some members of the Sabha will recite short stories/poems.
Venue: Yuba City Jimmy Restaurant, Day, Date & Time : Saturday, 31 May 2008 , 10 am to 2 pm. All are cordially invited
| Harbans Singh Jagiysu | Harjinder Singh Pandher |
| --- | --- |
Dr. B. R. Ambedkar Education Aid Society Fremont (CA)

celebrates Dr. Ambedkar 117 th Birth Anniversary on May 31st (Saturday) 6:00PM – 11:00PM at Golden Peacock Banquet Hall, 3681 Peralta Blvd. Fremont, CA 94536

Chief Guest: Dr. Ronki Ram,
Chairperson Political Science Department, Panjab University, Chandigarh.
For further information, please contact:
Ram Murti Saroay, Chairman (510)742-8120, Amrik Chand, CPA Auditor (510)329-3215, Balvir Thind, President (510)378-9686, Mohan Lal, Vice President (510)475-5551, Randhir Suman, General Secretary (510)220-1445, Balvir Sheemar, Assistant Secretary (510)299-7879, Surinder Sony, Treasurer (510)792-8325
(Posted on www.ambedkartimes.com May 20, 2008 )
SHRI GURU RAVI DASS SABHA PITTSBURG CELEBRATING ITS 23rd ESTABLISHMENT ANNIVERSARY

On June 1st (Sunday)
Sri Guru Ravidass Sabha, California, Pittsburgh is celebrating its 23 rd founding Anniversary at the Guru Ghar on Sunday June 1 st, 2008. Established on June 2 nd, 1985 to continue our religious teachings for generations to come this Guru Ravidass Temple is one of the most prominent and leading Guru Ghar's in the world and holy symbol of our religious and cultural identity. Thanks to Guru Ravidass Ji for this blessing and congratulations to all the sangat for many accomplishments and a lot of progress achieved during the years. The congregation around Sri Guru Granth Sahib Ji became a source of unity, inspiration and strength to stand for the rights of the community.
On this auspicious occasion Dr. Ronki Ram chairperson, Dept. of Political Science Punjab University, Chandigarh, India will deliver his valuable thoughts on Guru Ravidass Prophet of Dalit Consciousness, Baba Sahib Dr. Ambedkar, Ad Dharm movement and Human Rights of Dalits in India.
Please join us and participate in this important function which bears a special significance in the annals of history, will give us an opportunity to remind ourselves and take more initiative in fulfilling our duties. May Waheguru keep the dedicated sangat of this temple in chardi kala and fulfill their cherished desires. Guru ka Langer and Parshad Sewa will be served by Sadh Sangat.
(Posted on www.ambedkartimes.com May 20, 2008 )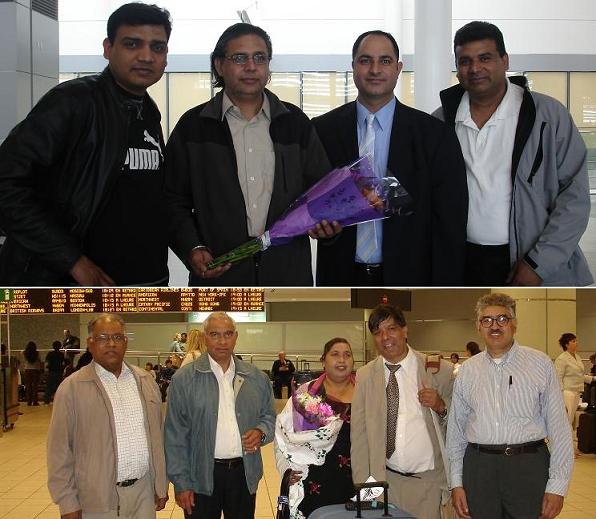 Both pictures were taken when Dr. Ronki Ram arrived at Airport Toronto on May 14 th, 2008. Ashok Sandhu, Anand Balley and others were there to welcome Dr. Ronki Ram.
(Posted on www.ambedkartimes.com ( May 15, 2008 )
Chetna

Association of Canada

Presents: Merit of Reservations & Retrospect

on the Supreme Court's Decisions of 2006 &2008 (India)

Paying tributes to Baba Saheb Dr. B. R. Ambedkar & EV Ramaswami Periyar
Celebrating Baba Saheb

Dr. Ambedkar's 117th birth anniversary

Special Guests:

Om Parkash & Vidya Devi (from India )

Saturday, June 7, 2008 @ 6 PM

(Posted on www.ambedkartimes.com May 15, 2008 )

Dr. Ambedkar Library

Shri Guru Ravidass Community Centre,

7271 Gilley Avenue , Burnaby , BC ( Canada )

For information, contact:

Surinder Ranga, President: 604-657-1778

Paramjit Kainth, Asst. Secretary: 778-241-5786

E-mail: info@chetna.net
Indian consul honored

by Shri Guru Ravidass Sabha

Vancouver :(Jai Birdi ):- The Indian consul Shri Suresh Kumar Makhijani was honored by the Shri Guru Ravidass Sabha of Vancouver for his public services and for distributing books to the Guru Ravidass Sabha's art and Punjabi students. Makhijani has been posted at the Vancouver consulate for the past year. The honor was given by Burnaby's Parks Commissioner Paul McDonnell, councilor Sav Dhaliwal, Parks Commissioner chair Baljinder Narang, MLA Raj Chouhan, Jalandhar's Ex-Mayor Surinder Mahey, Sushil Kumar (Germany), Bill Basra (President of Shri Guru Ravidass Sabha, Shital Anmol, Principal Sohan Singh, Sital Kaler, and Hukam Chand.

Posted on www.ambedkartimes.com ( May 13, 2008 )
Affirming Life and Diversity:
Rural images and voices on Food Sovereignty in South India
The book and video sets will be launched in Montreal on May 24th, 2008

This book is about Dalit women worked together in the dry fallow lands of Andhra Pradesh in South India to ensure food security as well as produce social and ecological knowledge for sustainability, autonomy and equity. Their collective and empowering experience is vividly captured in the 12 videos which make up the Affirming Life and Diversity film series included in this book. The videos were produced by women farmers who are also village level film makers, members of the Community Media Trust of the Deccan Development Society (DDS). The video films show how marginalized women farmers and urban food consumers are regenerating sustainable and citizen controlled food systems, - for the well being of their communities and the land. These videos offer many lessons to policy makers, scientists and members of the international community who seek to eradicate extreme poverty and hunger whilst ensuring environmental sustainability. The rural images and voices brought together in this video film series also offer powerful arguments in favour of an alternative paradigm for food and agriculture, - one that resonates with the emerging concepts of 'food sovereignty' and active citizenship. The production of the videos was facilitated by the DDS and the International Institute for Environment and Development (IIED) on Sustaining Local Food Systems, Agricultural Biodiversity and Livelihoods.

The book and video sets will be launched in Montreal on May 24th, 2008 following a panel on Media and Social Change. Confirmed speakers for the panel are Marie Boti, Film-maker and Producer, Productions Multimonde; Peter Wintonick, an award-winning film-maker and Prof Vijaya Mulay, Film-maker and a great admirer of the Dalit women film-makers.

Date: May 24th, 2008 , Time: 3:00pm-5:00 pm (Panel discussion screening of some videos), 5:00-6:00 pm Wine and cheese reception and book signing

Location: De Sève Cinema, Concordia University , J.W. McConnell Building (Library), local LB-125, 1400 de Maisonneuve West, Montreal

Sponsors: South Asian Women's Community Centre (to be confirmed), South Asia Centre (CERAS, to be confirmed), Productions Multimonde (confirmed). Other sponsorships being sought.
Forwarded by Jai Birdi and Posted on www.ambedkartimes.com ( May 09, 2008 )
FORMER MAYOR MR. SURINDER MAHEY IN VANCOUVER
Jai Birdi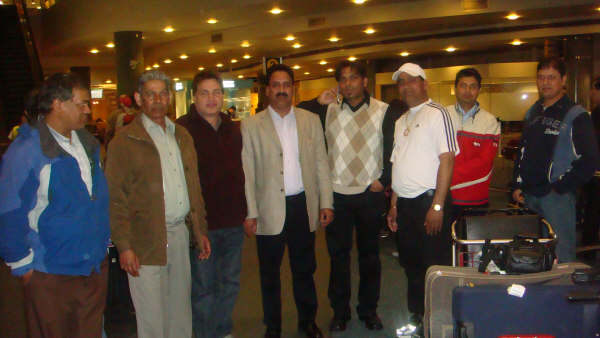 Vancouver : Surinder Mahay, the former Mayor of Jalandhar City ( Punjab ), received a warm welcome at the Vancouver International Airport on May 7. The mayor was received by Virinder Banagr, Balbir Bains, Gopal Lohia, Santokh Jassal, Lamber Rao, Jai Birdi, Sunder Kellay, Madan Jhim, Rana Mehay, and others. The Mayor is on world tour and will now be making short stop in various cities in Canada and the US before returning to India .
'I first met the Mayor a few years when he was in Vancouver attending a conference on urban development conference and was very pleased with the openness & genuineness he had shown to enhancing the economic, social, and cultural development and of Jalandhar and I am very pleased to see the Mayor back in Vancouver', said Gopal Lohia, president of Sur-Sangam Entertainment. Vancouver .
Posted on www.ambedkartimes.com ( May 08, 2008
Babu Mangoo Ram Mugowalia

JAN. 14, 1886 - APRIL 22, 1980

SHRI GURU RAVIDASS SABHAS PAY TRIBUTE TO BABU MANGOO RAM MUGOWALIA


Sacramento:- Last Sunday on April 20th, Shri Guru Ravidass Sabha Bay Area (California), on April 27 th, Shri Guru Ravidass Sabha of Fresno (California), Shri Guru Ravidass Sabha Sacramento (California), Shri Guru Ravidass Sabha Pittsburgh (California), and also Shri Guru Ravidass Sabha Huston (Texas) paid floral tribute to Ghadri Baba Babu Mangoo Ram Mugowalia, the founder of the Ad Dharm movement in Punjab, on his 28 th death anniversary.

Posted on www.ambedkartimes.com (April 29, 2008)
SOUTH ASIAN FILM EDUCATION SOCIETY PRESENTS

PERIYAR: THE PEERLESS ONE Written and directed by

Gnana Rajasekaran (Tamil, with English subtitles)

APRIL 27, 2008 - (SUNDAY) – TIME 2:00 PM

SCREENING ROOM, SPECTRUM COMPEX, 111 WEST GEORGIA, VANCOUVER
Periyar is a lyrical recreation of the life of the great Tamil reformer and cultural politician E.V.R Ramasamy. Meeting the popular requirements of song, melodrama, comedy and high seriousness the film recreates the major events and turning points in the life of this crucial advocate for change in India . Periyar's atheism and calls for the abolition of caste distinctions still powerfully resonate in Tamil Nadu life and society. The film follows Ramasamy from Erode to Kerala and onto Singapore and Stalin's Russia , and speaks to contemporary issues of religion, tradition, tactics, caste, identity, nationalism, state and language rights, and feminist struggles.
[With special thanks to Anbu Elongovan who made the DVD of Periyar with subtitles available to SAFES]
(See directions below)
The Spectrum Complex on 111 West Georgia Street is a short walk from the Stadium Sky train Station. Exit toward Beatty Street , cross Dunsmuir and walk South on Beatty. Do not go up to Georgia . Just past the Armory tanks and guns, turn left into the cul-de-sac. Entrance to 111 West Georgia (a tall residential tower) is at the end, on the right side. The doors to the complex are locked, but there is a Concierge (doorkeeper) behind the desk inside, who would let you in. The Screening Room is one short flight up.
Seating is limited: Reserve seat by emailing Chin at: cbanerjee@shaw.ca
Posted on www.ambedkartimes.com (April 26, 2008)
BAHUJAN SAMAJ PARTY

WON ALL FIVE SEATS IN UTTAR PRADESH
The ruling Bahujan Samaj Party (BSP) made a clean sweep of the crucial Uttar Pradesh by-polls, won all five seats (three Vidhan Sabha and two Lok Sabha) for which elections were held on Saturday. The chief Minister, Mayawati said that this victory of the Bahujan Samaj Party (BSP) is a clear signal that the BSP will win heavily in the coming Lok Sabha elections. The opposition parties had got together to defeat the BSP nominees, but they all defeated by the BSP candidates, even the BJP could not save its deposit in four seats, she said.
Posted on www.ambedkartimes.com (April 18, 2008)
Special report on the Seminar at Amritsar

"Dr. B. R. Ambedkar and the Revival of Buddhism in India "
(Ambedkartimes, News Bureau Chandigarh)
Amritsar:- The Department of History, under the Chairmanship of Prof. Sukhwant Singh, of the Guru Nanak Dev University ( Amritsar ) Punjab organised the 'Sardar Mahan Singh Deshi Annual Memorial Lecture' on March 31, 2008 . The lecture, "Dr. B.R. Ambedkar and the Revival of Buddhism in India ", was delivered by Dr. J. K. Sharma, Professor of Indian History at Panjab University Chandigarh .
The 'Mahan Singh Deshi Annual Memorial Lecture'is instituted under the Deshian Heritage Endowment established at Guru Nanak Dev University by Prof. (Retd.) Dr. Autar Singh Deshi in the memory of his grandfather S. Mahan Singh Deshi. S. Mahan Singh Deshi lived in California from 1902 to 1945. One of the earlier Punjabi settlers in California , he worked continuously for the social and educational uplift of the diasporas and did a lot of developmental work in Doaba region of Punjab . In his well attended lecture Prof. J. K. Sharma touched upon some of aspects of the philosophy and struggle of Bharat Ratan Baba Sahib Dr. B. R. Ambedkar in minute details. He also discussed how it facilitated in the revival of Navayan Buddhism in India for the emancipation and empowerment of the Dalits in particular and the freedom of the country in general. The lecture was well covered by almost all the regional news agencies and papers.
Posted on www.ambedkartimes.com (April 09, 2008)
=================================================================
AMBEDKARTIMES PAYS TRIBUTE TO
MASTER LAL CHAND RATTAN KADARWALIA
Ambedkartimes.com pays floral tribute to Master Lal Chand Rattan Kadarwalia, president of the Adi-Dharam Mandal branch village Akalianwala, District Moga (Punjab) on his 45th death anniversary (April 9, 2008). Master Ji was a staunch follower of Adi-Dharam religion as well as movement. He belonged to Valmiki caste and was the main activist of the Adi- Dharam movement in the Malwa region of Punjab.
Master Ji wrote two books in vernacular: Azadi Di Daundi (Proclamation of Independence) and Bharam Todd (Misconceptions Denuded). He also wrote and published a book against the use of intoxicants and prepared a manuscript on the life and teachings of Bhagwan Valmik Ji one of the acknowledged Gurus of the Ad- Dharam Mandal. We are proud of Master Lal Chand Rattan Kadarwalia Ji, one of the great aboriginal revolutionaries of the country who contributed significantly for the cause of the community.
Jai Guru Dev!
Prem Kumar Chumber
Editor: Ambedkartimes.com
Posted on www.ambedkartimes.com (April 09, 2008)
Ambedkartimes.com thanks to Honorable Mr. C. L. Chumber (Chief Editor of Kaumi Udarian, Jalandhar) for providing us information regarding late Master Lal Chand Rattan Kadarwalia president of the Adi-Dharam Mandal branch village Akalianwala, District Moga ( Punjab)
Prem Kumar Chumber, Editor: Ambedkartimes.com ( Posted on www.ambedkartimes.com (April 12, 2008)
Letter to S. Parkash Singh Badal, C.M, Punjab

Against the act of scrapping the name of Dr. B. R. Ambedkar from,

Dr. B. R. Ambedkar Technical University Punjab (Jalandhar)
Hon'ble S. Parkash Singh Badal,
Chief Minister Punjab, Chandigarh .
Subject: - Scrapping the name of Dr. B. R. Ambedkar from, "Dr. B. R. Ambedkar Technical University Punjab (Jalandhar).
Respected Sir,
We are writing you with heavy heart that some officers of University are scrapping the name of the Champion of Indian Constitution, Bharat Ratan Dr. B. R. Ambedkar from the Technical University Punjab at Jalandhar.
It is pertinent to mention here that the demand for setting up Dr. B. R. Ambedkar Technical University at Jalandhar in Doaba Region of Punjab was first time raised on the occasion of First Punjabi Dalit Sahit Sammelan, held 0n 13, 14, March, 1994 at Phagwara.
After the continuing struggle of the Dr. B. R. Ambedkar Technical University Sangharsh Samiti Punjab, our demand to set up a Technical University named after Dr. B. R. Ambedkar was accepted by the then Chief Minister S. Beant Singh on 7th November, 1994. On 17th December, 1996 Chief Minister Smt. Rajinder Kaur Bhattal laid the stone of Dr. B. R. Ambedkar Technical University at Jalandhar.
On 24th December, 1996 Punjab Vidhan Sabha unanimously passed the bill of Dr. B. R. Ambedkar Technical University Punjab at Jalandhar. Now, the present Government Officers are scrapping the name of "Dr. B. R. Ambedkar" from the Technical University under the pressure of some vested interests.
It is our humble request to you to intervene in the above said demand for the implementation of the decision of former Governments.
With Regards,
Yours Sincerely,
S. L. Virdi, Advocate. (Convener)
Copy to: - Ch, Swarna Ram, Cabinet Minister Punjab, Ch. Mohan Lal, M L A Banga, Sh. Abhinash Chander, Parliamentary Secy. Punjab, Sh. Des Raj Dhugga Parliamentary Secy. Punjab
Posted on www.ambedkartimes.com (May 01 , 2008)
Chakma & Minority Rally In front of UN

By Sona Barua

Indigenous Jumma People's Network USA (IJPN) & Bangladesh Hindu Buddhist Christian Unity Council, USA (BHBCUC) jointly hold a 'RALLY' in front of UN @ 1PM-3PM on Friday, 25 th April 2008. Buddha Rattan Bhikkhu, president, IJPN, USA & as many as 15 other monks were present at the rally and talked about CHT & minority problems. Three presidents & secretary respectively of BHBCUC, USA Ratan Barua, Nabendu Dutta, Thomas D. Roy and Sushil Saha were present. One monk from Tibbet joined the gathering. Three other monks from Burma respectively Ven Kheminda; U Suriya & Ashin Indaka joined & supported our demands. Slogans were: Stop killing in CHT; Stop Land Grabbing; Stop Military atrocity; Implement CHT Peace Treaty; Withdraw Military from CHT; Stop Burning Houses in CHT; Stop Religious Persecution; Repeal Enemy Property etc. Buddha Rattan Bhikkhu, president, IJPN, USA & BHBCUC, USA president Ratan Barua jointly handed over two memorandums respectfully of their organizations to the Secretary General's representative. Among others present were: Buddha Rattan Bhikkhu, Kisolay Chakma, Ratan Barua, Nabendu Dutta, Dr. Thomas D. Roy, Sushil Saha, Pradip Das, Pradip Malaker, Muktipada Sil, Dr. Monorama Biswas, Dr. Radhya Shyam Bairagi; C. R. Mondol; Ramen Nandi; Dr. Sudhangshu Karmaker; Bhikku Obasa; Chipamong Chowdhury; Kanika Chakma; Rupayan Chakma; Agra Pratip Chakma; Sanghapal Shoranon; Monoj Kumar Sarker; Nilakhi Chakma; Dr. B.P Mahather; Theoonagga Musor; Subrata Bisaws; Rabindra Sarker; S.P. Karmaker; Hakikul Islam Khokan; Sitangshu Guha & others.

Posted on www.ambedkartimes.com (April 30 , 2008)
Mourning the death of Fr Karunarathnam

in a mine explosion in Sri Lanka

Dr. John Dayal
National President, All India catholic Union. And United Christian Action Secretary General, All India Christian Council Member, national Integration Council, Government of India, New Delhi, 21st April 2008



The Christian community in India has received with deep sorrow and grief the news of the death last Sunday of Sri Lankan Catholic Fr M X Karunaratnam, Chairman of the North East Secretariat on Human Rights (NESoHR) in the explosion of a remote controlled Claymore mine in close proximity to his residential prayer and counseling centre near Kuzhanthai Jesus Church at Vannivi'laangku'lam. Reports suggest his vehicle, which had broken down when he was on his way back to his residence from Maangku'lam Church, was being towed and he was seated in the driver seat steering it when the mine exploded and a piece of shrapnel hit his head. He died on the spot

Some of us in India knew Fr Karunaratnam, and most of us in the Human rights movement in South Asia had followed his compassionate work with much admiration. His centre was a haven for many.

The Priest's death comes close to the damage in Lanka air force action to the Mary Statue in the Mada Shrine, also a popular pilgrim site and a safe refuge in the midst of hostilities that continue to ravage that hapless island.

Fr Karunaratnam headed the NESoHR which was set up in July 2004 as part of the 2002 Peace Process; The South Asian civil society movement watched in awe and admiration Fr Karunaratnam's effort to strengthen the human rights protection mechanisms in the North East of Sri Lanka. He was the one who focused global attention on the recruitment of children by the LTTE. He also criticized the Colombo regime for its violence upon the Tamil people.

We mourn an activist who lived up to his priestly vows of committing his life to the service of the common people, and for peace.


Posted on www.ambedkartimes.com (April 22, 2008)

CAKE CUTTING CEREMONY IN HONOR OF DR. AMBEDKAR DAY

By Jai Birdi

Jalandhar:- Mr. Lachman Birdi and Mrs. Bachin Kaur Birdi of Canada, will pay tributes to Baba Saheb Dr. B. R. Ambedkar on April 14 at 4 PM and celebrate the 117th birth anniversary of the human rights champion. The ceremony will include cake cutting, essay competition, and plays and performances by students of Floret Public School of Ram Nagar, Jalandhar. Mr. and Mrs. Birdi started the cake cutting ceremony fourth years ago and this has now become an annual ceremony in Ram Nagar (Jalandhar).

This is a very exiting year because there are more than five different events organized in Ram Nagar (Jalandhar) alone to celebrate Dr. Ambedkar's life long contributions. On April 13, the Birdi Youth of Ram Nagar celebrating Dr. Ambedkar's life with plays by Bhaji Gursharan Singh, Samrat of street theatre where Minister Avinash is expected to attend as a chief guest.

Posted on www.ambedkartimes.com (April 11, 2008)

================================================================

SHRI GURU RAVIDASS SABHA AUSTRALIA INC.

CELEBRATING DR. AMBEDKAR BIRTH ANNIVERSARY

The Committee of Gurudwara Sahib Shri Guru Ravidass Sabha Australia Inc. is going to celebrate the Vaisakhi and Birth Anniversary of Dr. B.R. Ambedkar on 13 April 2008 at Mel way Reference 7J5 Barry Road near upfield Station. Therefore, all Sangat is requested by the Sabha to grace this occasion with families.

Devinder Singh Mahey

Shri Guru Ravidass Sabha Australia Inc.

24 Malcolm Place ,Cambellfield, Vic, Australia

Posted on www.ambedkartimes.com (April 03, 2008)

==================================================================

DR. AMBEDKAR DAY CELEBRATION

PLANNED FOR APRIL 13th IN RAM NAGAR, JALANDHAR

Jai Birdi



Jalandhar: - The youth of Ram Nagar of Jalandhar came together and formed an ad-hoc committee pay tributes to Baba Saheb Dr. Ambedkar and raise awareness on erosion of education in Punjab. To achieve this, the ad-hoc committee has invited a renowned samart of street play, Gursharan Singh.

We are very pleased that Gurshan Singh and his team have accepted the invitation to join us at the celebrations and do some plays which will convey the essence of Dr. Ambedkar, said R. Birdi of ARV International.

"With the potential to dramatise social, economic and political issues (hardly addressed by popular media) street theatre raises people's consciousness to an extent that the viewers may not do something but it hits their mind and they become aware", said Balbir Kumar Birdi of CR Engineering and one of the main organizers.

The ad-hoc committee intentionally decided to not organize these celebrations under any banner.

Posted on www.ambedkartimes.com (April 07, 2008)

=================================================================

Jai Bhim!! Jai Bhim!! Jai Bhim!!

Federation of Ambedkarite and Buddhist Organisations UK Celebrating Dr. Ambedkar Birth Anniversary

Federation of Ambedkarite and Buddhist Organisations UK c cordially invites you to join our Annual Event to pay Homage to our savior and emancipator Dr. B. R. Ambedkar on his 117th Birth Anniversary. On Monday the 14th of April 2008 , 5 pm Sharp At Indian High Commission, London .
Two Coaches will leave from Guru Ravi Dass Gurdwara, 282 Weston Road , Southall at 3 p.m.
Light refreshment will be served between 2-3 p.m. at Guru Ravi Dass Gurdwara.
Seats available, please call the above numbers.
For further details contact: C.Gautam - 07956 918053, Bakshi Birdi - 07850 484433
Posted on www.ambedkartimes.com (April 03, 2008)
================================================================
ABS TEMPLE AT SACRAMENTO
423 Glide Ave. , West Sacramento (California) 95696
Sunday Morning Family Service Conducted in English
Open to Public: APRIL 6 th and APRIL 20 th 10:00 – 11:00AM
You are invited to attend the new family service series starting this month at the temple. The service is designed based on the requests of Buddhists and friends of Buddhism who are beginners as well as the experienced in Buddhist practice. The following items will be included in the one hour program: 1) Offering of flowers and incense. 2) Observance of five precepts 3) Short silent meditation 4) Reading of Buddhist Text 5) Dhamma Talk (25-30 minutes) 6) Meditation of Loving Kindness 7) Remembering loved ones 8) Reinforcing of goals of life 9) Short Blessings by monks Everyone will be sitting on chairs. Please bring your family and any of your friends interested in learning about Buddhism. Please call if you need more information: (196) 371 853
Posted on www.ambedkartimes.com (April 01,08)
SHRI GURU RAVI DASS GURPURB IN YUBA CITY
Shri Guru Ravi Dass Sabha congratulates to every one on the 631st Birth Anniversary of Shri Guru Ravi Dass Ji and it will be celebrated at Shri Guru Ravi Dass Temple, Yuba City (California) on SUNDAY of March 02, 2008 . All Sangat is cordially invited by the Sabha.
For more information in details please call to:
Shingara Ralh 530-713-1823, Parshotam Sood 530-923-0351
Posted on www.ambedkartimes.com ( February 28, 2008