Dear friends,
1. Sarnang –A musical of portrayal of Dr B.R. Ambedkar-Monday 24 April 2017, Nehru Centre, 8 South Audley Street, London W1K 1HF
2. Dr Ambedkar-Life and Works- Wednesday 26 April 2017, 5.00-6.30pm-8.30pm Committee Room 3, House of Lords, Westminster, London
To mark Dr Ambedkar's 126 birth anniversary, the Federation of Ambedkarite and Buddhist Organizations UK (FABO UK) has organized the above two events in association with the Nehru Centre and Lord Harries of Pentregarth respectively. We would like to invite you to attend the above events.
Singer, lyricist Rajesh Dhabre and his wife Dr. Bhavana to mark Dr Ambedkar's 126 birth anniversary will depict the life and works of Dr Ambedkar through their musical compositions. Rajesh has written and composed four albums since 2010 released by HMV, Saregama, Zee Music and LM Music. These albums have featured well known singers including Bharat Ratna Lata Mangeshkar, Asha Bhonsle, Sonu Nigam and Pankaj Udhas, Shan, Shrya Ghosal and many more.
The event is free and you can book your place on the following link or alternatively by contacting us.
www.eventbrite.co.uk/e/sarnang-a-musical-portray-of-dr-brambedkar-rajesh-dhabre-dr-bhavana-monday-24th-april-2017-0630pm-tickets-32405587986
We have been organizing seminars/talks on Dr Ambedkar at the House of Lords for a number of years. Very many dignitaries from both of the Houses of the UK Parliament, Ambedkarite activists from around the world, and academics, have participated in our events and spoken on Dr Ambedkar as a maker of modern India through his Constitution. They have also recognized him as a leading global figure on equality and human rights, the civil rights movement, and an outstanding economist. Mr Rob Marris MP, Baroness Flather, Lord Alton, Dr Alpa Shah, London School of Economics have already agreed to attend and speak.
Places are limited and strictly controlled because of security reason. We would be delighted if you are able to attend. It would be helpful if you let us know by the end of this month that you are available for this event so that the arrangements for your invitations are made in time.
Please circulate this information to your contacts.
Looking forward to hearing from you.
With best wishes,
Arun Kumar,
General Secretary, FABO UK Mob: 07909 828750
C. Gautam: Joint Secretary, FABO UK Mob: 07956 918053,
Ms Santosh Dass MBE, President, FABO UK Mob: 07902806342
President, FABO UK Mob: 07902806342
Posted at www.ambedkartimes.com on April 4, 2017
Dear Friends,
10 King Henry's Road, Chalk Farm, North West London – the house where the champion of human rights and the Father of the Indian Constitution, Dr Ambedkar lodged from 1921-22 whilst at the LSE and Grays Inn, is a place of pilgrimage for Ambedkarites around the world. This house was purchased by the Government of Maharashtra in September 2015 following a proposal by the Federation of Ambedkarite and Buddhist Organisations UK that the £3.1million property be turned into fitting memorial to Dr Ambedkar.
In November 2015 the Prime Minister of India inaugurated 10 King Henry's Road during his visit to the UK. The ground floor was hurriedly refurbished for the PM's visit. The rest of the house still requires further renovation and FABO UK has been following this up.
Mr Rajkumar Badole, Minister for Social Justice and Special Assistance, Government of Maharashtra visited the house again this week to accelerate the development of the Ambedkar Memorial and set up an Advisory Committee. The Committee, under the Chairmanship of India's High Commissioner to London, was announced and met for the first time on 2nd February.
The Committee comprises:
The High Commission of India (HCI) Shri YK Sinha; Mr Surendra Kumar Bagde (GOM) Mr. Sunil Kumar (HCI); Ms Santosh Dass MBE (FABO UK); Mr. C. Gautam (FABO UK); Mr. Jograj Ahir (Shri Guru Ravidass Sabha, Southall); and Mr. Sukhdev Sahai Hira, social worker.
We now look forward to early progress. Below are some links to some recent media coverage.
http://indianexpress.com/article/india/maharashtra-minister-sets-up-committee-for-ambedkar-memorial-in-london-4503884/
http://www.hindustantimes.com/world-news/panel-formed-for-br-ambedkar-memorial-in-london/story-LMyq3sLGNEXBB3znLATwqL.html
Regards,
Arun Kumar, General Secretary O7909828750
Federation of Ambedkarite & Buddhist Organisations UK
Posted on www.ambedkartimes.com February 4, 2017
ISSUE OF ATROCITIES AGAINST DALITS
RAISED IN THE BRITISH PARLIAMENT

Following a Joint Statement by a number of organisations in the UK including Federation of Ambedkarite and Buddhist Organisations UK (FABO UK), Anti Caste Discrimination Alliance UK (ACDA UK) sent on 18 August to the British Government, United Nations Secretary General and UN Human Rights Commission regarding the continuous atrocities against Dalits in India especially in Gujarat, Lord Alton of Liverpool has asked written questions in the House of Lords for British government's response.

Q
Asked by Lord Alton of Liverpool
Asked on: 05 September 2016
Foreign and Commonwealth Office
India: Dalits
HL1541
To ask Her Majesty's Government what assessment they have made of the findings of India's National Crime Records Bureau that, in a three-year period there was an almost 40 per cent increase of crime against Dalits throughout India; that in 2015, in Gujarat, there was a 163.3 per cent increase in crime against Dalits; and that sexual assaults against women and rape are listed as the top crimes against scheduled castes.

Q
Asked by Lord Alton of Liverpool
Asked on: 05 September 2016
Foreign and Commonwealth Office
India: Minority Groups
HL1542
To ask Her Majesty's Government what assessment they have made of the Joint Statement of UK anti-caste organisations submitted on 18 August to the Prime Minister, the Foreign Secretary, the United National Human Rights Commissioner and the UN Secretary General, and whether they will press for those British organisations that submitted the Joint Statement to be given the opportunity to express their concerns to the United Nations office in Geneva and to report on the condition of Dalits and minorities in India.
Below is the link to these questions asked :
http://www.parliament.uk/business/publications/written-questions-answers-statements/written-questions-answers/?page=1&max=20&questiontype=QuestionsOnly&house=lords&member=738
Arun Kumar
General Secretary Federation of Ambedkarite and Buddhist Organisations, UK (FABO UK).
Posted on www.ambedkartimes.com September 11, 2016
A DREAM FINALLY COMING TRUE –
AN INTERNATIONAL MEMORIAL TO
DR. BABASAHEB AMBEDKAR IN LONDON
After tense months of delays, on 26 August 2015 the Government of Maharashtra exchanged contracts on 10 King Henry's Road, NW3. This house, located near Primrose Hill in north London, was where Dr Bhimrao Ramji Ambedkar lodged in 1921-22. Dr Ambedkar (14 April 1891 – 6 December 1956), popularly known as Babasaheb, was an Indian jurist, economist, politician and social reformer who inspired the Modern Buddhist Movement and campaigned against social discrimination against Untouchables (Dalits), women and labour. He was Independent India's first law minister and the principal architect of the Constitution of India.
Ms Santosh Dass, MBE, President of the Federation of Ambedkarite and Buddhist Organisations UK, comments,
"I am delighted that Mr Raj Kumar Badole, Minister for Social Justice and Special Assistance at Government of Maharashtra, via the High Commission of India in London, has exchanged contracts on 10 King Henry's Road, NW3.
This follows my proposal to GOM in September 2014 that the house be bought by GOM and turned into an educational and cultural centre. Generations of Indians in the UK and visitors studying, interested or inspired by Dr Ambedkar's key roles in furthering social justice, human rights and equal treatment issues will be able to visit. He is a figure on par with William Wilberforce and Dr Martin Luther King. Additionally, its five bedrooms could be used as accommodation for Indian students from Dalit backgrounds while doing post-graduate studies in the UK.
FABO UK has a long history with this site. As part of the celebration of the centenary of Dr Ambedkar's birth, organised under the auspices of FABO UK, English Heritage in 1991 recognised its historic significance and installed a 'blue plaque' on the exterior of the property with the words "DR BHIMRAO RAMJI AMBEDKAR 1891-1956 Indian Crusader for Social Justice lived here 1921-22".
Whilst in this house Dr Ambedkar enriched his academic studies and strengthened his resolve to challenge the impact of the Caste System and British Rule in India. It was also during this time that India's Government was struggling with the falling value of the Indian Rupee – the backdrop to his thesis The Problem of the Rupee: Its origin and its solution.
There is a lot of work to do on the house before it can be opened to visitors.
We look forward to working with GOM and the High Commission in London in the months and years to come to ensure that this cultural and political heritage site is put to uses of which Dr Ambedkar would approve.
FABO UK would like to take this opportunity to thank the following key people in India and the GOM for their tireless and unflinching enthusiasm and support in making our vision a reality: Mr Raj Kumar Badole, GOM's Minister for Social Justice and Special Assistance, His Excellency, Mr Ranjan Mathai, High Commissioner of India in London, and his team, Mr Vinod Tawade, GOM's Minister of, Higher & Technical Education and Cultural Affairs, Mr R K Giakwad IAS (Indian Administrative Services), Ex-Secretary & Commissioner Social Justice Department, Mr Ramdas Athwale, MP, Padma Shri Kalpana Saroj, and Mr Ramesh Katke, Deputy Registrar GOM.
Notes to Editors

Contact Ms Santosh Dass 0044 7902 806342 for more information or press interviews
FABOUK estimated the house would cost GBP 4 million. This includes the current asking price for the property as advertised at GBP 3.1 million; Stamp Duty; legal costs, house insurance costs, and the necessary renovations to the property.
FABO UK
In the UK there are a number of organisations with a common interest in following the teachings of Dr Ambedkar and traditions of Buddhism. FABO, UK with its Head Office in Southall, West London, was formed in 1985 as a central UK body to strengthen these organisations' loose or informal associations. It is a voluntary and non-profit making organisation. FABO UK has a number of objectives. One key one is to propagate the teachings of Dr Ambedkar and Lord Buddha. Over the years the numbers of organisations with a common interest that have joined FABO UK have fluctuated yet grown. FABO UK is run by an elected Executive Team. The current President of FABO UK of Ms Santosh Dass, MBE took up the position September 2013.
The joint General Secretaries are Mr Arun Kumar and Mr Gautam Chakravarty.
Federation of Ambedkarite and Buddhist Organisations UK
Buddha Vihara 12 Featherstone Road Southall West London MIDDX UB2 5AA
E: cgautam@ambedkar.org.uk U: www.ambedkar.org.uk Tel: +44 7956 918053

Ambedkartimes.com takes pride in congratulating the "Federation of Ambedkarite and Buddhist Organizations UK" (FABO UK) on this great achievement. Prem Chumber
Posted on www.ambedkartimes.com August 27, 2015
AMBEDKAR MEMORIAL IN LONDON COMES TO REALITY
A three member delegation of the government of Maharashtra (GOM) including Minister for Social Justice and Special Assistance, Raj Kumar Badole, Minister of State, Dilip Kamble and Principal Secretary Ujjwal Uke visited London from 23rd to 28 April to hold talks with the Indian High Commissioner (IHC), solicitors and evaluators to finalise the purchase of the house 10 King Henrys Road, in North London where Dr Ambedkar stayed during his studies at the London School of Economics during 1921-22.
Proposal to buy this house and turn into a memorial to Dr Ambedkar, his life and works was submitted by the Federation of Ambedkarite and Buddhist Organisations UK (FABO UK). It was proposed to convert the property into a cultural and educational centre that generations of Indians in the UK and visitors interested or inspired by Dr Ambedkar's key roles in furthering social justice, human rights and equal treatment issues could visit.
After visiting the house, the delegation had discussions with the Indian High Commission officials and the solicitor firm to complete the legal formalities.
On Monday, 27 April, a meeting with the members of Federation of Ambedkarite and Buddhist Organisations UK (FABO UK) represented by Ram Pal Rahi, Vice President, Arun Kumar, General Secretary, Gautam Chakravarty, Joint Secretary and Mr. Pritam Lal, First Secretary IHC took place at India House. Arun Kumar thanked Mr Badole and the Maharashtra government for accepting the proposal of FABO UK to purchase the property and turn into an Ambedkar memorial. He further added that the timely decision taken by the Social Justice Minister had saved the house slipping to another buyer. In his response, Mr Badole said "The government of Maharashtra has accepted FABO UK's recommendations. We have appointed two companies to conduct the valuation process of the house and the entire process is likely to be completed by the end of May. We are committed to buy the house and we will buy it." Talking on the historicity of the house, Gautam Chakravarty said, "It took us 20 years to seek the necessary permission to install the memorial outside 10 King Henrys Road and eventually the 'blue plaque' was installed by English Heritage on 6 December 1991."
Ambedkar Chair: The minister also initiated talks for a chair in Ambedkar's name at London School of Economics (LSE) where Dr. Babasaheb Ambedkar had studied, linking it with two new scholarships for Indian students. Mr Badole also broke the good news that "LSE has positively replied to our proposal and informally agreed to set up a Chair in the name of Dr Ambedkar and scholarships for Indian students. I have asked the LSE to send a former proposal for the chair and the running costs. The government of Maharashtra will provide the funds. "
FABO UK officials visited the property along with the surveyor and Mr. R.K. Gaikwad IAS Retired (former Commissioner for Social Welfare). Mr Gaikwad is a staunch Ambedkarite who lobbied the GOM in Mumbai on behalf of FABO UK.
Ms Santosh Dass, MBE, President of FABO UK said: "I am delighted that Mr Raj Kumar Badole, Minister for Social Justice and Special Assistance in the Government of Maharashtra has finally made arrangements to secure Dr Ambedkar's former residence in north London. This follows my proposal to the former Chief Minister of the GOM on 1 September 2014. There are many committed followers of Dr Ambedkar including Mr C Gautam and Mr Arun Kumar in the UK and Mr R K Gaikwad and Mr Ramesh Katke in India who have worked tirelessly since last September to make our vision a reality.
I am also delighted that my proposal for Ambedkar scholarship at LSE for which we were working on since 2014 has also been accepted.
It is important to inspire young Dalits to fulfill their potential around the world. 10 King Henry's Road will house a number of students from Dalit background who come to study in the UK and also be a focal point in the West to spread Dr Ambedkar's message about equality, human rights and social justice. For untold generations of people to come, 10 King Henry's Road will become a place of pilgrimage for people around the globe inspired by the fractious history of civil rights, the potential successes of social activism and, of course, Dr Ambedkar's legacy. "
On the last leg of his itinerary, Mr Badole visited Ambedkar Hall in southall and had an open meeting with the followers and admirers of Dr Ambedkar. He appreciated FABO UK's work and hoped to work together in future to develop the Ambedkar Memorial in London. He also met scholarship holder students from Maharashtra and listened to their grievances.
Posted on www.ambedkartimes.com May 10, 2015
CASTE PREJUDICE
HAS BECOME GLOBAL
An upper-caste Gujarati family who ran a grocery shop in the US wanted to know the name of the Indian sitting next to them in a private van in Pennsylvania. When his name did not reveal his caste, they probed further and asked for his surname. He said he was South Indian and didn't have a surname.
"I told them I knew why they were asking me these questions. They wanted to know my caste," says Sakya, who told them he was dalit. Over the next few days they sat as far away from him as possible while travelling together. Sakya, a PhD in history, says he has never faced any racial discrimination from white Americans; it's his own countrymen that have discriminated against him.

Education qualifications do little to erase the caste biases that Indians carry with them. A recent survey by the National Council of Applied Economic Research (NCAER) and the University of Maryland, US revealed that one in four Indians continue to practise untouchability in some form in their homes.
It's the same story across continents. The National Post writes of how, for dalits of Canada's British Columbia, the barbs are subtle. "They come in seemingly innocuous questions about your family village or last name...They show up in careless conversation, among friends, behind closed doors. A messy house is referred to as a chamar house."
Indian immigrant Kamlesh Ahir told the newspaper: "It doesn't matter if we are a doctor, teacher, because we belong to the lower castes.... They think we are bulls-t. We are zero....I'm in Canada ... But the bulls-t castes are still here. We live it every day."
"When Hindus move to other countries, the caste system transmigrates with them. Wherever Indians migrate to America, they build temples. They also export a Brahmin priest to perform the rituals in the temple. In this way the same structure repeats itself," says noted dalit scholar Kancha Ilaiah.
While New Jersey has one of the largest Hindu temples in the US, dalit entrepreneur Deelip Mhaske, a prominent member of the Indian community, is never invited to any cultural or religious Hindu function such as Diwali and Holi.
"The dalit gurdwara in Burnaby (British Columbia) was founded in 1982 after dalit worshippers felt unwelcome in an upper-caste gurdwara," writes Cheryl Chan in Canada's National Post. Chan points out the irony of the fact that Sikhism does not officially have a caste system.

A year ago, the British parliament officially outlawed caste discrimination. A UK government study had found evidence of caste-based discrimination at the workplace, in the delivery of services and in the education system. Coventry, a city in Central England, saw one of the most degrading cases of caste discrimination. "An elderly dalit lady was receiving home care from the city council, which would send a council worker to her house to bathe her. One of the council workers happened to be an Indian of a higher caste. When she discovered the lady was dalit, she refused to give her a bath," recalls Lekh Pall, an activist with the Anti-discrimination Alliance.

People often hide their identity as dalits as they do not want to be discriminated against, says Dr Sushant Godghate, a doctorate in engineering who lives in Japan. "I had an Indian colleague in Japan who I knew to be Buddhist (dalit convert). When I asked him if he would like to take part in the Ambedkarite movement in Japan he refused, saying he was not from the community," says Godghate.

Recently an upper-caste Hindu in an office in Japan overheard a dalit colleague talking of organizing protests over the brutal murder of three members of a dalit family in Maharashtra last month, an incident reminiscent of the Khairlanji killings. The dalit colleague says he and the upper-caste Hindu co-worker would earlier hang out together, but after this incident, the upper-caste colleague began to avoid him.
Recent protests in New York over the killings in Maharashtra saw several other groups join in, from African American church groups to Arab artists. However, upper-caste Indians were conspicuous by their absence.
In a paper on Australia's South Asian diaspora, Deakin University researcher Amit Sarwal argues that "despite the modern nature of South Asian diaspora in Australia and despite the egalitarian nature of Australia and even if caste as an institution cannot be practiced publicly or caste consciousness has not survived, this consciousness has very subtly merged into class consciousness and a demonstration of social status in relation to others. The 'others' being those who do not belong to the same jati, linguistic group and economical level..."
When an upper-caste Indian who has grown up in a deeply hierarchical society leaves India, he wants someone to dominate, says Chandra Bhan Prasad, mentor at the Dalit India Chamber of Commerce and Industry. "Africans in Durban say Indians treat them worse than whites do. For them, blacks are like dalits. But in countries like the US, where they have no one else to suppress, they turn on dalits," says Prasad.
http://m.timesofindia.com/home/stoi/deep-focus/Prejudice-even-in-pardes/articleshow/45322711.cms
Posted on www.ambedkartimes.com November 30, 2014
TURNING DR. AMBEDKAR'S FORMER LODGINGS IN LONDON INTO
A MEMORIAL FOR THE REMARKABLE MAN AND CRUSADER FOR SOCIAL JUSTICE
Ms Santosh Dass, MBE, President Federation of Ambedkarite and Buddhist Organisations UK said: "I am delighted that the Government of Maharashtra has supported the Federation of Ambedkarite and Buddhist Organisations UK's initiative to purchase the house where Dr Ambedkar lodged whist he was studying at the London School of Economics. We are still awaiting official confirmation.
English Heritage has already recognised the historicity of 10 King Henrys Road, NW3 by installing a 'blue plaque' on the property. This was unveiled in December 1991 by Roy Hattersley MP, the then Deputy Leader of Labour Party. In this house where he lodged, Dr Ambedkar enriched his academic studies and strengthened his resolve to challenge the impact of the Caste System and British Rule in India.

Dr. Ambedkar left a huge body of writings spanning forty years that cover a range of subjects, amongst them, history, economics, anthropology, politics, philosophy and law. These writings are proof-positive of his prowess, his intellectual rigour and his clarity of thought that must be shared with present and future generations.

There is a long way to go. If our initiative is successful, the property will be turned into a memorial to Dr. Ambedkar, his life and works. The house will be a cultural and educational center that generations of Indians in the UK and visitors interested or inspired by Dr. Ambedkar's key roles in furthering social justice, human rights and equal treatment issues can visit. The bedrooms would be ideal for some students from Dalit background from India who complete their post graduate education in the UK and visitors to London as part of Dr. Ambedkar missions worldwide.

FABOUK would like to take this opportunity to thank the following key people in India and the Government of Maharashtra for their tireless and unflinching enthusiasm and support in making our vision a reality: Dr. Nitin Raut- Cabinet Minister Government of Maharashtra (GOM), Mr. R K Gaikwad IAS (Indian Administrative services), Ex Secretary & Commissioner Social Justice Department, Mr. Ramesh Katke Deputy Registrar GOM, Dr Vijay Kadam, Social Activist, Mr. Siddharth Kharat Private Sectary to Dr. Raut, Mr. Lalit Khobragade Officer on Special Duty to Minister.

Arun Kumar
General Secretary,
Federation of Ambedkarite & Buddhist Organisations, UK (FABOUK)
Posted on www.ambedkartimes.com September 15, 2014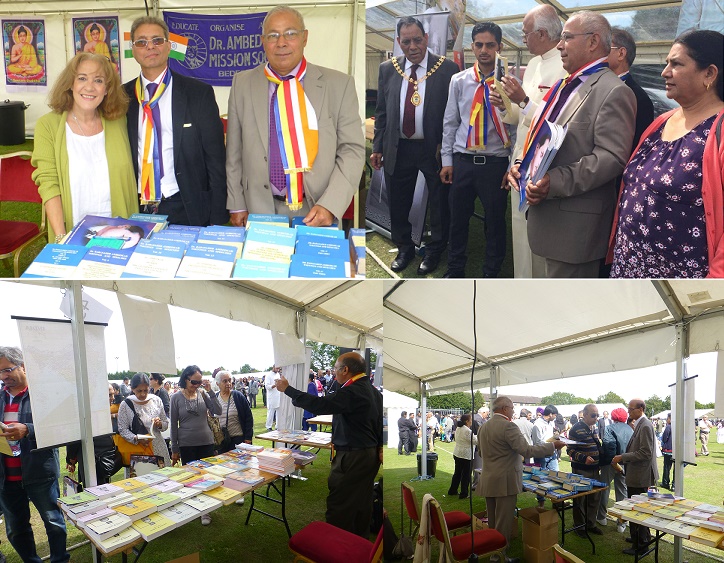 INDEPENDENCE DAY CELEBRATIONS IN LONDON

The annual celebration of India's Independence Day took place on 24 August at the Indian Gymkhana Club in West London. The event was organised by the Indian High Commission. Thousands of people from various communities participated. The event included the annual raising of the India flag by the Mr. Ranjan Mathai, India's High Commissioner to London and live music and dance entertainment. There were also about 50 stalls hosted various organisations - some of them providing refreshments and food and others advertising their products. India House had invited the Federation of Ambedkarite and Buddhist Organisations UK (FABOUK) to host a stall at the event. FABOUK and the Ambedkar Mission Society, Bedford, had a large stall and displayed Dr Ambedkar and Buddhist literature and portraits of Dr Ambedkar. Hundreds of people visited the stall and over 300 copies of a Dr Ambedkar souvenir were given to interested visitors. Mr. Ranjan Mathai along with senior India House officials also visited the stall and appreciated the display.
One of the visitors remarked that in his view the Dr Ambedkar stall was one of the best and most educative. A documentary film director, Christine Booth from the Pacifica Films also visited the stall and showed a keen interest in Dr Ambedkar. She talked at length about the contribution of Dr Ambedkar to the human rights issues, gender equality and the revival of Buddhism. Ranjit Boadh, Harbans Virdee, Mr. & Mrs Pirthi Kaeley and Arun Kumar managed the stalls.
Posted on www.ambedkartimes.com August 30, 2014
CASTE DEBATE IN
WESTMINSTER HALLJULY 9, 2014

A special
report by

Arun Kumar

(General Secretary)
Federation of Ambedkarite &
Buddhist Organizations UK


Please find attached the transcript of yesterday's debate in the house of Commons on Caste Discrimination in the UK sponsored by Adam Holloway MP for Gravesham. The Minister's response in the Parliament has no real answer to the question about the unnecessary delays to the consultation and implementation of the caste legislation.

Our thanks goes to the MPs who participated in the debate especially to Adam Holloway who secured the debate on the delay to the implementation of legislation on caste discrimination.

It appears that we have a long way to go to achieve our objective and we must get prepared for this battle.
CASTE DISCRIMINATION
4.42 pm
Mr. Adam Holloway (Gravesham) (Con): It is a great pleasure to serve under your chairmanship, Dr. McCrea, and I thank the Minister for allowing me to ruin her afternoon. I am sure she had other things that she would have preferred to be doing.
Why are we having this debate? I went to the Brandon Street Gurdwara in Gravesend a few months ago, and I was amazed by the strength of feeling over a petition on caste discrimination. Since then, I have been around the country with my hon. Friend the Member for Witham (Priti Patel), who is the Prime Minister's diaspora champion, and I visited Leicester, Southall and the constituency of my hon. Friend the Member for Bedford (Richard Fuller). I did not realize that quite so many people in the UK suffer because of "traditional"—if that is the right word—caste systems originating in south Asia.
According to a survey on one of these castes, published by the Anti-Caste Discrimination Alliance, 58% of Dalits—that is to say the untouchables, the Chamars, or whatever else people want to call them—believe they face discrimination because of their caste. Much more interestingly, 80% believe that the police would not understand caste discrimination if it was reported to them. Some Dalits are being ignored for promotion. They are victims of humiliation or harassment and sometimes they face being fired.
So is there a form of hidden apartheid within our shores? After some brave and necessary moves by our Home Secretary to outlaw such things as forced marriage, can we really continue to excuse ourselves for not putting people who practice this casteism on the wrong side of the law?
There has been a timeline to this. In November 2009, the Anti-Caste Discrimination Alliance published its report, "Hidden Apartheid—Voice of the Community", highlighting lower-caste experiences of caste discrimination. Between April 2009 and April 2010, during parliamentary debates on the Equality Bill, Dalit organizations sought to persuade parliamentarians to include caste as a new protected characteristic.
On 1 October 2010, the Equality Act 2010 came into force. The caste power found in section 9(5)(a) of the Act allows amendment by ministerial order
"to provide for caste to be an aspect of race".
In December 2010—I am halfway through these dates now, by the way—an independent research report asked for by the last Government was published by the National Institute of Economic and Social Research. It suggested that caste discrimination and harassment were falling outside the Act. The coalitions Government are still considering that report.
In August 2011, Amardeep and Vijay Begraj, a married couple—he had been working in a solicitor's firm as a manager, and she had been working as a solicitor—came before the courts. The argument was that he, and I think she, as well, had been fired because their union, being from different castes, had not been approved of. The Home Secretary then publicly considered whether to add the caste system to the equality law.
9 July 2014: Column 135WH
Mark Reckless (Rochester and Strood) (Con): Many of my constituents attend the Gurdwara in Gravesend to which my hon. Friend referred, but more still are members of the Ravidassia community in Strood.
Dr. William McCrea (in the Chair): Order. Two Members are standing.
Mr. Holloway: I was so interested in what my hon. Friend was saying—that is what happened there. I am sorry, Dr. McCrea.
Mark Reckless: My understanding was that the Government had given a commitment that it would bring in this order, so why has it not happened?
Mr. Holloway: The Government will tell us in a moment, which is part of the reason why I have called this debate.
On 1 March, the Minister present made a statement. She announced that the Government were thinking of taking an educational approach to this and would use Talk for a Change. However, the NIESR criticized that, saying that it only raises awareness and does not assist people being discriminated against by their employer, nor by such things as day care centres.
The Government then asked the Equality and Human Rights Commission to review and make recommendations. In April 2013, the Minister was asked to sign the ministerial order and on 29 July, the Government published their caste discrimination legislation timetable. It will run up to and beyond the 2015 general election. On 5 February, the Begraj tribunal was abandoned, because the judge recused herself when she was told by a third party that a witness in the case had had their home smashed up by an unknown group. On 28 February, the EHRC published its two reports on the matter and called on the Government to add in the necessary protections on caste.
Let me just give a brief outline of caste in the UK. According to the 2011 census, about 4.5 million in this country are of south Asian origin. Of those, about 20% are from the untouchables, the Chamars, the Dalit community—I think it is about 860,000 people.
What is the Hindu caste system? Who are these 1 million Dalits in the UK and where do they fit in? Imagine a pyramid and at the very top, there are the gods, and then there are four castes. The top caste, the elite, are the Brahmins; these are the people who traditionally were the priests. Then there are the Kshatriyas; they are just below the Brahmins and were traditionally the warriors and the kings. Below them, there are the Vaishyas, who were the merchants and the farmers. Below them, at the bottom, there are the Shudras, who were the servants. Below even them, by this narrative, right at the very bottom—sometimes not even included in pretty pyramids like the one I have here in my notes—are the Dalits. They are known to some as the handlers of filth, or the untouchables.
This really is happening in the UK. After lunch, we were looking on Twitter. People can have a look themselves. They should look for "Brahmin for life", "Jat for life" and "Brahmin boys look out for each other". There are even dating websites. There is nothing wrong with that, but what about www.brahminmatrimony.com or this from www.asiansinglesolution.com? X is an
9 July 2014: Column 136WH
"Attractive, down to earth, caring, Hindu Brahmin girl with strong values and morals".
As previously mentioned, 80% of the Dalits in the survey said that they did not believe that the police would understand if caste-based discrimination was reported to them.
Richard Fuller (Bedford) (Con): I am very pleased that my hon. Friend called for this debate. Does he share my concern at what I would characterize as the nonchalant, "Who cares?" ignorance of discrimination being pursued by the current Government's policy in this regard? Somehow they believe that the discrimination that he has just spoken about will magically end at the workplace—that somehow because there is discrimination protection outside, we do not need to have any protections inside the workplace. Does he not think that that is nonchalant?
Mr. Holloway: I will come on to that, and I know that the work that the Minister is doing also applies to it.
There has been recent court action. There was the successful case of Tirkey v. Chandok, in which the claim for caste discrimination was allowed. However, these are just what I think are called first instance decisions and are not binding. According to Swan Turton Solicitors, there was a conflicting ruling in an earlier case, Naveed v. Aslam, in which the tribunal rejected any claims for caste discrimination. It was stated that the reason was that the Government still had not exercised their power to amend section 9(5)(a) of the 2010 Act.
The simple fact is that at present, if a person in the UK is harassed because of their caste in places of employment or education or where they receive public services such as health and social care, there is no legislation in place to protect them. Let us not overstate this, but in the past few weeks I have repeatedly come upon people who have said, for example, that they feel like they are looked down on by members of what would be traditional castes. People have told me of their disapproval of inter-caste marriage. I have heard anecdotes about some people not having had the choice of marrying the person whom they would like to marry. I have even heard about people who have not felt welcome at certain places of worship.
Gareth Johnson (Dartford) (Con): I congratulate my hon. Friend on securing the debate. I know that he is very well respected in the south Asian community in his constituency, which neighbours mine. Will he comment on what I have found? I do not know whether my experience is similar to his own. I am talking about just how shocking the caste system and discrimination within it can be. We see classism existing in every community, but this goes way beyond that to create a great deal of friction between different groups of people. Most concerns come from within those communities themselves.
Mr Holloway: That is a great point. What my hon. Friend is talking about is the fact that in our areas we have a lot of Sikhs, and of course among the central tenets of the Sikh faith are tolerance, equality and so on. I know that the Sikhs, certainly on our shared patch, are working on it, but this occurs far more widely across the south Asian communities in our country.
9 July 2014: Column 137WH
What is the reason for saying that we need some sort of legislation? It is as I have suggested. In the area of employment, there is the example of a manager of a bus company in, I think, Southampton who had to deal with a demand from someone that his shifts be changed so that he would not have to work with someone of a lower caste. Twenty per cent. of Dalits felt that they had been informally excluded from social events, informal networks and so on.
In the area of health, the Anti Caste Discrimination Alliance reported a few cases. One related to an elderly woman who was being looked after. Her carer, who was from a "higher" caste, found an icon indicating that the person she was looking after was from a lower caste, and the son of the bedbound woman found that his mother had not been washed for a number of days. We have had examples of physiotherapists refusing to treat people of lower caste. In the area of marriage, we have heard of the Begraj case. We have heard of people feeling unable to marry outside their caste.
What could legislation do? It could send the message that castes have never existed in Britain and really should not. It would protect people in workplaces, schools, hospitals and so on.
The Government's commitment on these issues has been welcomed by victims of caste discrimination and forms just one part of the wider reforms being put forward. The Home Secretary has outlawed forced marriages, which are, as she rightly put it,
"a tragedy for each and every victim".
Female genital mutilation is also illegal in this country. I am not sure, therefore, that we can necessarily use the argument that we might upset certain people in the south Asian community.
I forewarned the Minister of these three questions. First, the Government have published a timetable for caste discrimination legislation. Why does it run up to and beyond the 2015 general election? Secondly, will the Government involve the relevant groups and communities in their preparation of the public consultation document? It would be very good to see the involvement of some of those groups in that consultation. Finally, in plain English, when will the consultation document be published; does the Minister expect any further delays?
Dr. William McCrea (in the Chair): The Minister will start her winding-up speech at the latest at two minutes past 5. She will have 10 minutes in which to wind up the debate.
4.56 pm
Jeremy Corbyn (Islington North) (Lab): I will be very brief so that the Minister will have plenty of time to reply. First, I pay enormous tribute to the hon. Member for Gravesham (Mr Holloway) for securing this debate, for the way in which he has spoken on this subject today and for his willingness to grant me a few minutes of his time. I am very grateful for that.
I am one of the trustees of the Dalit Solidarity Network and a member of the all-party group for Dalits, the chair of which is Bishop Harries, a Member of the House of Lords. Together with the director of the Dalit Solidarity Network, Meena Varma, I have been to the
9 July 2014: Column 138WH
United Nations in Geneva to raise issues of Dalit discrimination in India and many other places, but also, clearly, in this country.
I will briefly put on the record the enormity of the situation. Around the world, 260 million people are Dalits —scheduled castes. They suffer grievous discrimination, terrible poverty, appalling levels of crime committed against them and, in most of India and Nepal and other places, appalling standards of living. Every week, 13 Dalit people in India are murdered. Five Dalit homes are repossessed every week. Three women are raped every day. Eleven Dalits are beaten every day. A crime is committed against Dalit people every 11 minutes in India.
The Ambedkar constitution is an excellent document. Dr Ambedkar was himself a Dalit. It absolutely outlaws discrimination and has some provision for protected employment for people of the scheduled castes. It is a very effective document, but raising these matters with the Indian Government or the Indian high commission is extremely difficult; they are quite resistant to having good discussions about it.
As the hon. Gentleman pointed out, discrimination also exists in this country. There are roughly 1 million Dalit people in Britain. As a result of both the case that he brought up, which was one that we raised in Geneva at the UN Human Rights Council, and the debates that took place in advance of the Equality Act 2010, we are in a situation in which we are relying on the Government now to introduce regulation to put it on the face of the law in this country that it would be illegal to discriminate on the basis of caste.
In getting to this position, the Government of the day in 2010, the then Labour Government, with my right hon. and learned Friend the Member for Camberwell and Peckham (Ms Harman) as the Minister leading on the Bill, accepted an amendment put forward by my hon. Friend the Member for Hayes and Harlington (John McDonnell) that required the Government to undertake research on caste discrimination in this country. That research demonstrated clearly that there is serious discrimination, and the Committee on the Elimination of Racial Discrimination said, in terms, that the British Government had an obligation to introduce the legislation. The Minister, I am sure, will tell us that consultations are taking place. I agree with consultations; everything should be consulted on, but there should be a limit to the time in which that is done. I am very disappointed that, at the moment, the introduction of the regulation will take us past the end of this Parliament and into the next Parliament. I would like to see something done in this Parliament and I hope that the Minister will give us good news on that.
My final point is that it is never popular to stand up for people who have been grievously discriminated against. I am really pleased with the way in which a number of Members have raised the matter today. Discrimination is wrong in any circumstances and against anybody, and people should be treated with dignity and respect. Our purpose today is to get into British law that clear declaration; at the same time, that will give us the moral authority to talk to others about it. I hope that the Minister will agree to introduce regulations quickly. Above all, I hope she will agree to attend a meeting with the members of the all-party group, which I am sure others could also attend, so that we can have a longer discussion about the matter. The time has come to act and not delay.
9 July 2014: Column 139WH
5 pm
The Parliamentary Under-Secretary of State for Women and Equalities (Mrs. Helen Grant): It is a pleasure to serve under your chairmanship today, Dr. McCrea. I thank my hon. Friend the Member for Gravesham (Mr. Holloway) for securing the debate, and I thank other hon. Members who made important contributions.
The Government has always said that there is no place for unlawful discrimination or prejudice in society. That applies to caste-related issues as much as it does to race, religion or belief. My hon. Friend and the hon. Member for Islington North (Jeremy Corbyn) drew attention to instances of caste hostility and prejudice in our society, and I would like to make it clear how much the Government sympathise with people in such situations. The experience of such antagonism and exclusion from one's own community must be incredibly distressing. My hon. Friend and others have urged the Government to press on with introducing legislation to make caste discrimination unlawful, and that is exactly what we are trying to do.
Many hon. Members will recall caste being debated during deliberations on the Enterprise and Regulatory Reform Bill last year. It was the will of Parliament that a duty be imposed to make caste an aspect of race for the purposes of the Equality Act 2010, and we are well aware of that duty. However, we are also aware that during parliamentary debate on this matter, speakers from all the main parties acknowledged that caste was a particularly sensitive and complex area. Some have suggested that caste legislation should be easy to introduce, but that is simply not the case. There are a number of complexities, and there is no general consensus on caste in the UK, even among communities that are most affected by it. Some have campaigned long and hard for the introduction of specific caste-related legislation, but others—who are equally well informed—do not believe that caste discrimination exists and consider that legislation is, therefore, unnecessary. That does not negate the duty on the Government and the votes in Parliament last year, but it means that we need to prepare a consultation document which, as far as possible, commands the confidence of the relevant groups.
In July 2013, we set out our timetable leading up to the introduction of caste legislation. The process was thorough and detailed, and it was designed to ensure that future legislation was fit and proper. The Equality and Human Rights Commission has been helpful in taking the initiative forward. To start the process, the EHRC commissioned some independent research into identifying a possible definition of caste. The research was also to consider which of the current exceptions for race would apply equally to caste, and to identify whether any new caste-specific exceptions should be included in legislation. The research was intended to inform the contents of the Government consultation that was due to be issued in spring 2014. However, although the EHRC duly published its initial research reports in February 2014, two issues arose earlier this year that have had significant implications for the public consultation.
The first was the unanimous agreement that whatever we did, we did not want to entrench people's identification with a specific caste within society. That is why a review clause was included in the Enterprise and Regulatory Reform Act 2013 to allow for future consideration of any caste provisions to make sure that they remain
9 July 2014: Column 140WH
Appropriate and necessary. That clause cannot be exercised until at least five years after the Act comes into force, which it did in May 2013. The EHRC had originally intended to commission a second research phase that would establish much-needed baseline data that could be used as a starting point for consideration of whether caste legislation was doing its job and stopping unlawful discrimination. Unfortunately, on further consideration the EHRC felt that that research would not be possible and that it might be intrusive and ruin good relations in communities. We have discussed those problems with the EHRC and we are now deciding how best to establish baseline data. We are conducting a feasibility study on the matter.
Richard Fuller: Will the Minister give way?
Mrs. Grant: I am sorry, but I have no time and I have got a lot to talk about, so I will push on.
The second issue concerned a recent employment tribunal case, Tirkey v. Chandok, in which the tribunal found that caste already had legislative protection because it is inherently an aspect of the ethnic origins provision of race in the Equality Act. I want to make it clear that the finding of a single employment tribunal does not set any legally binding precedents for other tribunals. However, the decision reopens concerns that have been debated in Parliament about the extent to which the Government must recognize links between domestic equality law and our international obligations, the relationships between those obligations and future provisions covering caste discrimination, and how such provisions might be framed.
We believe that we need to address those two developments—the Tirkey case and the lack of baseline data—as thoroughly as possible for the purpose of the public consultation. We need to assess the feasibility of any further research into caste discrimination, given the limited success that previous researchers have had in producing clear, generally accepted evidence. We also need to assess the consequences if higher courts were to take the view that caste discrimination is already unlawful under the Equality Act, which might call into question the use of further, specific provision. That is why we have announced that the consultation will have to be put back until the autumn.
My hon. Friend the Member for Gravesham has asked me to deal with three questions, which I will go into in a little detail although not in the order that he mentioned them. He asked whether the Government would involve the relevant groups and communities in the preparation of the public consultation document. Many groups have recently had the opportunity to take part in the research commissioned by the Equality and Human Rights Commission, which was published in the "Caste in Britain" reports. The Government have studied those carefully. I also look forward to the groups responding to the consultation and commenting on our proposals.
Richard Fuller: Will the Minister give way?
Mrs. Grant: No, I will not; I have got very little time.
My hon. Friend the Member for Gravesham asked me to confirm when I expected the consultation document to be published, and whether I expected any further delays. We anticipate that the consultation will happen later in the autumn. I am as anxious as he is to get on with it, and I do not expect any further delays.
9 July 2014: Column 141WH
The final question my hon. Friend asked was about why the timetable goes beyond the general election in May 2015. We set the timetable purely and simply because we felt that that was a sensible amount of time in which to do the job properly. It is a complicated and sensitive matter and we have to be careful. At the end of the day, we want to get it right. The process includes two full public consultations followed by debates on an affirmative order; it will take some time to do that exercise correctly.
I accept that the delay will disappoint certain Members, and others, but our duty to the public is to ensure that any legislation that the Government introduce meets the mandate given to us by Parliament. In this case, we need to ensure that legislation would provide thorough and proper protection for all those who need it and that the ongoing need for and merits of that legislation can be thoroughly and properly evaluated. To do that properly may take a while, but it is essential to get the detail of such important matters right. I hope that hon. Members present, and others, will have the patience to wait until we are able to consult fully later on this year.
9 July 2014: Column 142WH
Richard Fuller: Will the Minister give way?
Mrs. Grant: Yes, I will now, and with pleasure.
Richard Fuller: I am very grateful. If I may, I would like to ask my hon. Friend the Minister a direct question. She has talked through many reasons for delay; if the issue was discrimination based on gender or race, would she personally be as comfortable about the arguments for delay that she has presented today for those suffering discrimination based on caste?
Mrs Grant: All I can say is that I believe that any form of discrimination is absolutely unacceptable and I will seek to deal with it as quickly and effectively as possible. That relates to caste, colour, race or any form of discrimination, because it is abhorrent and I know how much hurt and damage it can cause.
Question put and agreed to.
5.11 pm
Sitting adjourned.
Posted www.ambedkartimes.com on July 10, 2014
GLOBAL PROTEST AGAINST CASTE DISCRIMINATION
(Arun Kumar, Bedford, UK)
21st June, 2014 will be remembered as a historic day in the Dalit history when for the first time NRIs settled in various countries came on streets simultaneously to protest against the caste based discrimination and ill treatment being met to them on the basis of their birth. In solidarity with Dalit organisations across the World, on this very day, a demonstration against caste discrimination took place in front of the 10 Downing Street, the official residence of the British Prime Minister. This was a second demonstration by Dalits held in the month of June. It was organised by the Anti-Caste discrimination Alliance UK and supported by a number of organisations including Federation of Ambedkarite and Buddhist Organisations UK, Ambedkar Mission Society, Bedford, Southall Black Sisters, Indian Workers Association, Sri Guru Ravidass and Bhagwan Valmik Sabhas across UK and several other organisations. The purpose of the protest was to raise awareness with UK Government policy-makers, Parliamentarians, and the Press about the key issues that impact on socially excluded groups like Dalits, atrocities against them including the rape and violence against women and girls in India. It also intended to promote the draft UN Principles and Guidelines for the Effective Elimination of Discrimination based on Work and Descent established by the UN Human Rights Council.
A petition including a joint statement signed by numerous Dalit and non-Dalit organisations demanding the government to implement without further delay the law agreed by Parliament to outlaw Caste-based discrimination in the UK, was handed over to the Prime Minister. The protesters also asked the British government to use their clout to stop atrocities against Dalits especially caste based rapes and violence against women.
The call for Global action against caste based discrimination was given by the US based organisation, International Commission for Dalit Rights (ICDR) and joined by many cross faith Dalit and non-Dalit organisations (including those representing Ambedkarites, Buddhists, Christians, Muslims, Ravidassia and Valmikis). At the same time, the protest events also took place in New York, San Francisco and Los Angeles in USA and Toronto in Canada and raised the voice against human rights abuses in India and abroad.
Posted www.ambedkartimes.com on June 27, 2014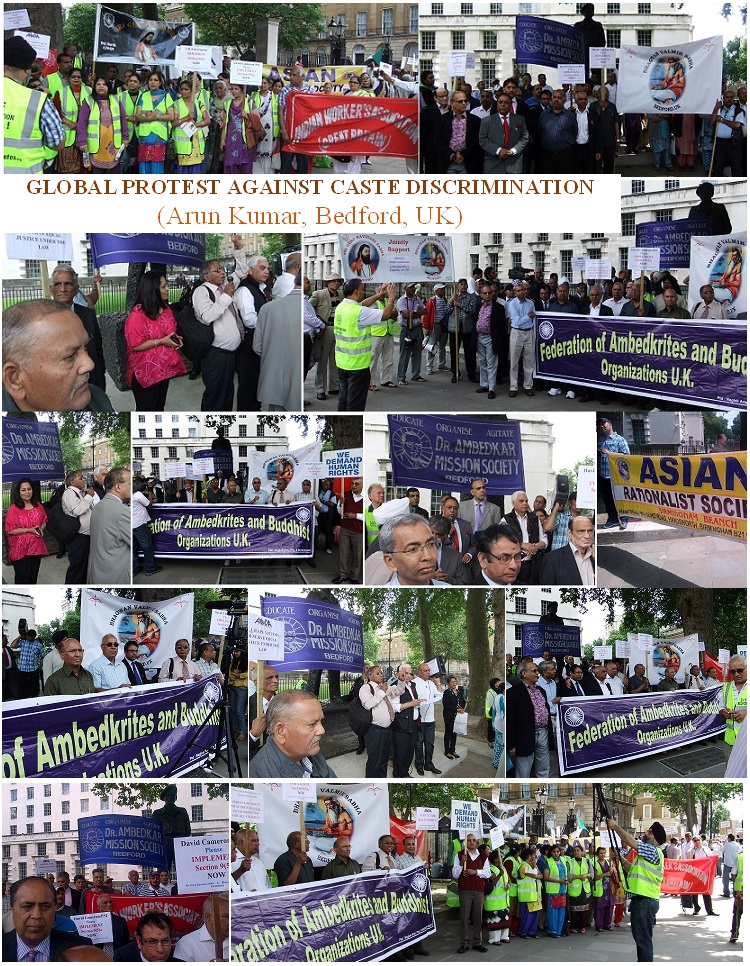 Posted www.ambedkartimes.com on June 27, 2014
A special report on the demonstration organized by the Freedom without Fear Platform and attended by various organizations from all over UK against the daily occurrences of rapes in India. A memorandum was handed over to the Indian High commissioner

Arun Kumar (General Secretary)
Federation of Ambedkarite & Buddhist Organizations UK
Wednesday, 4 June 2014
Our letter to the Indian Prime Minister to be handed today at the High Commission
Shri Narendra Modi
Prime Minister of India
4th June 2014
Dear Prime Minister
We the undersigned women's organizations, South Asian community organizations and Dalit and anti-caste discrimination organizations in Britain are writing to you to express our acute concern about the ongoing horrific attacks on Dalit and oppressed caste women and children across India, including most recently, the appalling gang-rape and lynching of two girls aged 14 and 15 in Badaun, Uttar Pradesh, on Wednesday 28th May. Only two months earlier, four teenage Dalit girls aged 13-18 were raped by 'higher caste' landowners in Bhagana in Haryana, and the survivors are still fighting for the arrest of the rapists.
We note that:

These caste/gender atrocities are not confined to one state but have been occurring across the country - from Bathani Tola and Bathe in Bihar to Khairlanji and Khadra in Maharashtra.
These are taking place with the collusion of the police as recently highlighted by the UN Special Rapporteur on Violence Against Women. In many cases the police themselves are the perpetrators.
There has also been collusion by public prosecutors and the judiciary, which has led to acquittals of the guilty.
Public figures who have been responsible for rapes and murders of minority, Dalit and Adivasi women have been rewarded and promoted – two of many examples are Muzaffarnagar-accused Sanjeev Baliyan, now made a central government Minister, and Police Superintendent Ankit Garg awarded for gallantry after supervising the rape and torture of Soni Sori.
We urge you therefore to ensure that:
In the Badaun case: The police involved in the rape-murders must be prosecuted: In the FIR lodged by the police, the culprit policemen have been charged only with abetment (120B) whereas they should be named as the accused and
Section 166A (which refers to police and other public servants refusing to do their duties) also should be invoked in the case. The government must take measures to guarantee the security of the families of the victims since police are among the accused.
In the Bhagana case: The eviction today from Jantar Mantar of the rape survivors and their families who have been forced to protest in Delhi for many weeks must be stopped. Their demands must immediately be met: all those named by the survivors must be arrested; the Dalit community in Bhagana must be given land and guaranteed security as is their right; full compensation must be provided to the Bhagana rape survivors.
In the cases of the Bathani Tola and Bathe massacres and mass rapes carried out by the Ranvir Sena in Bihar: all those convicted on the evidence of eyewitness survivors have been subsequently acquitted by the Patna High Court. These acquittals must be overturned. The Amir Das Commission investigating the Ranveer Sena which was hastily disbanded before it could make its findings public, must be reinstated.
Sanjeev Baliyan who is a main accused in the Muzaffarnagar riots and mass rapes of Muslim women in U.P. (and has continued to break the law, taking out inflammatory victory processions against Prohibitory Orders) must be removed from his post as Minister of State for Agriculture and Food Processing in the central government immediately.
The Atrocities Act which is specifically designed to address caste violence must be applied in all cases of caste/gender violence against SCs and STs.
Yours sincerely,
Sarbjit Johal, Freedom Without Fear Platform
Amrit Wilson, South Asia Solidarity Group
Santosh Dass, Federation of Ambedkarite and Buddhist Organisations (UK)
Ravi Kumar, Anti Caste Discrimination Alliance
Davinder Prasad, British Organisation of People of Asian Origin
Bholi Randhawa, Shri Guru Ravi Dass Mission International (Kanshi TV)
Desraj Bunger, Sri Guru Ravidass Sabha, UK, Europe and Abroad
Satpal Muman, CasteWatch UK
Faquir Chand Sahota, Central Valmik Sabha (UK)
Eugene Culas, Voice of Dalit International
Pastor Raj, Minority Christian International Federation
Baljit Banga, Newham Asian Women's Project
Pragna Patel, Southall Black Sisters
Sumanta Roy, Imkaan
Anjum Mouj, Rape Crisis England and Wales
Balvinder Saund, Sikh Women's Alliance UK
Shahida Choudhury,Women's Networking Hub
Posted by Freedom Without Fear Platform at 14:07 No comments:
Email ThisBlogThis!Share to TwitterShare to FacebookShare to Pinterest
Labels: Badaun, Bhagana, Dalit women and girls, gender violence, India
Monday, 2 June 2014
BADAUN-BHAGANA-NEVER AGAIN! DEMAND JUSTICE FOR THE VICTIMS AND SURVIVORS OF GENDER/CASTE VIOLENCE!
Wednesday 4th June 4.30 - 6.30pm
Indian High Commission
The Aldwych, London WC2 (nearest tube is Holborn)

The appalling gang-rape and lynching of two Dalit girls aged 14 and 15 in Badaun, Uttar Pradesh, India on Wednesday 28th May is the latest in a long line of horrific murders and sexual assaults perpetrated on young Dalit women across India recently. Only two months earlier, four teenage Dalit girls aged 13-18 were raped by 'higher caste' landowners in Bhagana in Haryana, and the survivors are still fighting for the arrest of the rapists.

Dalit women and girls are facing an onslaught of gender, caste, and class based violence in which the Indian state collaborates. Less than 1% of rape cases of Dalit women by non-Dalits end in conviction. The level of impunity is so total that the perpetrators feel confident to finish off their vile crimes by murdering the victims and leaving their bodies on display. Are the lives of young Dalit women so expendable?

In the Badaun case, the police refused to investigate when the girls' families reported them missing and even threatened to kill them if they filed a case, and two policemen have now been charged with conspiring with the higher caste rapists. In Bhagana, the courageous survivors and their families have been forced to travel to Delhi and stage an ongoing protest to demand the arrest of the rapists –after the police refused to register cases against the powerful men named by the girls in their testimonies.

Dalit women have been targeted for sexual violence wherever Dalit communities are challenging oppression and exploitation. In Bhagana, the four girls were raped in 'revenge' after Dalits demanded that the upper caste controlled village council hand over the land which had been allocated to them by the government, and protested against eviction and harassment. In Bihar, the Ranvir Sena, a landowners' army aligned with Narendra Modi's ruling Bharatiya Janata Party, targeted Dalit and Muslim women for horrific violence when the rural poor organized for land and a living wage.

The recent election victory of Narendra Modi and the BJP has further emboldened upper caste and economically powerful rapists. The Brahmanical-patriarchal ideas of the Hindu right, in which Dalit women's lives have no value, are being combined with intensified neoliberal economic policies which leave Dalits and other exploited and marginalised people even more vulnerable. While Modi tried to reach out to Dalits in his election campaign, his close ally Baba Ramdev's offensive remarks about Dalit women as the sexual property of upper castes exposed once again the misogynistic casteism of the Hindu right. In the wake of the Badaun case, Modi has condemned the appalling levels of gender violence in opposition-ruled UP, but the fact that he has given a Ministerial post in his government to Sanjeev Baliyan, one of the main accused in the Muzaffarnagar communal violence in UP last year which involved mass rapes of Muslim women, sends out a very different signal.

The last year and a half has seen a powerful movement against gender violence in India. But the Badaun and Bhagana cases painfully underline once again that the struggle continues, and can only succeed if the lethal connections between gender, caste, class and communal violence are recognized and fought.

Dalit groups and progressive and left women's groups and students organisations in India are on the streets demanding justice for the victims and survivors of Badaun and Bhagana.
Join the solidarity protest outside the Indian High Commission in London on Wednesday 4th June from 4.30 to 6.30pm.
https://www.facebook.com/events/297949227038552/
Organised by
Freedom Without Fear Platform

Supported by
Anti Caste Discrimination Alliance; BOPA; CasteWatch UK; Central Valmik Sabha UK; FABOUK; Imkaan, Newham Asian Women's Project; Rape Crisis England and Wales; South Asia Solidarity Group; Southall Black Sisters; Sri Guru Ravidass Sabha, UK, Europe and Abroad; Shri Guru Ravi Dass Mission International (Kanshi TV); Voice of Dalit International; Women's Networking Hub
Posted on www.ambedkartimes.com , June 9, 2014)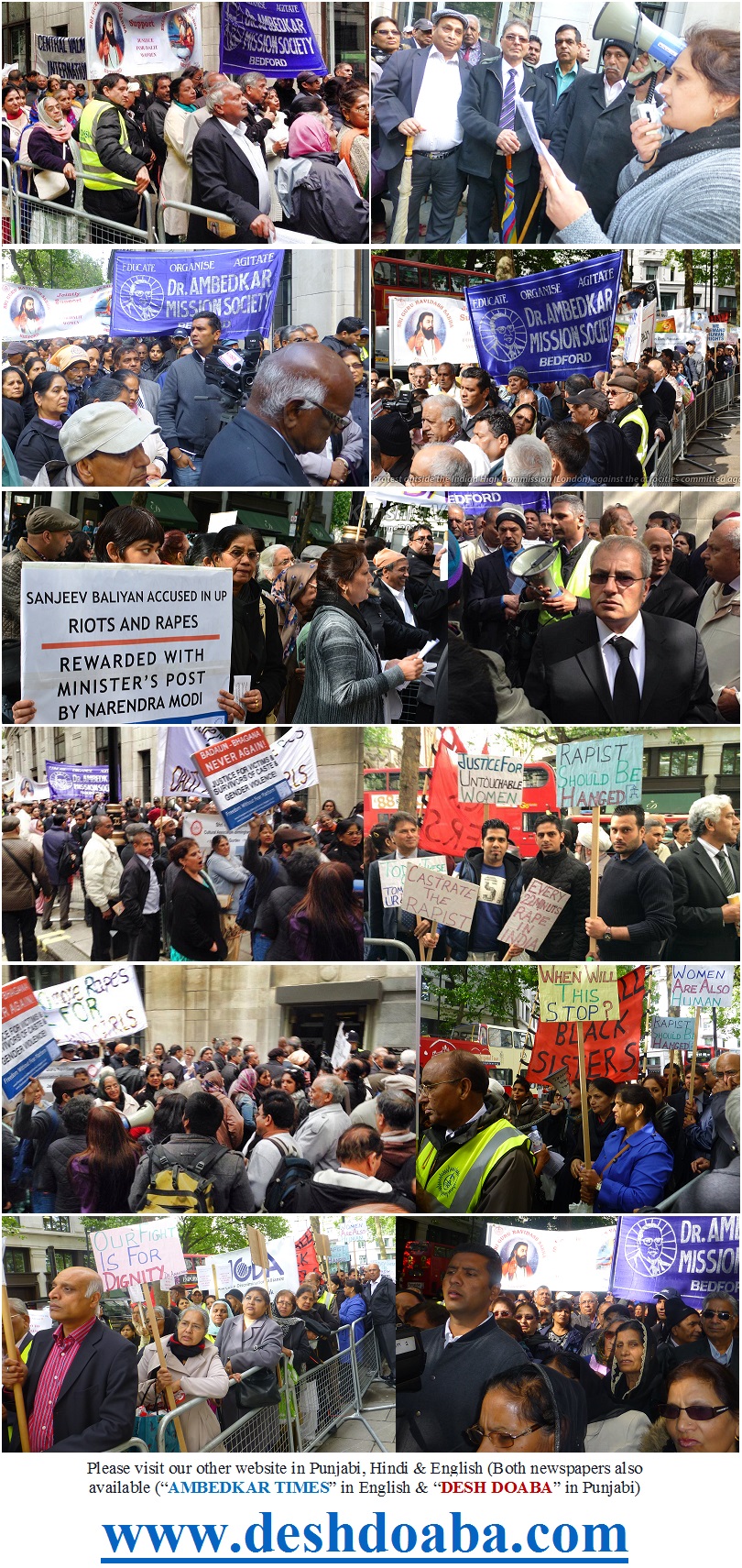 Posted on www.ambedkartimes.com , June 9, 2014)

FABO UK welcomes the reports Caste in Britain
Dear All,
The

Federation of Ambedkarite & Buddhist Organisations UK (FABO UK) welcomes the reports

Caste in Britain

by the independent researchers commissioned by the Equality and Human Rights. These reports follow months of stakeholder engagement that included FABO UK's input. The EHRC has delivered on its commitment to produce the reports. Now the Government needs to meet theirs and issue the promised consultation before the end of March 2014 and finally begin the process (without further unnecessary delay) to implement the law agreed by Parliament in April 2013

.
Arun Kumar


General Secretary
Federation of Ambedkarite & Buddhist Organisations UK
(

07909828750)
Posted on www.ambedkartimes.com , March 3, 2014)
Fight for Justice
continues -FABO UK

The Annual General Meeting of the Federation of Ambedkarite and Buddhist Organisations UK, took place on Sunday 22 September 2013 at the Ambedkar Centre, 12 Featherstone Road, Southall, Middlesex, West London. Five member organisations - : Dr Ambedkar Memorial Trust, London, Buddha Dhamma Association, Southall, Ambedkar Mission Society Bedford, Punjab Buddhist Society UK, Dr Ambedkar Mission Society Glasgow - participated in the meeting.

The Government's delay on the implementation of the legislation to outlaw caste discrimination was discussed. The protracted timetable of two years announced by the Government was agreed as nothing more than a mere ploy to stop the implementation of the legislation agreed by Parliament. This clearly signals that the government does not want to see the implementation of the law during its term. The government's attitude was strongly condemned. FABO UK will continue to support and participate in the campaign for early implementation of the legislation to outlaw caste discrimination in the UK.
It has been over six decades since independence, but atrocities on Dalits and especially on Dalit women continue to increase day by day. The India Government must ensure fast track courts that deal with cases of rape work to ensure that timely justice is provided to the victims. The legal system in India must also provide justice for victims of caste oppression.
Dr. Ambedkar was one of the greatest advocates of human rights and equality of treatment. He devoted his life and work to provide justice for victims of discrimination. To maintain the legacy of Dr. Ambedkar, participants in the meeting took a pledge to continue to work against inequality and injustice and raise the concerns of the neglected and suppressed people.
Elections for the key positions in FABO UK were held during the meeting. We are delighted to announce that the following members were elected unanimously under Chairperson of Election Commissioner, Mrs. Hiroo Parmar:
President: Ms. Santosh Dass MBE, Vice President: Ram Pal Rahi, General Secretary: Arun Kumar, Joint Secretary: C Gautam,
Treasurer: Sohan Lal Gindha, Public Affairs: Gira Ashok Chakravarty
Executive Members:
Mehar Chand Jassal, Mulkh Raj, Harbans Virdee, Bakshi Birdi, Malind Kaul, Dhanpat Rattu, Pirthi Kaeley, Vidya Middha, Chaman Chahal
Arun Kumar
General Secretary
Federation of Ambedkarite and Buddhist Organisations UK
Buddha Vihara,12, Featherstone Road, Southall, , Middsex, London UB2 5AA
E: fabo@ambedkar.org.uk U: www.ambedkar.org.uk Tel; Tel: 0044 7956 918053/07909828750
Picture caption: Sitting from left to right: Dhamma Chakravarty, Arun Kumar, Santosh Das, Ram Pal Rahi, Surjit Birdi,
Standing from left to right: C. Gautam, Hukam C Mehmi, Sohan Lal Ginda, Madhav Rao Patil, Bakshi Birdi
First Ambedkar Day celebrated in Africa -
Africa chapter of Ambedkarism (fight against caste system) begins
.....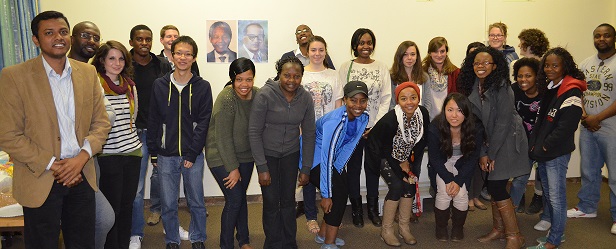 Johannesburg, 24th July, 2013 - Here in South Africa, University of the Witwatersrand, International House Committee organised "Ambedkar-Mandela" day. Seeking the rare occasion of Madela's 95th and Ambedkar's 122nd Birth Anniversary. International House Committee organised the event celebrating the two heroes that fought for the upliftment of the marginalised sections of societies in two parts of the world. This event was an imperative of South-South co operation where the two human rights champions were celebrated.

The event was presided by the Chairperson of the I-House, Mr Suraj Yengde (India), and Treasurer Ms Ntee Mbhele (South Africa). Participants from Europe, Africa, America's and Asia were present in the round table discussion on the issues of Caste and Racism. Everyone shed the light on their experiences in South Africa celebrating Mandela's legacy.
In the Chairperson's address Suraj Yengde provided insights on the India's downtrodden sections of society introducing the atrocious nature of caste system. Comparing with the world's existing discrimination, he stressed caste system in India is world's oldest surviving discrimination. This programme was the first event in Africa that celebrated two champions of human rights introducing Ambedkar's contribution in the fight against discrimination through the caste system. Following the address, there was a question and answer session where participants expressed their interest and curiosity in unveiling the realities of caste system. Ms Chaimae Charifi (Morocco) provided critical insights on the existing discriminatory practices in South Africa.

Programme concluded with exchange of thoughts and the way forward to end the existing discriminatory practices. I-House Committee Secretary Ms Pokuaa Banson (Ghana), Sports Officer Mr Rafael Kalumbu (Namibia), Entertainment Officer Mr Nepo Moloi (SA), and Exchange Student Rep Ms Tamara (Japan) were present.

Posted on www.ambedkartimes.com July 30, 2013
Shudra: The Rising is a Hindi language period film with subtitles in English set in the Indus Valley Civilization with a storyline based on the beginning of caste system in ancient India. Shudra is based on about 250 million people born Out Castes in Hindu Varna system. They were treated as Unclean & Impure, so much so that nobody ever even touched them or even allowed their shadow to fall on upper caste. They were named differently at different times such as 'DASYU', 'DAS', Chandala, Antyaja, Out Caste, lower Caste and "Shudra- The Untouchable". "Shudra- The Rising" highlights the depth that evil human mind can succumb, to cling on to power and supremacy.
An out caste man 'Shudra' died for want of a sip of water, a child is publicly killed for uttering Holy Mantras, a pregnant woman is forced in the physical submission, a wounded man dies in need of medicine, all for one crime only.....Born in the caste of "Shudra-The Untouchable"
The initial part narrates the invasion of the people of west Asia to India. They were of the Aryan race and they took over the local tribe

Dear Friends,
Much awaited film 'Shudra- The Rising' has finally arrived in the UK. Priced at £7.99 (£6.00 plus p & p £1.99). All DVD's are sent via 1st Class Recorded post. Pack includes one audio and video.
To get the copy: Please pay via bank transfer into the following bank account: Bank: Lloyds TSB, A/c No: 00856609, Sort Code: 30 – 90 – 66, OR Send cheque for the amount of £7.99, payable to:, 'Ambedkar Mission Society, Bedford (UK)'. For further details, please contact:
Pirthi Kaeley: 01234404727, email: p.kaeley28a11@sky.com
Arun Kumar: 07909828750, email: arun.kumar@ntlworld.com
Alternatively you can also buy from eBay on the following link: http://www.ebay.co.uk/sch/i.html?_trksid=p3902.m570.l1313
&_nkw=shudra-the+rising+2012&_sacat=0&_from=R40

tribe and started controlling them. Finally their learned scholar Manu wrote a code book of caste system which turned the local population as the Shudras (lowest of the low), who were imposed with cruel rules in the society. They were suppressed and exploited at every level of their lives by the upper caste people. The film shows various rules imposed on the Shudras such as walking with a bell around their ankles and a long leaf as tail. The film also sheds a light on the struggle by the Shudras.
This film is a must see for everybody who wants to know the history and effect of caste based discrimination on the Indian society.
The proceeds of this film will be given to the Rudraksh Productions for their future project which is again on the bravery of Dalits in 'The Battle of Koregaon'- a saga of fight between the Mahar soldiers and Peshwas.Posted on www.ambedkartimes.com , January 21, 2013
Shri Guru Ravidass Sabha Vancouver, BC (Canada) celebrating 127th birth anniversary of Babu Mangu Ram
Muggowalia Ji on SUNDAY, January 20, 2013 at Shri Guru Ravidass Temple, 7271 Gilley Avenue, Burnaby, BC
For more information please contact: Tejpal Gangar (778) 319-5431
Arun Kumar
Ambedkar Mission Society,
Bedford, UK
Delhi saw an unprecedented public outrage over the recent cruel gang rape and vicious attack on the 23 year old girl. This incident brought out many people to protest against this heinous crime. This brutal attack must be strongly condemned and perpetrators of this offence severely punished so that no body dare to commit such a crime in future.

Judging the public anger, it appears that no such incident had happened before Delhi rape case. What happened in Delhi is not an exception. Many more cases are hushed up regularly or are not reported. The National Crime Records Bureau records reveal that during 2011 India witnessed 228,650 crimes against women, 24,206 of them of rape and 35,565 of kidnapping and abduction and majority of them were belonging to Dalit communities. Most of the crimes against Dalit women go unnoticed. In the most horrific cases of sex abuse, Dalit women have not only been raped, but mutilated, burned, paraded naked through villages, and even forced to eat human faeces.

Either the people are ignorant or just turn their blind eye to such incidents. Nobody from the so called civil society took notice of those crimes. In spite of all these sex offences against Dalit women, victims do not get even half the response neither from the social organizations nor from the media as was given to Delhi gang rape victim. A rape is a rape and all women deserve the same media attention, same justice, the same mass protests and the same political will.

India's middle class wears such glasses from where they can only see the crimes committed against the upper castes. Their heart throbs only for their own clan. Women folk from the Dalit communities mean nothing to them. Society must feel guilty and act against atrocities against women irrespective of their caste or class.
Double standards of the upper middle class raise many questions which need answers. Shenali Waduge raises a very valid question, "While rape in any form is abhorred and should be severely punished by all nations what needs to be answered is what makes the recent gang rape by 6 men of a 23 year old on a bus in Delhi any different from the gang rape of a 16 year old Dalit women by 8 men who having taken photos of the crime had circulated it amongst the village leading to her father committing suicide out of shame?"(1) This Dalit girl was raped in September 2012 and Shenali questions why there were no mass protests, no media attention for her or calls to arrest the perpetrators but the recent rape has turned into a mass protest all over India? Can somebody from the civil society answer these questions?
Similarly where were all Indians when Khairlarnji massacre occurred in 2006 when a Dalit family was lynched in Maharashtra? In Khairlanji, on 29 September 2006, 44-year-old Surekha Bhotmange and her daughter Priyanka Bhotmange were stripped, paraded naked, and raped repeatedly. Surekha's sons Roshan and Sudhir were slaughtered. The entire village was involved. The Bhotmanges were Dalits. The Bhotmanges have been forgotten. After all, two Dalits are murdered every day in India. (2) The Indian media didn't even bother to cover this incident until Dalits in Nagpur came on streets to protest. Unfortunately all India was sleeping as if the Dalit women were not the 'daughters of India'.
Dalit rape victims in Ajmer district in Rajasthan are waiting for justice for the last seven years. There are 68 reported cases of rape in the district since 2006 but only one accused has been convicted in 2007. Just in the months of September and October, 2012 around 19 Dalit women were raped in Haryana. An 18 year old Dalit girl in Badhshapur village in Patiala committed suicide on December 26, six weeks after being raped by three men as she couldn't tolerate humiliation and tormenting by police and culprits anymore. Her mother stated that when she went to complain to the police they humiliated the girl with lewd questions. On 5th January, a 16-year-old Dalit girl was abducted, raped and forced to eat some poisonous pesticide by an upper-caste man and dumped outside her house in a village in Faridkot district in Punjab.
The tale of sexual abuse doesn't end here. In an article in Counter-currents, Cynthia Stephen quotes a Dalit girl from a village in Tamil Nadu as saying "There is no girl in our lane who has not been coerced or raped by the dominant caste men when they go to the fields to fetch water or for work."(3) Men from the dominant castes threaten the Dalits with dire consequences if they dare complain to the police. Sexual violence against Dalit women is a systemic way of enforcing status quo of the Dalits. Rape is often used as a tool for political and social subjugation of Dalit women. Rural areas are full of such incidents. Vast majority of crimes against Dalit women are not reported owing to fear of social exclusion and threats to personal safety and security. Every village in India has such tales to narrate.
Instead the leaders such as RSS Chief Mohan Bhagwat give us lesson on Indian culture and advocates that gang rapes and sexual abuses happen only in urban areas as a result of Western influence and not in rural areas. If this Hindu ideologue tries to preach us about ancient Hindu culture, he must feel ashamed of Davdassi system in South India where girls as young as 6 years old become "brides of gods" and are raped by men of higher castes in temples. Young women are also later forced into prostitution through this system. Violent atrocities occur regularly in the names of tradition and religion. When are we going to get rid of hypocrisy? Other holy man blamed girl for the rape as she didn't beg enough for mercy. Women are placed on the pedestals and are worshiped daily. On the other hand, the same women are treated as toys to play with and discard them when they are not needed. There is a plenty of evidence in Hindu scriptures where women's low status is justified. The verses from the scriptures are still recited where cattle, drums and women are considered worthy of beating. That is why Dr. Ambedkar publically burnt down Manusmrity, a manifestation of inequality and cruelty towards women, and condemned other scriptures which contain humiliating strictures against women. Women don't want the status of goddesses but need equal treatment and respect.
Unprecedented outcry and coverage surrounding the recent Delhi gang rape has forced the government to act fast. They have set up a fast track court for a quick trial and also a commission to bring changes in the law to deal with rape cases. They are positive steps to pacify the feelings of general public but one should not have high expectations from the politicians, police and administrators. As a result of the high profile rape case in Delhi, it is expected that police would be more vigilant and conscious and act promptly. But right under their nose another women was raped on 6th January, 2013 and her body was dumped in Noida, suburb of Delhi.
Of course there are flaws in the laws relating to rapes and other offences against women. But what is worst that even the existing laws are not implemented fairly and speedily. Speaking on the merits of the constitution, the architect of the Indian constitution, Dr. B.R. Ambedkar stated, "I feel, however good a Constitution may be, it is sure to turn out bad because those who are called to work it, happen to be a bad lot. However bad a Constitution may be, it may turn out to be good if those who are called to work it, happen to be a good lot. The working of a Constitution does not depend wholly upon the nature of the Constitution". Same principle implies to the existing legislation on sexual abuse. The problem lies in the lack of political will to implement laws. It doesn't matter how good laws are made to prevent sexual offences, it depends upon the law enforcing agencies how quickly the offender is caught and prosecuted. So far the laws have done little to change the attitudes and are often ignored.
The ground reality is that politicians, administrators, police and even judiciary collude with each other and offender gets free to offend again. Justice Ashok Ganguli, retired judge, Supreme Court of India, himself admitted on national Television that judiciary didn't treat women with dignity. The cases pertaining to sexual violence are delayed for 10-15 years. Justice delayed is justice denied. In majority of cases, the kith and kens or supporters of politicians and bureaucrats are involved in such cases. That is why police don't dare to take action against those culprits. Even they, themselves, face criminal charges pertaining to sexual offences. According to the National Election Watch (NEW) and Association for Democratic Reforms (ADR), in last election there were 260 contesting candidates from various political parties who were charged under different sections of Indian penal Code for crimes against women such as outraging modesty of a woman, assault, insulting the modesty of a woman etc. What justice is expected from these people? Such politicians should be named and shamed in public, expelled from the political parties and debarred from the public office
What we need is the overhaul of administration and police. Coupled with tough laws, it is essential that an intensive training is imparted to the officers dealing with the atrocities on women. Only women police officers should be deployed to handle such cases where victim feels free to lodge the complaint. They need an easy access to the police. Fast track courts are important to deal with all sexual offences so that victim is given justice in a specific time limit. Most importantly, Indians must change their mind set and treat women with respect and give them equal status irrespective of class or caste. It is only possible if every member of the society feels responsibility and is sincere to treat women with respect and dignity. Mere lip service won't help. One must be bold enough like Dr. Ambedkar to condemn, if needed, the religious dogmas which preach hatreds against women.
References:
1. Shenali Waduge, 'Rape In India: Why Are There No Mass Protests For Raped Dalit Women' Eurasia Review on 28th December, 2012,
2. Anand Teltumbde, 'Khairlanji - A strange and bitter crop'
3. Cynthia Stephen, 'Feminism And Dalit Women In India'
Countercurrents.org,16 November, 2009
Posted on www.ambedkartimes.com (January 12, 2013)

| | |
| --- | --- |
| | |
The Census of the United Kingdom known as the 2011 Census took place on 27th March. 2011. Much awaited results of this Census were published on 10th December, 2012 which proved to be a milestone in the history of the Ravidassia community in the UK. For the first time ever, Ravidassia is listed as an independent religion distinct from other religions. Though the followers of Shri Guru Ravidass Ji migrated to UK in thousands, they were not recognized as a separate community. They were considered either a part of Hindus or Sikhs and were nonexistent in the official records. The Department for Communities and Local Government bases its funding decisions on population estimates. The census reports are used to assist the planning and allocation of resources, policy-making and decision-making. As Ravidassia community was missing from the records, there was no funding available for the benefit and development of their community. Now the United Kingdom became the first country in the World to recognize Ravidassia religion as a separate entity. Census results show that eleven thousand people declared them as Ravidassia. Jubilant Rai Karra, campaigner for Ravidassia Religion stated, "The figures are not great but it is a beginning. As the media was not in their favor, it was difficult to convey the message of Census to the Ravidassia community. We put across this message through the word of mouth, leaflets and the road shows in the Shri Guru Ravidass Guru Ghars (Religious places). Now Ravidassia community has its own media 'Kanshi Radio', 'Kanshi TV' and newspapers, more and more people are becoming aware of their identify. UK will show a way to the Ravidassia community living in various countries to assert their identity and be counted." The campaigners are hopeful that numbers of Ravidassia community will spurt up in many folds in the next census in UK.
Ravidassia religion is deeply rooted in the Ad-Dharm movement started by Ghadri Baba Babu Mangu Ram Muggowalia in 1920s. The main objectives of the Ad Dharm movement were to carve out an independent identity for the untouchables. Ad-Dharm appealed to many people and various Dalit communities including Valmikis also joined this movement. In spite of all types of pressures and hardships, the Ad Dharmis succeeded in registering "Ad Dharm" as a separate religion for the lower castes in Punjab in the 1931 census. Even the British government in India recognised "Ad-Dharam" as a separate religion.
From 1920 to 1946, it played a significant role to mobilize the masses and bring consciousness amongst the down trodden people of Punjab. Unfortunately due to factionalism, its influence was greatly reduced. As Ad-Dharm was dominated by the Chamars, Valmikis parted away from this movement and it ended up the religion of just one caste group- Chamars. Ultimately emergence of Dr. Ambedkar's Scheduled Caste Federation and Republican Party of India absorbed this movement and virtually lost its impact on Punjab's social and political scene.
In spite of its decline, the spirit of separate identity remained buzzing. The followers of Shri Guru Ravidass Ji preferred to call themselves Ad-Dharmi or Ravidassi. The booklet "Ad-Dharma" –The way of Guru Ravidass Ji' published jointly by Wolverhampton Multi-cultural Education Service and Shri Guru Ravidass Dharmik Sabha, Wolverhampton, UK, explains the religious beliefs, customs at the time of birth, marriage, death etc and the way of life of Ad-Dharmis. This booklet is produced for the benefit of teachers, students and those who are not familiar with Ad-Dharmis. In introduction, it says that Ad-Dharm means first faith, original religion or basic religion with deep roots in India. It also says, "Ad-Dharmis are also known as Ravidassis because they honour Sahib Shri Guru Ravidass Ji as their foremost thinker and spiritual leader. They are neither Hindus nor Sikhs. They share many beliefs with Sikhs and some with Hindus but they are a distinct movement." According to 'Religions in the UK – A Multi-Faith Directory', published by the Derby University, "Ravidassis who are settled in the UK strictly follow the teachings and philosophy of Shri Guru Ravidass Ji and worship Guru Granth Sahib since forty one hymns composed by Shri Guru Ravidass are included within it" It reflects that Ravidassis worship Guru Granth Sahib not out of devotion but because hymns of Guru Ravidass are included in it. Though they worship Sikh scripture, but they are not prepared to call themselves Sikhs. Ravidassia's religious places are called either Bhavans or Temples instead of Gurudwaras. Quami Nishaan Sahib (symbol on the Ravidassia flag) HAR was adopted by Guru Ravidass Sadhu Sampardai Society in consultation with Shri Guru Ravidass Sabha UK and other organisations in India and abroad and was registered vide Reg. No. A-48-807-co dated 6th March, 1987. This Nishaan Sahib is hoisted at most of the Ravidass Bhavans/Temples. They also greet each other with 'Jai Gurudev', 'Dhan Gurudev'.
Caste related incidents in Punjab especially Talhan incident and assassination of Sant Rama Nand compelled the followers of Shri Guru Ravidass Ji part away from Sikhism. . To avoid further bloodshed on the name of religious code of conduct (Maryada), Dera Sach Khand Ballan declared "Amrit Bani- Shri Guru Ravidass Ji Maharaj" as their religious scripture. Though their forefathers such as Sahib Shri Guru Ravidass Ji, Ghadri Baba Babu Mangu Ram Mugowalia and Dr. B. R. Ambedkar struggled whole their lives to eradicate caste divisions, polarisation on caste basis appears to be right opposite to their teachings. It would have been better if a common name such as "Ad-Dharm" was given to the new religion where everybody irrespective of his/her caste felt comfortable to join.
Now Ravidassia religion has become the religion of one caste (Chamar) and the people from other castes will be reluctant to join this newly formed religion. It may take some time for the followers of Shri Guru Ravidass Ji in Punjab to change their mindset and adopt this new identity. But its popularity is increasing in the other states of India and more and more people are opting for this new alternative. It appears that in the coming years, this religion will become a force to reckon with and become a solid pressure group for their empowerment. Another big time campaigner and one of the founders of Ravidassia separate identity, Gurdev Lagah said, "We may have some reservations the way this religion was declared, but now it is done and we must support it." Sensing the feelings of young and old, it appears that more and more people will support and follow this new identity. The supporters of Ravidassia community in the UK, Kanshi Radio and Kanshi Television which are heard and seen in 57 countries will also facilitate to mobilise the rank and file to join this new emerging religion.
Posted on www.ambedkartimes.com (December 28, 2012)
Indian authorities have so far been able to hide the caste problem under the carpet and always denied the caste based discrimination. Recently Dalits have become more vocal and exposed the false propaganda of the government. They are voicing their concerns at the international forums. Consequently the caste issue is no longer hidden from the outside World.
On December, 13, European Parliament in Strasbourg debated caste discrimination in India and adopted a strongly worded resolution to condemn the continued human rights violations, increasing number of atrocities committed against Dalits and the Indian Government's inability to take a firm action against the culprits. European Parliament also deplored the non-intervention by police in acts of violence against Dalits.
Acknowledging the significant efforts to make legislation to eradicate caste based discrimination, Parliament urged the Indian authorities at federal, state and local level to honour their pledges and implement and amend if needed existing legislation particularly the Scheduled Caste and Scheduled Tribes Atrocities Act in order to protect Dalits from caste oppression. European Parliament also urged the EU's and the Member States' representations in India to include the issue of caste discrimination in their dialogues with the Indian authorities, and to prioritise programmes addressing caste discrimination, including in education, and programmes
Following is the full text of resolution passed by the European Parliament Caste discrimination in India
PE502.571European Parliament resolution of 13 December 2012 on caste discrimination in India (2012/2909(RSP))
The European Parliament,
– having regard to its previous resolutions, in particular that of 1 February 2007 on the human rights situation of the Dalits in India and those on the Annual Reports on Human Rights in the World, notably that of 18 April 2012 ,
– having regard to the International Covenant on Civil and Political Rights,
– having regard to the International Convention for the Elimination of Racial Discrimination (CERD), and to its General Recommendations XXIV, as ratified by India,
– having regard to the government proposal put forward by Mukul Vasnik, Minister of Social Justice and Empowerment, on 'The Prohibition of Employment as Manual Scavengers and their Rehabilitation Bill, 2012', presented to the Indian Parliament on 3 September 2012,
– having regard to the statement of 19 October 2009 by the UN High Commissioner for Human Rights, Navi Pillay, and her appeal to UN member states to endorse the draft UN Principles and Guidelines for the Effective Elimination on Discrimination based on Work and Descent,
– having regard to the recommendations arising from the UN Special Procedures and UN treaty bodies, as well as to those in the two Universal Periodic Reviews on India of 10 April 2008 and 24 May 2012,
– having regard to the recommendations of 9 July 2012 of the UN Working Group on the Universal Periodic Review on India,
– having regard to the deep concern expressed on 6 February 2012 by the UN Special Rapporteur on human rights defenders regarding the situation of Dalit activists in India,
– having regard to the ongoing Maila Mukti Yatra, the nationwide march of thousands of people for the eradication of manual scavenging which between 30 November 2011 and 31 January 2012 crossed 18 of India's states,
– having regard to the EU-India thematic dialogue on human rights,
– having regard to Articles 2 and 3(5) of the Treaty on European Union,
– having regard to Rules 122(5) and 110(4) of its Rules of Procedure,
A. whereas India has made enormous economic progress, and as one of the BRICS countries now plays an important role in world politics; whereas, however, caste discrimination continues to be widespread and persistent;
B. whereas India's Constitution grants its citizens equal status, and discrimination based on caste and untouchability is deemed illegal in its Articles 15 and 17; whereas Dalits have served in the highest political functions; whereas India has laws and regulations intended to protect Scheduled Castes and Scheduled Tribes, such as the 1976 Protection of Civil Rights Act and the 1989 Scheduled Castes and Scheduled Tribes (Prevention of Atrocities) Act; whereas Indian Prime Minister Manmohan Singh has made several strong statements about prioritising combating violence against Dalits;
C. whereas, despite these efforts, an estimated 170 million Dalits and indigenous Adivasi in India continue to suffer from severe forms of social exclusion; whereas the ILO estimates that the overwhelming majority of bonded labour victims in the country are from Scheduled Castes and Scheduled Tribes;
D. whereas manual scavenging, despite being legally banned, continues to be widespread, with hundreds of thousands of almost exclusively female Dalits performing this form of servitude, Indian Railways being the largest single employer of manual scavengers;
E. whereas Dalit and Adivasi women are the poorest of the poor in India, face multiple discrimination on the basis of caste and gender, are frequently subjected to gross violations of their physical integrity, including sexual abuse with impunity by members of dominant castes, and are socially excluded and economically exploited, with a literacy rate of only 24 %;
F. whereas according to estimates the vast majority of crimes against Dalit women are not reported owing to fear of social ostracism and threats to personal safety and security; whereas in one particular case in Haryana state a 16-year-old Dalit girl was gang-raped in the village of Dabra (Hisar district) on 9 September 2012; whereas her father committed suicide after discovering what had happened and the police only decided to take belated action when faced with mass protests;
G. whereas on 20 November 2012, in Dharmapuri (Tamil Nadu state), a mob of approximately 1 000 people from higher castes looted and torched at least 268 houses in Dalit communities, with no intervention from the police officers present;
H. whereas the Protection of Women from Domestic Violence Act of 2005 lacks effective implementation, and whereas the pervasive prejudice against women in the police, the legal system, the medical establishment and the political class impedes the dispensing of justice;
I. whereas the conviction rate under the Scheduled Castes and Scheduled Tribes (Prevention of Atrocities) Act continues to be very low, providing no deterrent against crimes;
J. whereas, according to various local and international sources, between 100 000 and 200 000 girls – the majority of them Dalits – are allegedly trapped in bonded labour in spinning mills in Tamil Nadu which supply yarn to factories that produce garments for western brands;
1. Acknowledges the efforts at federal, state, regional and local level in India to eradicate caste discrimination; applauds, furthermore, the clear stance against caste discrimination taken by many Indian politicians, Indian media, NGOs and other public opinion makers at every level of society;
2. Remains, however, alarmed at the persistently large number of reported and unreported atrocities and widespread untouchability practices, notably manual scavenging;
3. Urges the Indian authorities at federal, state, regional and local level to honour their pledges and to implement or, if necessary, amend the existing legislation, notably the Scheduled Castes and Scheduled Tribes (Prevention of Atrocities) Act, in order to effectively protect Dalits and other vulnerable groups in society;
4. Underlines, particularly, the need for victims to be able to safely register their cases with the police and judicial authorities, as well as for serious follow-up by the police and judiciary of reported atrocities and other cases of discrimination;
5. Calls on the Indian Parliament to act on its plans to pass a new Bill prohibiting employment of manual scavengers and securing their rehabilitation, and on the Indian Government to take the necessary measures for its immediate enforcement;
6. Calls on the Indian authorities to repeal those provisions of the Foreign Contribution (Regulations) Act which do not conform to international standards and potentially undermine the work of NGOs, including Dalit organisations and other organisations representing disadvantaged groups in Indian society, by impeding them from receiving funds from international donors;
7. Calls on the Council, the Commission, the High Representative of the Union for Foreign Affairs and Security Policy / Vice-President of the Commission (HR/VP), the EU Special Representative on Human Rights, and the EU Member States to develop an EU policy on caste discrimination and to endorse the draft UN Principles and Guidelines for the Effective Elimination of Discrimination based on Work and Descent in the UN Human Rights Council;
8. Welcomes the Union Cabinet's approval in September 2012 of the Child & Adolescent Labour (Prohibition) Act, banning employment of children below 14 years across all sectors and below 18 years for hazardous sectors; calls on the Government of India to take effective implementing measures in order to rapidly reduce what is still one of the highest number of working children in the world and to introduce legislation for a full ban on child labour in accordance with the International Labour Organisation guidelines;
9. Calls on the EU's and the Member States' representations in India to include the issue of caste discrimination in their dialogues with the Indian authorities, and to prioritise programmes addressing caste discrimination, including in education, and programmes with particular focus on women and girls; expects future EU cooperation with India to be assessed as to how it would affect caste discrimination;
10. Instructs its President to forward this resolution to India's Prime Minister, India's Minister for Law and Justice, India's Home Minister, India's Minister of Social Justice and Empowerment, the Council, the HR/VP, the Commission, the EU Special Representative for Human Rights, the governments and parliaments of the EU Member States, the Secretary General of the Commonwealth, the Secretary-General of the UN and the President of the UN General Assembly.
Posted on www.ambedkartimes.com (December 18, 2012)